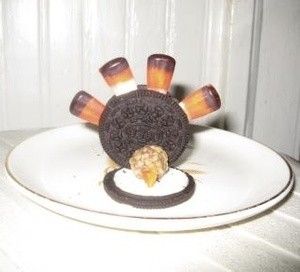 Simple, but cute, this edible turkey craft is sure to please the turkey enthusiasts as we celebrate Thanksgiving.
Supplies:
Oreo Cookies
Candy corn
whoppers or granola bites
Instructions:
Take one Oreo cookie and open it up. Note: vanilla cream cookies may also be used if you prefer.
Set the side with the cream center intact, cream side up on a plate.
Affix another Oreo cookie to the top, back of the opened cookie by pressing it into the cream.
Place a granola bite or whopper in front of the whole Oreo cookie to make the head.
Place candy corn pieces sticking in the cream portion of the whole Oreo cookie to make the feathers.
Cut a triangle out of a piece of candy corn to make a beak and place at an angle in front of the "head".
Make a whole plate of these, but hide them or they will get gobbled up fast!
By Jayme from Harrisonburg, VA
Ad
---
Feedback Forum
Feedback about this article is posted here. Want to contribute? Click above to post feedback.

By CHristine11/06/2009
Good Morning,

I am one of the Editors for the crafting and DIY website FaveCrafts.com and our blog FaveCraftsBlog.com. We offer hundreds of free craft projects, tutorials, home décor ideas and more in every area of crafting.

I just wanted to let you know that I have written about you in a blog post. I recently wrote about edible Thanksgiving crafts and I came across your blog. I thought your edible candy turkey was adorable and fit nicely with my blog.

If you are interested in reading it you can find it at http://www.favecraftsblog.com/how-to-make-an-edible-thanksgiving-craft/


Thanks and enjoy!

Christine, Editor
www.FaveCrafts.com
www.FaveCraftsBlog.com


By (Guest Post)11/26/2008
They do look great. I'm going to try this with my grandkids tomorrow (Thanksgiving Day!). There are 3 two years olds and 2 four year olds, so they will love this.

What a cute picture, Daina. It's a nice touch to send that with your comment.

By sally (Guest Post)11/25/2008
It's so cute, and I'm gonna give try. :)

By Daina [2]11/23/2008
This looks soooo cute...Im trying this for our feast this year...thank you!!!
Daina
Post Feedback
Add your voice to the conversation. Click here to share feedback.