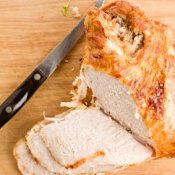 I make our own TV dinners so I can control the salt content and avoid other additives. Several times a year, I cook a turkey with all the trimmings. We have dinner for that day and the next and maybe a turkey sandwich.
While the turkey is warm, I slice and debone the entire thing just like I was going to serve it that day, making sure to get every piece of edible meat. Dad gave me some of his Corell plates several years ago. I make up dinner for two on each plate, cover with freezer wrap and freeze.
Whenever we are running late, we can take out a plate, heat it and dinner is ready. I store the leftover cranberry sauce in the freezer also to go with these meals. If there are more in your family, you could freeze in a larger container.
Then I toss the bones and less desirables in the crockpot and cook overnight. I keep the liquid and toss the bones and skin. I then divide the dark meat into several containers and fill with liquid from the crockpot. Now I have the basis for some really good stew or soup. All I have to add are some potatoes, sweet potatoes, carrots, and onions and my husband thinks he is in heaven. Even though he knows I do this in advance, he acts like I have slaved over the stove all day. Such a sweetie.
Comments

February 3, 2009
0

found this helpful
Top Comment
I have been doing this for years, but I do mine in a stockpot. Just cover the bones with water, small pieces of meat, skin, and onions; carrots; and celery. Simmer all day. The crockpot sounds like a great way to make stock. The broth can be cooked to a much thicker broth than the canned. Also taste is so much better. Even thought you don't slave over the stove all day it's more work than just opening a can. I think you both have a good deal.
e
Read More

Comments