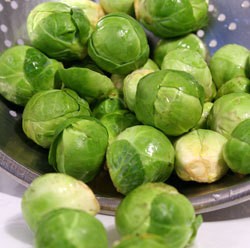 Selecting High-Quality Brussels Sprouts:
Select green (not yellow), firm and compact heads, with firm fitting leaves. They should look like tiny cabbages and not have a spongy or puffy texture. Small Brussels sprouts will be the most tender. Make sure to examine the heads carefully to make sure they are free from insects and damage.
Preparing for Freezing:
Trim the heads by removing coarse outer leaves. Wash thoroughly and sort heads by size-small, medium and large.
Blanching Time:
Water-blanch small heads for 3 minutes, medium heads 4 minutes and large heads 5 minutes. Add 1 minute for steam blanching. Cool promptly and drain.
Best Freezing Method(s):
It's not necessary to leave headspace for foods such as broccoli, asparagus and Brussels sprouts, because they do not pack tightly in containers.
Suitable Packaging:
Freezer containers should be moisture and vapor resistant and should not be prone to cracking or breaking at low temperatures. Containers should provide protection against absorbing flavors or odors and should be easy to label. Suitable packaging for freezing Brussels sprouts includes freezer-grade plastic bags, rigid plastic containers or glass containers and heavy-duty aluminum foil.
Maximum Storage Time:
10 to 12 months at 0ºF.
Thawing:
Brussels sprouts can be added to dishes for cooking directly from the freezer without thawing.
Tips & Shortcuts:
Before blanching, it's a good idea to immerse Brussels sprout in brine (4 teaspoons salt to 1 gallon water) for 30 minutes to remove insects.
Refrigerating Brussels sprouts:
Keep fresh Brussels sprouts in a perforated plastic bag for 2 to 3 weeks. Keep cooked Brussels in a covered container for up to 5 days.