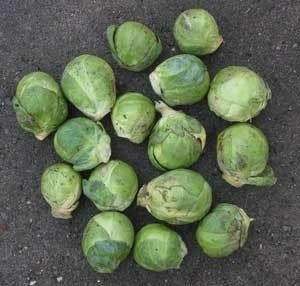 Botanical Name:
Brassica oleracea (Gemmifera group)
Description:
Brussels sprouts are members of the cabbage family. The edible "sprouts" look like miniature cabbages and grow around one main, thick, green central stalk that can grow several feet in height.
Planting Time:
Sow seeds indoors for fall crops in early spring and transplant them outdoors from May to July.
Exposure:
full sun
Soil:
well-drained, nutrient-rich soil
Planting:
Sow plants to a depth of 1/2 inch spaced 2 inches apart in rows 30 to 36 inches apart. For more intensive planting, space transplants so they are 2 feet apart on all sides. Set transplants 2 to 3 inches deeper than they were grown in pots. Plan on growing 5 to 10 plants per person.
Watering:
Keep soil evenly moist (not wet).
Maintenance:
Seedlings should be thinned to 18 to 24 inches apart once they form two true leaves.
Harvesting & Storage:
Brussels sprouts can be harvested a few at a time or by pulling up the entire plant. If harvested in small quantities, sprouts mature from the base of the stem and up and may grow replacements. Keep them in a plastic bag in the refrigerator for up to 3 weeks or trim off the leaves and roots and store whole "logs" in a root cellar at 35º to 45ºF.
Diseases and Pests:
All members of the cabbage family are subject to a variety of diseases that can persist in the soil, including cabbage worms, club root, slugs, blackleg, powdery mildew, etc. Watch for signs of trouble and act quickly to resolve any problems. Damaged and diseased plants should be removed and disposed of quickly. The best defense against trouble is to practice good cultivation techniques like crop rotation.
Tips to Success:
Brussels sprouts take from 80 to 100 days to mature and frost improves their flavor.