Organizing Photos Using a Shoe Organizer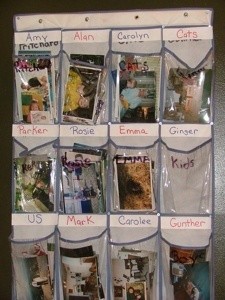 Over the years, I have taken many pictures. On a rainy afternoon, I started to sort through them so I could start putting them into albums. I was surrounded by stacks of photographs and boxes of more photographs.
As I sat among the stacks of photographs I came up with the idea to take all my shoes out of my hanging shoe bag and use it to sort and store the pictures. It has worked super well and I could easily organize all my pictures and work on them when I wanted to with no stress.
By CaroleeRose from Madison, AL
Feedback
Read feedback for this post below. Click here to post feedback.

By
09/26/2009
As the oldest member of my family I just became The Keeper of the Family Photos. Eventually I want to put them in albums or scrapbooks. In the meantime I have to sort them. And this will work very well.

By
09/23/2009
Your idea is fatastic. However, I try to keep up with this task as I get the photos printed at Meijers. I use the plastic photo sleeves and put them in the pockets then a photo album. It's the best way to keep ahead of the game.
By
09/23/2009
I second Grammas praise! I use these for tools, yarn, office and craft supplies, but never thought of photos! Too Cool!

By
09/22/2009
Thank you, thank you for the best idea I have seen in years. I have boxes and boxes of photos that need to be sorted! I dreaded starting it because I have so little space to spread them out. Now I can start on them and it won't be a problem because they won't be lying all over the place in little stacks. I already have 3 of the clear plastic shoe bags. I have space to hang them on the wall and doors. I am so excited to finally have a plan that will work!

My adult kids may miss the boxes of photos. It's their fault they are in such a scrambled mess. They love to spend holidays going through the boxes and reminiscing, so there are photos from 40 years ago and 6 months ago mixed together in the same boxes! Oh how I dreaded sorting them so I could finally put them in photo albums. Now it seems like a project that I can complete, over time, without any extreme mess to deal with while I work on the lengthy project.

CaroleeRose, if you were near I would definitely give you a big hug! Thank You so much for sharing your great idea!
Post Feedback
Add your voice to the conversation.
Related Guides
Related Posts