How do I root cuttings from a Christmas Cactus? I tried just sticking them in the soil, but they just rot.
By Rose from Malvern, PA
Ad
---
By Tahloolabelle 36 90 03/31/20100 people found this helpful
I have taken cuttings and placed them in a jar of water in my kitchen window and they develop roots slowly at first, but then they go crazy! Then I take the rooted shoots and plant them in potting soil. I have a LOT of Christmas Cactus plants now and more in the rooting stages. Good luck!
By Meemaw 57 115 03/31/20100 people found this helpful
It sounds like you are lovin' it to death. You are watering too much. Christmas cactus likes the soil to completely dry out then water from the bottom not the top. When you water make sure the water is warm and not cold. Christmas cactus is very easy to grow.
By Vi Johnson 286 801 04/01/20100 people found this helpful
Start the cuttings in water until you see tiny roots forming.( change water once a week )

Then transfer to a pot about 5-6 inches.
Fill with potting soil that is made for Cactus/Suculents. Or if you can't get that, use some regular potting soil and add a little sand ( about 2/3 cup ) , mix and water well. Let dry for a week or two then water well again.
After that water about once every two-three weeks once the plants start growing new leaves, add a liquid fertilizer to the water.

I make a Gal of water with 14 drops of Schultz plant food added. Shake it up and water with this mixture every time you water, until the blooms start to show. Usually in Nov. here.
Stop using the the fertilizer until after the blooms drop. Water with plain water during that time. Then after all the blooms are gone start watering with the fertilizer water again.

Sometimes I water once a month by soaking the plants in a tub of water. Just set the pot plant in a tub bigger that the pot, submerge and leave it there for at least an hour or two, then drain and don't water again until the dirt is dry.

You can tell if the plant is dry by the weight of it. Lift it up and if it is heavy ,don't water. If it is light, it will float to it's side.That is when the plant is to dry and you should soak it again. Good Luck. GG Vi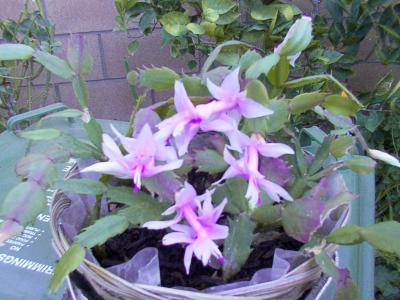 By Rose Smith 46 87 04/02/20100 people found this helpful
Thank you everyone. Got lots of good advice.
Archives
Thrifty Fun has been around so long that many of our pages have been reset several times. Archives are older versions of the page and the comments that were provided then.
I would like to know how to re-root my Christmas cactus. When I first got it, it tried to die but is doing really good now. I want it to spread it out more to get a bigger plant. I really would like to know. Thank you.
Tim
---
RE: Rooting Christmas Cactus
You should be able to break a branch or even leaflets off your plant and stick them into a pot of soil and have them root. Just keep them lightly moist. It will take a few weeks for them to get going. I've had luck doing this even with pieces that I've found on the ground and "felt sorry for". (09/10/2008)
By MaryC.
RE: Rooting Christmas Cactus
Take some of the leaves where they have separated. Soak some paper towels in water. Wrap the leaves in the paper and keep them moist. You should see roots in a week or so. (09/10/2008)
By Mary C.
RE: Rooting Christmas Cactus
Break off a little leaflet or 2 (for however many you would like to propagate) and you can root them in water. When you see the roots are about a couple of inches long then put them into soil, and tamp it down really well. If your original pot is large enough and you want your plant to be bigger then just go ahead and plant the new shoots in with the main plant. Do not overwater, and they like to be root bound, so do not move to a larger pot too soon.
I have one that has been in the same pot for about 20 years and it is full of blooms every year. Be sure to water and set it in the dark for 6 weeks about mid-October, taking it out the 1st week of December and you should have beautiful blooms for Christmas. (09/10/2008)
By jsham
RE: Rooting Christmas Cactus
Mary is absolutely right. You can also dip the ends in some rooting hormone that you can purchase almost anywhere that has a gardening department. But, it is not necessary. Good luck. Lori (09/10/2008)
By FirstCobber
RE: Rooting Christmas Cactus
My mother always said not to water them during the month of October. I now have her plant and am doing that. It gives me lovely blooms each year. I have never put it in the dark. Harriet (09/11/2008)
By Har'iet
What type of potting mixture do I replant Xmas Cactus cuttings in after they've rooted? Can I leave them in water?
By elyag from Rochester, NY
---
RE: Rooting Christmas Cactus
I've actually purchased cactus soil mix. It's very light and doesn't hold a lot of moisture. Check your garden center. I've had one of my Christmas cacti almost 21 years. Just keep repotting it. (07/21/2009)
By lafclayton
RE: Rooting Christmas Cactus
Any old dirt that doesn't have water retaining clay in it, will work fine. The dirt is not at all critical with those leafy "cacti". What is important to get a nice crop of flowers is wind. They look fragile, but they love the wind. The more wind they get in summer and fall, the more flowers they produce.
The same applies to leaf "cacti" that bloom at Easter, Pentecost or midsummer. With enough wind, they will produce flowers that will knock your socks off. For an example that bloomed yesterday, have a look at dawna.com
When it blooms, dad brings it into his winter garden. The rest of spring, summer and fall it hangs in a chain basket under the eaves.
Have fun!
DearWebby
http://webby.com/humor (07/22/2009)
By DearWebby
What is the best potting soil for a Christmas cactus? I have cuttings from my Mom's plant from last year. The ones I planted in regular potting soil are alive, but that's all. The one cutting I left in water sprouted a flower, but I would like to use decorative pots.
Hardiness Zone: 6a
By Gayle from Rochester, NY
---
RE: Rooting Christmas Cactus
You can grow Christmas cactus in any commercial potting soil. They root very easily from the nodes at the base of each segment. Your cutting in water probably bloomed because it felt stressed (lack of nutrients) and sometimes flowering is the plant's attempt to go to seed to reproduce.
Christmas cactus will bloom right on schedule every year once you find a spot where it is happy. This is usually where there is fairly bright, indirect light (an eastern facing window?) or anywhere you may have happy African violet, they like the same conditions. Fertilize after blooming when they send out lots of new growth. Good luck. (12/11/2009)
By msspider