I recently had a house fire, what is the best way to clean heavy smoke damage on my walls, ceiling and hardwood floors?

Virginia Owens
Recent Answers

By Sylvia (Guest Post)04/04/2008
I need some help on repairing our house from a fire and we are just settling with the insurance company but alot of the money is being held and the house has sat for about 16 months with nothing done until Jan of 2007 we have gutted all the rooms where the fire started and need to seal walls to paint and clean everything alot is being thrown away pls any help would be appreciated and where can I buy product to seal and clean and can carpet be cleaned after a fire it was just installed brand new before the fire?

Thank You and God Bless
Sylvia

By Paul (Guest Post)07/20/2005
How do I get rid of the stains and the smells

By BarrettCleaningandRestoration (Guest Post)06/03/2005
1st when cleaning walls and ceilings, with flat paint, dry chemical sponging is performed first. With an eggshell or glossy paint, use spic and span and water, and wipe all ceilings down. Then use Bin Zinser 123 latex paint for a primer, then paint with your final finish coat of paint (might be 2 coats). If you dont clean, before you paint, you are wasting your time and money. Read the paint can labels:)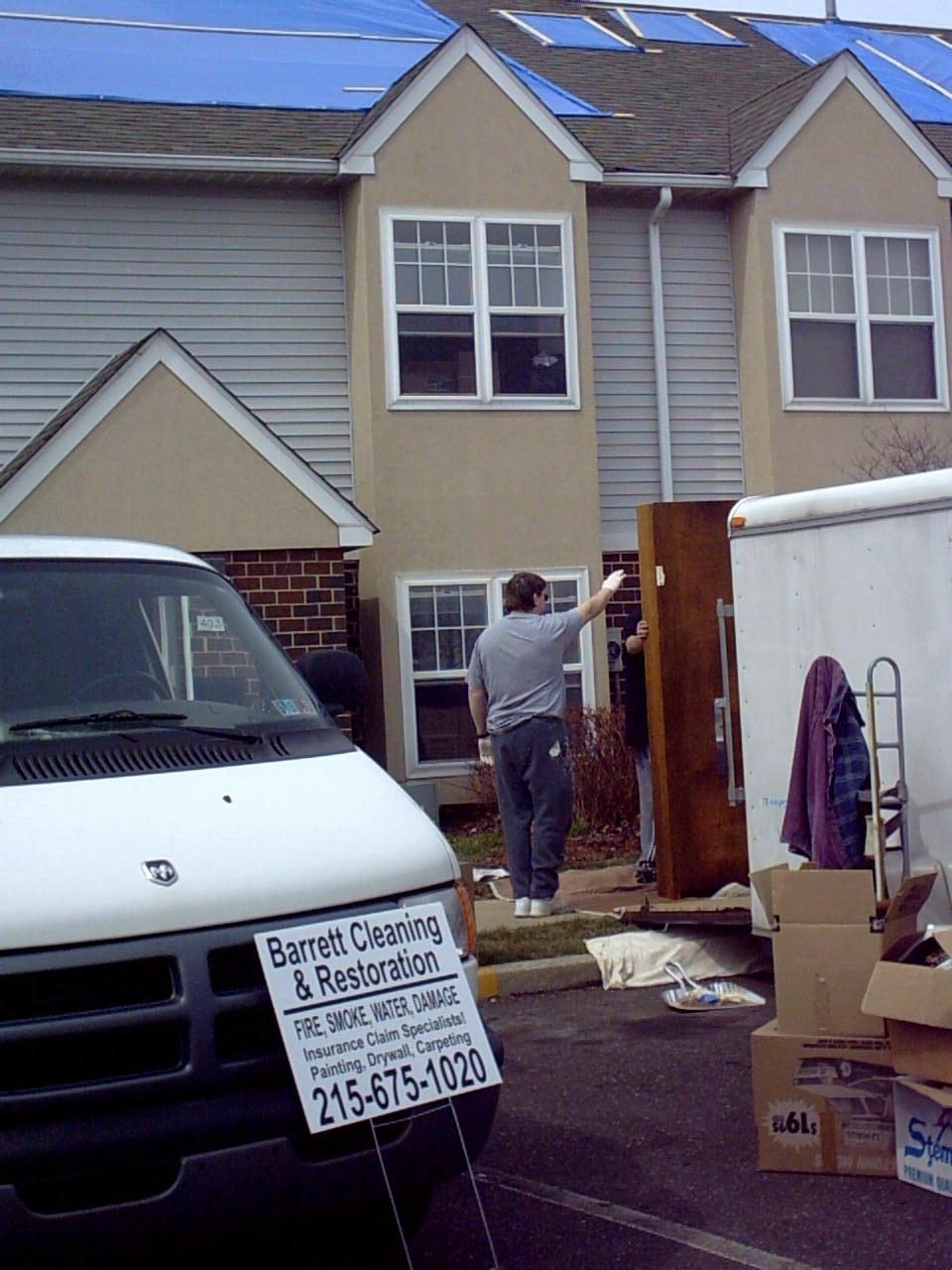 By beanygurl [1]05/29/2005
The primer would be either Kilz or Binz and should be available at most hardware/paint stores, but repainting is not always necessary for smoke damage. These sealant-type primers also help cover mildew.

By Susan K. Beal [3]05/29/2005
There is also a special type of primer that can be used on walls that have smoke damage. Using this will enable regular paint to adhere to the walls better. I don't know what the specific name of the product is. I lived in an apartment complex where one apartment had a fire that caused substantial damage. The fire department even had to break through the wall. The complex tried everything, but this primer seemed to work best. It became pointless to attempt to clean the walls, because the scorching had penetrated so much. This stuff is quite smelly -- and probably has some alcohol in it, but if you use several coats of this primer, you will be able to paint on the wall with no trouble again. As for the floors, the previous respondent is quite right. I suspect that you will undoubtedly have to strip the floors and refinish them again. When you go to repaint the place, look for a paint that has some sort of fire retardent properties in it. I know that they are available. If that's not possible, spray your walls, floors and furniture with the substance. There is a product called No Burn available. You can probably find out how to get it by doing a Google search. Also spray beds, mattresses and that sort of thing. In the future, if this ever happens again, it will take a lot longer for anything to burn. Also try to get a hold of some industrial type fans. The fire department often uses these things to rid rooms of the smoke smell, and the lingering layer of smoke that seems to be so pervasive. I wish you luck! And I really feel for you. I lived in an apartment building that burned down in 1983, and all of the residents, myself included, lost virtually everything we owned.

By beanygurl [1]05/28/2005
If you have insurance, let them hire professionals to do the job. If you have to do this yourself, and can't afford a fire restoration firm to do the cleanup for you, consider purchasing their chemicals. The chemical cleaners used in fire cleanup are a combination degreaser/deodorizer. As a last resort, use a citrus-based all purpose cleaner, preferably something with orange oil in it.

Clean your ceilings, lamp shades and such with dry chemical sponges (your local hardware or walmart may have these) http://www.rhcarpetcleaning.com/en-us/dept_7.html

Walls should be washed from the bottom up. Use the citrus cleaner or professional smoke wash and change water frequently. You may need to wash more than once, but that depends on your products, technique and amount of smoke. You might find sudsy ammonia works well also.

Hardwood floors may require stripping and refinishing.

You don't mention the contents, but the citrus cleaner should work there as well. For laundry, try adding the citrus cleaner to the wash water. If that doesn't work, try a half cup of ammonia.

Good luck
Answer This Question
Add your voice to the conversation. Click here to answer this question.