December 22, 2008
0

found this helpful
Booze Balls
They sound intoxicating, but rest assured, the rich, chocolatey flavor is the only thing certain to put you over the legal limit +Prep time: 1 hourCook time: 1 day Ease of preparation: Easy
Ingredients
1 cup semisweet chocolate chips
20 chocolate wafer cookies (about half a 9-ounce box)
1/2 cup finely chopped pitted prunes (about 15 prunes)
1/2 cup confectioners' sugar
1/4 cup bourbon or 1/3 to 1/2 cup brandy
1/4 cup sweetened condensed milk
1/4 cup granulated sugar, or colored decorating sugars, for garnish Instructions Put chocolate in a microwave-safe bowl and microwave on medium power for a minute. Stir and repeat until the chocolate melts, about 3 minutes total depending on the power of your microwave. Next, put the melted chocolate in a heatproof bowl. Bring a saucepan filled with one inch or so of water to a very slow simmer; set the bowl on the pan (without touching the water). Stir occasionally until melted and smooth. Process the wafer cookies in a food processor until finely ground (you should have about 1 1/2 cups ground cookies). Alternatively, put cookies inside a heavy re-sealable plastic bag and crush by moving a rolling pin over the cookies. Stir the cookie crumbs, pitted prunes, confectioners' sugar, bourbon or brandy, and condensed milk into the chocolate until evenly combined. Cover and refrigerate the mixture until firm enough to roll into balls, about 45 minutes. Scoop a tablespoon or so of the mixture with a cookie or small ice cream scoop, roll each portion by hand into a smooth ball, and set onto a baking sheet or large plate.Store booze balls in an air tight container at room temperature for a day to allow the flavors to come together. Store balls in the refrigerator for a week or freeze for up to 1 month. To serve, put the sugar on a plate and roll the balls in it to coat. Serve at room temperature.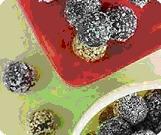 December 29, 2008
0

found this helpful
CHOCOLATE RUM BALLS
In large bowl, stir together:
1 c. finely chopped pecans
1 c. sifted confectioners' sugar
1/4 c. unsweetened cocoa
Stir in until blended:
1/3 c. Karo light or dark syrup
Dough will be very stiff. Shape into 1 inch balls. Roll in 1/2 cup confectioners' sugar or cocoa powder. Store in tightly covered container. Makes 4 dozen
Found on www.cooks.com
""
December 29, 2008
0

found this helpful
I made these again this Christmas for my hairdresser - needless to say I had to save a few for myself!! ENJOY!!
RUM BALLS
Mix: 1/3 c. powdered sugar 1/3 c. rum 3 T. corn syrup
1 T. oleo 1 c. melted semi-sweet chocolate chips
Stir in 2-1/2 c. vanilla wafer crums, and 1 c. chopped nuts - shape into balls. Roll in: 2 T. cocoa and 3 T. sugar, mixed.
Store where cool to ripen.
By guest (Guest Post)
January 1, 2009
0

found this helpful
The recipe I use is from Mr. Food December 1999.
1 package (11 ounces) chocolate wafer cookies, finely crushed (I use the food processor)
1 1/2 cups finely chopped pecans
1/2 cup light corn syrup
1/4 cup light or dark rum
1/2 cup confectioners' sugar
In a large bowl, combine the crushed cookies and pecans; mix well. Stir in the corn syrup (I've found it's better to pour in a little, stir, then pour in more - it needs to be firm enough to hold in a ball.). Stir in rum until thoroughly combined. Place the confectioners sugar in a shallow dish. Roll the cookie mixture into 1-inch balls. Roll in the confectioners sugar until completely coated.
Serve, or store in an airtight container at room temperature until ready to serve. NOTE: These tend to absorb much of the confectioners sugar right after coating, so be sure to coat them heavily.
You might even want to coat them again just before serving. (I have found they actually have a better flavor the next day after the flavors have melded together.) These chocolate wafers are made by Nabisco and are thin cookies like lemon wafers used to be, no filling. Enjoy!