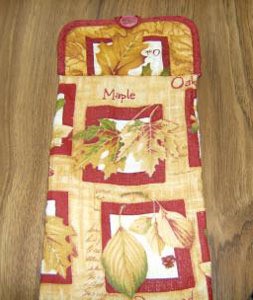 New approach to a dish towel you hang over your oven door handle.
Approximate Time 15 minutes
Supplies:
dish towel
pot holder
large button
Instructions:
Fold dish towel and find center.
Take folded pot holder and find center.
Sew a straight line or hand stitch through both items.
Attach button on pot holder and use existing loop from pot holder to clasp of button.
Makes a cute gift for relatives and friends.
By Carol from MA
Ad
---
Feedback Forum
Feedback about this article is posted here. Want to contribute? Click above to post feedback.

By Carol (Guest Post)09/21/2007
The pot holders and dish cloths you can get for $1.00 and make them for all seasons. If they get too old looking you can take them apart and not display. Just you as old dish towel and pot holder.

By jmhenkel09/20/2007
This item was popular a few years ago, so I made several and gave some away as gifts. They look great when you first make them, but they need to be washed, and the pot holder does not withstand many washes before it looks old and unuseable.

By mcw [79]09/19/2007
Here is a site which shows a towel very similar to the one that you made.

http://www.mycraftbook.com/PrintCraft.asp?craftID=120


Post Feedback
Add your voice to the conversation. Click here to share feedback.