I need to know if you can make your own carpet deodorizer you know the powder kind that comes in a can. Anyone know if you can make some?

Soulegal
By Rhonda
Ad
---
Recent Answers
Here are the recent answer to this question.

By wendiwalling05/05/2013
Wash your plastic container with a lid and dry it well. An empty Parmesan cheese container is useful for this, since the holes in the container allow you to sprinkle the powder easily.

Measure the baking soda and pour it into the plastic container. It is available on the baking aisle of your grocery or discount store and useful in neutralizing odors

Grind the rosemary and lavender buds in a food processor or chop them with a sharp knife. Add them to the baking soda.

Add approximately 10 drops of your favorite essential oil or a combination of two or three different oils to the powder. Apple, cinnamon, vanilla, citrus are all excellent choices for the carpet freshener.

Screw the lid on the container and shake it well. Allow 2 or 3 days for the powder to absorb the essential oils, otherwise it may stain your carpeting.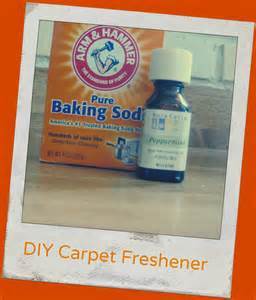 By Christine (health nut) (Guest Post)09/29/2005
You can use baking soda and add spices to it. I put cinnamon in my baking soda and sprinkle on carpet and wait for a few minutes to overnight and vacuum.

By SNIGDIBBLY (Guest Post)09/28/2005
I use a mixture of shower to shower body powder and baking soda. The talc kills fleas and their eggs and adds a nice smell. The baking soda acts like an odor neutralizer and adds weight that helps the product sprinkle well. Shampooing the carpet often keeps odors out better than anything.

By Eunice (Guest Post)09/28/2005
Baking soda works great. Sometimes I add essential oils to the soda. Mix that well, then sprinkle on the carpet.

By Dee [3]09/28/2005
Just sprinkle on some baking soda. wait 15 minutes and vacuum up or sprinkle baking soda before bedtime and vacuum up in the morning. easier if you use a leftover spice jar to put baking soda in.
Answer This Question
Add your voice to the conversation. Click here to answer this question.