Oh my God! I found the solution for bleached stains on carpets! Simple as this: crayons and a hair dryer.

Just find the color matching your carpet and color it moving lightly over the stain, then use the dryer to "melt" the crayon (once you found the right match).

Try it. I did it and it worked. After I came home and found bleach stains on my carpet made by my husband. (Who was trying to clean some 'black spots')

By Joy from Los Angeles, CA
Comments
July 18, 2015
0

found this helpful
Top Comment
So I'm selling a home. The tenants who moved out were wreckless w/the place & among other things that needed to be painted & repaired were two Bright Yellow Footprint Sized areas of discoloration in my wine-red carpet.
I figured the new buyers would want new flooring anyway and began to show the home. It did not seem to bother one family but during another showing I could kindof tell that that area is where I began to lose the families interest.
I was not going to let that happen again today! Even if it meant I would attempt to make a somewhat watery consistency of the acrylic paint that I usually use on canvas. This could be a mess I thought, so I googled first & came across this thread. Hmmnh, permanent marker or crayons. I have permanent marker (though the thought of that going wrong frightened me) and I also have nearly a billion crayons. So I picked out an assortment of similarly colored crayons, about seven (sticking w/the Crayola Brand, Not sure why) and tested out a small swatch. Wow, I'm impressed. I found that the discoloration was quickly being covered & dry! That's when I got the dryer and went to town. I think I melted an entire crayon using this method (be careful, maybe use a short hand waving motion, it gets hot) and maybe a fifth of a Second stick.
Within moments the carpet was WONDEROUSLY less distracting and I will no longer be so paranoid about the area. (I tried vacuuming over the area, umnh, maybe not going to do that agn). But it's a good temporary fix at the very least and if it happens again I will try to address the bleaching action by spritzing a mixture of water and vinegar over the area and letting it dry (the smell will go away). Vinegar gets rid of the bleach.
Thank you so much!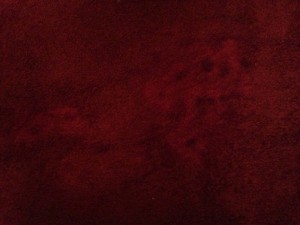 March 6, 2007
0

found this helpful
I'm laughing because my guy almost used bleach to clean up the cat's furball once! It's good to know he's not the only one.
October 2, 2013
0

found this helpful
Knowledge and correct information are essential in getting a perfect color match.
Rit dye, sharpies, Crayons, Tea bags, and coffee have no place is repairing a bleach mark. It is also redundant to keep posting that a bleach stain is not a stain and nothing can be done except cutting and replacing the area. A stain can be caused by the adding of or the removing of partial color. They are both considered permanent and require correct knowledge in repairing. The correct methods should always be used before cutting and replacing a section of carpeting.
When done correctly, a repaired bleach stain looks and feels the same as the surrounding color. When done correctly, the color will not come out. The first step is in removing all traces of bleach. Hot water extraction followed by use of a bleach neutralizer is very important. Doing this correctly will insure that the color loss will not continue.
Understanding a few concepts makes bleach stain carpet repair easy. I like to see and label Bleach Marks as Partial Bleach Stains. Let me explain. All carpet colors are a mixture of only three colors. That being said, we have only Red, blue, and yellow. Chemicals such as household bleach will remove one or more of these primary colors. When Blue is missing, then the bleach mark appears orange. When blue and red are missing, then the stain will appear yellow.
When restoring color to a bleach stain, it makes clear and common sense to replace only the primary color or colors missing. You would not want to use colors similar to the carpeting color. Any color added to a bleach mark will blend with the remaining colors. Some professional carpet cleaners continue in this practice with unsatisfactory results. Large companies also continue to sell many different shades and colors of dye for the purpose of color correcting a bleach spot. These are not needed and will not match. This is why their selling videos do not show the end result.
It also makes sense to use only the same type of dyes found in carpeting. Use only carpet mill dye and replace only the missing Primary colors.
Just google bleach stain carpet repair and many sites will come up. You then can then choose carefully. Crayons are difficult to get out if you goof.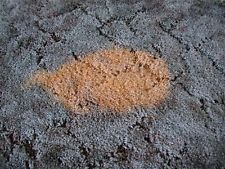 January 15, 2017
0

found this helpful
I got bleach on my grey carpet, So I stared rubbing and it turned Yellow, Yikes!!!! So I was here mad. So I grabbed a black mascara and kinda went over it (lightly brushed)..Then I stared rubing it with a damp face towel until it blended with the rest of the carpet color surrounding it.
It worked :)))