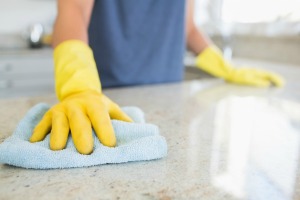 I used Ajax cleanser to remove a spot on my Formica counter and it has left a dull mark. Is there any way to get the original look of the counter back?
By beth bartlett from Prudenville, MI
Answers

August 13, 2010
8

found this helpful
Best Answer
Try using car wax. When we got new countertops, the installer told us to use that periodically to protect the counters - might work for you!

November 17, 2010
5

found this helpful
Best Answer
Someone suggested using Mop N Glo. Thanks! It worked very well. The only thing that got my worn Formica counter top to shine again. Just follow the directions.

March 30, 2015
15

found this helpful
Best Answer
To say; "You can't restore a long-lasting shine to formica" is simply NOT true! Formica is like "plexiglass" or any other hard acrylic. As an aircraft mechanic, I've had to "restore" acrylic canopies.
In my hobby/business, I repair and restore mid-century modern (mostly "Atomic Age") furniture that incorporates a LOT of formica. Replacing that original formica would ruin the piece as a collectable/antique.
You have to start by filling in the voids (yes, some people actually cut up food directly on formica, imbedding particles of plastic in their food and ruining their counter-top and knife edges!).
Use the same products made for repairing auto windshields. The best and most effective are the Novus products unless you know all about abrasive slurries. After you polish your formica, protect it with a good, hard wax like carnauba and follow that with a soft, sacrificial wax like beeswax...and don't be cuttin' up food on the dang counter-top anymore!

March 30, 2015
7

found this helpful
Best Answer
Formica stains: First off, chorine bleach destroys plastics in the same way UV rays do. You should never use it to sanitize your formica countertops as it actually encourages crazing and stain deposits. I'm not a big fan of chlorine and I prefer a sulfur based kitchen sanitzer used in professional kitchens, brew houses and by wine makers - metabisulfites of potassium or sodium - aka - campden tablets dissolved in a spray bottle with a mild soap.
Natural stains, the most common being "rust" can be removed with oxalic acid which is sold as "wood bleach" or you can extract your own from rhubarb leaves, sorrel or from mature poke plants. This also removes rust stains from porcelain, like sinks and tubs, but it won't remove the mineral deposits. Cean your formica well with HOT soapy water removing all oils, waxes or grease. Apply the OA mixed in VERY HOT water to the stain with a brush, then cover with plastic wrap to prevent it from dying out. The rust stain should be gone in an hour or two.
Oxygen bleaches and, dare I say it - chlorine will remove stains made by man-made dyes such as food coloring.
As I posted earlier, you can bring back the gloss of old formica. You can also resurface your counters with the resins used to "imbed" things in bartops and tables... polish out as instructed earlier.
I hope this helps someone.

January 9, 2016
6

found this helpful
Best Answer
Please DO NOT use car wax, floor wax, mop 'n glow, etc., on your kitchen countertops. These products are not safe for food preparation areas. A periodic application of olive oil, buffed off, leaves a temporary, safe shine.
Answer

this Question

My husband removed ceramic tile from our kitchen backsplash and replaced it with new mosaic glass tiles and grout. The grout residue will not come off my formica countertop.
Please help! Thank you!
Answers

poehere
Bronze Post Medal for All Time! 105 Posts
April 20, 2020
0

found this helpful
Best Answer
Have you tried to mix some vinegar with some baking soda to make a paste? If you have not tried this make a paste and use a soft cloth to apply it to the counter top.
Use circular motion to spread it around. Allow it to sit for around 10 minutes and write it up. Wash the countertop with warm water to remove the rest.

April 20, 2020
0

found this helpful
Best Answer
Boy - sugar water is anew one to me - hope it works as it sounds too simple to be true.
homeguides.sfgate.com/remove-dried-grout-laminate-countertop...
My son uses acetone that he buys from Ace or True Value Hardware store (stronger than regular nail polish - but nail polish might work?). You can ask someone in the paint department to help you - just explain your problem and directions should be on the container.
Answer

this Question