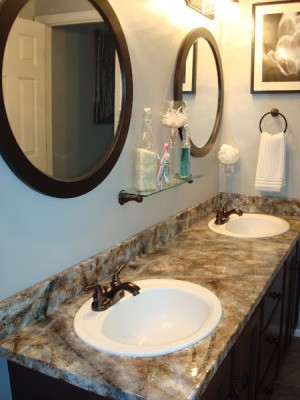 My home was a mecca of ugly and strangely colored laminate countertops; hunter green, brown, navy blue, beige, etc.. I set out to paint them to improve their look, thinking "they can't get any worse, can they?" Paint was my frugal friend.
First I studied granite samples online and did my homework. Then I set out to buy, or in some cases, shop in my own basement for existing paint and supplies. All I needed was a good primer (2 coats), some natural sea sponges, and as many colors of acrylic craft paint (little bottles) as I wanted, at about $1 a bottle, with some on sale for as little as $0.27 cents!
Next, I wanted some glitz, so I bought Martha Stewart glitter. The crowning glory of my supplies that would pull of this look together successfully, was Envirotex Lite. It's a coating that spreads on like corn syrup, and is equal to 50-60 coats of shiny poly. That, along with some inexpensive foam brushes, and tape and drape for cabinets, I was ready to go.
I started with my powder room. It turned out so lovely, that I moved to my master bath. Which was amazing. Moving along, I did my entire kitchen, followed by my upstairs guest bath, and my mother's house too. I'm an addict!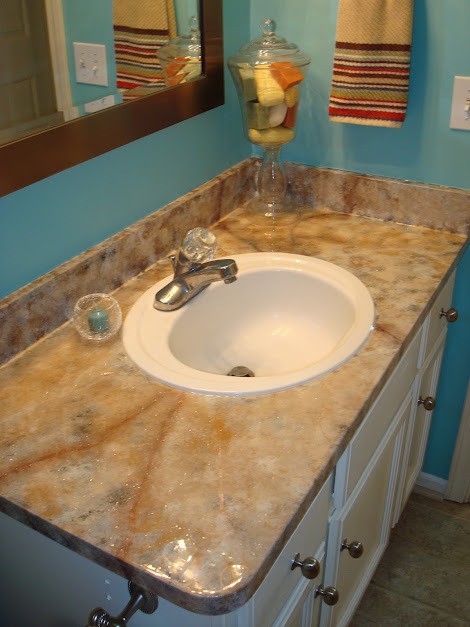 Once you get a good stash of primer, paint bottles, and your glitter, the only new stuff you're buying are the foam brushes (thrown away after each use), and your Envirotex Lite. Total cost for my bathrooms, on average: $25-50. Total cost for my kitchen: $125.
Now, I'm going to share the look with you. Please know that however "nice" they appear online in photographs, the photos just do not do them justice. They are amazing! I swear, while they may not be natural stone, they are prettier than any granite. I encourage you to get out there, use your thriftiness, and cover-up your ugly laminate countertops America! You will not be sorry you did.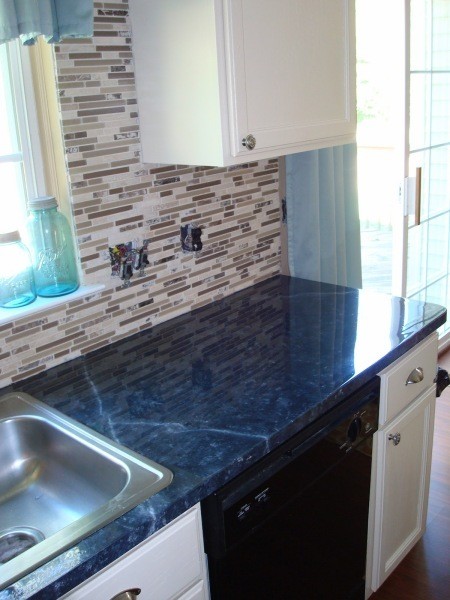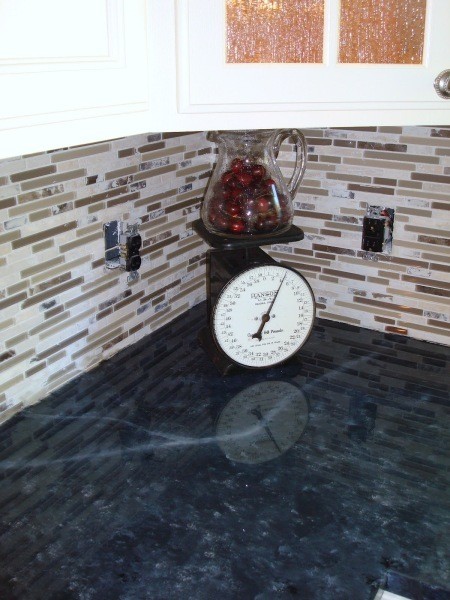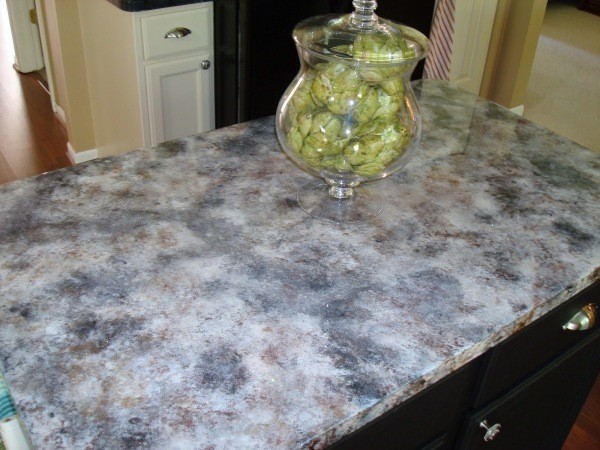 By Suz Jab from Belleville, MI
Read More

Comments
Help, I have ugly kitchen counter tops. Is there a way to refinish them to look like granite?
By kyazgal from Sun Lakes, AZ
Answers
February 26, 2011
0

found this helpful
There is a special paint buy I don't know what it is. I also know there are several steps to the process. Ask at your home improvement store.
February 27, 2011
0

found this helpful
There are oodles of suggestions if you scroll down to the ThriftyFun archives below and then also go to this link:
www.thriftyfun.com/tf999197.tip.html
Read More

Answers
I have been reading all the posts and I am very excited to tackle my countertops, but I need step by step instructions and maybe a shopping list. Does anyone know where I can print one or can give me an idea on how to get started?
Answers
December 2, 2008
0

found this helpful
Hey Trina This is Gail from Detroit. Put in painting Laminate Counters or Transforming Old formica Counters and you will see all the lovely painted counters. Where are you in Detroit?
I am in Novi. Howdy Neighbor. Gail
December 31, 2008
0

found this helpful
Start with a clean counter and Gripper paint
By Cathy from Townsville, QLD (Guest Post)
January 14, 2009
0

found this helpful
I subscribe to an organizing blog. www.takechargesolutions.org/
If you go through this site, there are free home forms, including a master shopping list.
Answer

this Question
If I can paint the back splash of my Formica counter tops with a semi gloss, will I have to prepare them by sanding? The space all total might be 6'x6'. I just want a change, without getting new ones. Thanks for all the help.
Answers
August 28, 2008
0

found this helpful
I've done this to my daughter's backsplash. It turned out great! You do need to lightly sand the surface. Then, coat it with an adhesive primer, Zin Primer. I used a foam brush to apply several coats of paint. Then, I put on a clear oil- based satin gloss. The oil-base does yellow, which was okay with the color I used. But, oil-base holds up much better around areas exposed to water or food splashes.
August 28, 2008
0

found this helpful
I did not need to sand. I bought a small can of Zinsser B-I-N primer (Home Depot). This stuff sticks to ANYTHING. It is the same product that I used to prime and paint the 1950s pink tile in my bathroom (now a high-gloss white) and the horrid tile backsplash that was in my kitchen when I moved in (now a copper metallic...also from HD)
August 28, 2008
0

found this helpful
I think I would use an oil base paint for the backsplash. Also use a primer. Make sure u tell the sales person that u are using an oil base paint so they can give u the correct primer. An oil base paint will give u better results. ~Janette~
Answer

this Question
What is the best way to paint or recondition a 20+ year old Formica kitchen counter top?
By dan from Honeoye Falls, NY
Answers
January 31, 2012
0

found this helpful
Unfortunately painting them will not solve your problem. It would only add to them. Being that it is in a kitchen it will get allot of use, moisture. things sliding across them. The paint won't stick and will be starting to peel before a months end if not sooner. Formica is very slick and paint will not stick to that.
You would have to sand the surface which would expose the particleboard under. Those spots would soak up way too much of the paint and start to swell and warp. You would never get a nice finished look to those areas. I'm real sorry but the facts are real and I don't like to see folks upset and disappointing over their projects when they should have been told before hand.
They do make a conditioning wax/oil that will bring back some of the color and looks to it. It is called Butcher Block wood conditioner and wax. It penetrates into the surface. You can also do a Lemon Oil treatment to it once in a while and that will also bring it back. I have worked in a Hardware/tool/paint department for thirty five years and have seen and tried many things to do what you are attempting to do and the oils work the best out of all of them.
Answer

this Question
How do I care for painted Formica countertops? It has three coats of oil-based polyurethane.

Beth from Jacksonville, Florida
Answers
April 5, 2008
0

found this helpful
Hi Beth,
Did you ever get a response to this? If so, can you please let me know how you clean your countertops. I just posted the same question and then came across your posting. Any suggestions would be great. Thanks,
March 1, 2009
0

found this helpful
Hi: I'm janitor at my church and also have countertops at home. Not sure what you mean about 'care' of formica, as just washing with your favorite cleaner usually is enough. You can buy a gloss coat for formica at a hardware store if you like. I tried it and found it to be much like car wax. I found turtle wax best on formica high use tables at home. The white formica at church, I have had to bleach lightly and also scrub off permanant magic marker.... and countertop is over 45 years old. So care of formica is pretty simple really. Hope this helped!
Answer

this Question