Painting a Laminate Counter Top
Painting
your old laminate countertops gives your kitchen a brand new look without the expense of buying new countertops! On this page you will find
step by step instructions
and
photos
. This is a guide about
painting a laminate counter top
.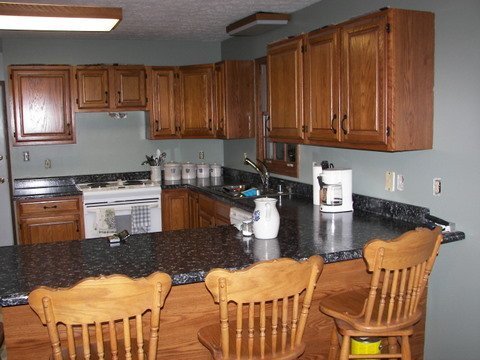 Filter

: All Articles
Sort

: Relevance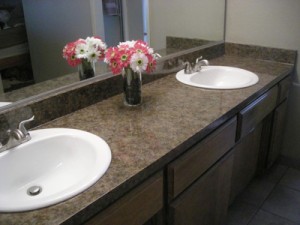 I wanted to share my personal experience and tips for any of you considering doing this. I researched this project thoroughly before I actually took the plunge, and in my opinion, this method produced the best results.
For inspiration, search online for granite colors. Print out 3 or 4 that you like.
Supplies:
Rust-Oleum counter top paint (tinted any shade)
craft paint (Folk Art, Apple Barrel, or Americana), at least 5 colors
Envirotex Lite
a bowl with a soap and water mixture
scrub brush
rubbing alcohol
paper towels
painters tape
plastic drop sheet
brown masking paper
sponge rollers and paint brushes for applying counter top paint
mixing tray for counter top paint
sponge brushes for applying Envirotex
mixing container to mix Envirotex
paint stir sticks
various sea sponges
turkey feather dusters
old paint brushes (cut chunks out of them)
smaller art brushes or stencil brushes (for tight corners and smaller areas)
240 grit sand paper
paper plates
fan
a table to set your paint on
razor blade
propane blow torch
Directions:
Remove everything off the counter. Turn off water and remove faucet and sink. You can tape around the sink, but I highly recommend taking it completely out. You will get much better results when you apply the Envirotex. Clean/scrub counter with soap and water. Dry well with paper towels. Wipe down counter with rubbing alcohol and paper towels. Let dry. Mask VERY WELL. Cover anything you don't want paint on. The Envirotex will NOT come off once it's dry. This includes cabinets and walls. Trust me - the more time you take with this step, the better! Wipe down counter again with rubbing alcohol and let dry.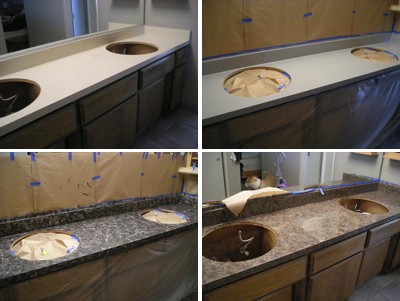 With the Rust-Oleum paint, sanding or priming is not required. The primer is built into the paint. When applying the Rust-Oleum paint, use the sponge rollers for big areas and paint brushes for corners and back splashes. Work fast, it sets up quick. Make sure you're in a ventilated area or turn the fan on if you're in a bathroom. This stuff is potent! Let dry (about an hour, maybe 2). If you prefer another coat, you can. I did. I felt better about 2 coats. Let dry.
To create the faux granite look you want, pour only the color of craft paint you're going to be using at the time onto a paper plate. They dry fast. You will have to keep adding paint to the plate. Use a new paper plate for each color. Start however you want. I did light to dark then back to light. You will have to play with the colors to get the look you want. I used the sea sponges mostly. I used the feather duster for the middle color and the chunked out brushes for whenever I needed a different looking texture. Use the smaller art brushes or stencil brushes for the corners and tight spaces. If you mess up on an area or don't like how it looks, don't panic. The craft paint is water base. Wet a paper towel and rub until it comes off. The Rust-Oleum paint will not come off. Nifty!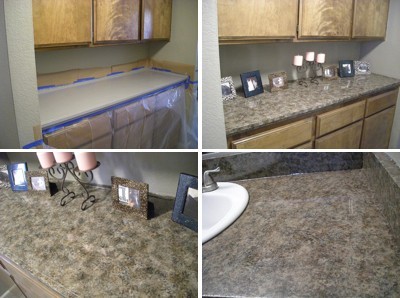 Once you have the look you want, let it set up for about 20-30 minutes. Come back and rub your hand over it. You will be able to tell it's dry. If it feels a little rough, it's because the craft paint tends to make "peaks" where you have used the sea sponges. I used a 240 grit sand paper and VERY lightly sanded over the counter top. Then I wiped it down with damp paper towels. Make sure all the grit from the sand paper is off. Let it dry.
If you're painting a large area, get someone to help you with the Envirotex. This varnish is not forgiving of mistakes. You will need to work quickly. You will need someone to mix and pour it while someone spreads. The directions that are included in the box tells you everything you need to know. Read them front to back. Twice. Pay attention to the edges and do what the box says. If your fan is still on at this point - turn it off. Close off the vent to whatever room you're in and close the door if you can. This helps with the drying time and keeps stuff from floating in the air and landing on top of the wet varnish. I had a few "cooties" in my final outcome. Cat/dog hair and/or dust. If you're a glutton for punishment, once it's dry, you can lightly sand the counter top and reapply the Envirotex again. I left the master bathroom how it dried, but I redid the middle bathroom and I wish I would have left it alone. It's all up to you.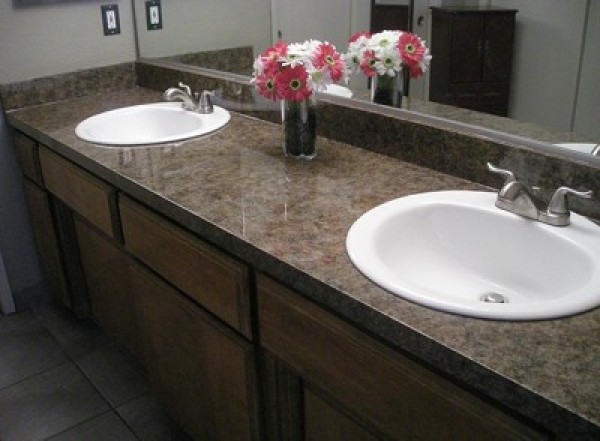 Once everything is dry (24-72 hours, depending on the temperature in your house), you can start unmasking. The tape that has any dried Envirotex will have to be cut with a razor blade. You can remove the masking tape once its semi set up if you like. I didn't want to risk dragging or pulling the varnish. The razor blade actually wasn't that bad.
I have included before, during, and after pictures. I also did the counter in the built in cabinets in my hallway. You can do virtually any surface you want!
By creativenailchick from Bakersfield, CA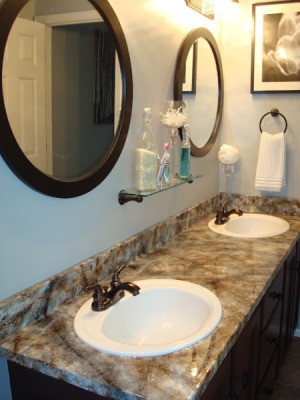 My home was a mecca of ugly and strangely colored laminate countertops; hunter green, brown, navy blue, beige, etc.. I set out to paint them to improve their look, thinking "they can't get any worse, can they?" Paint was my frugal friend.
First I studied granite samples online and did my homework. Then I set out to buy, or in some cases, shop in my own basement for existing paint and supplies. All I needed was a good primer (2 coats), some natural sea sponges, and as many colors of acrylic craft paint (little bottles) as I wanted, at about $1 a bottle, with some on sale for as little as $0.27 cents!
Next, I wanted some glitz, so I bought Martha Stewart glitter. The crowning glory of my supplies that would pull of this look together successfully, was Envirotex Lite. It's a coating that spreads on like corn syrup, and is equal to 50-60 coats of shiny poly. That, along with some inexpensive foam brushes, and tape and drape for cabinets, I was ready to go.
I started with my powder room. It turned out so lovely, that I moved to my master bath. Which was amazing. Moving along, I did my entire kitchen, followed by my upstairs guest bath, and my mother's house too. I'm an addict!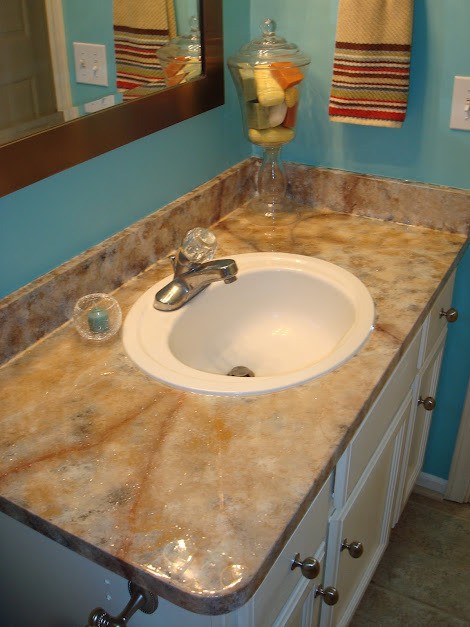 Once you get a good stash of primer, paint bottles, and your glitter, the only new stuff you're buying are the foam brushes (thrown away after each use), and your Envirotex Lite. Total cost for my bathrooms, on average: $25-50. Total cost for my kitchen: $125.
Now, I'm going to share the look with you. Please know that however "nice" they appear online in photographs, the photos just do not do them justice. They are amazing! I swear, while they may not be natural stone, they are prettier than any granite. I encourage you to get out there, use your thriftiness, and cover-up your ugly laminate countertops America! You will not be sorry you did.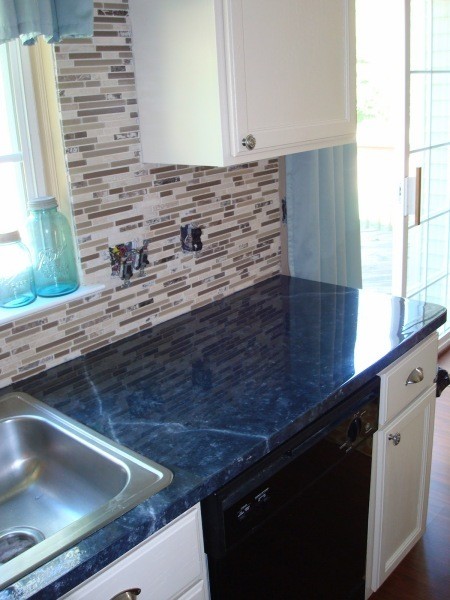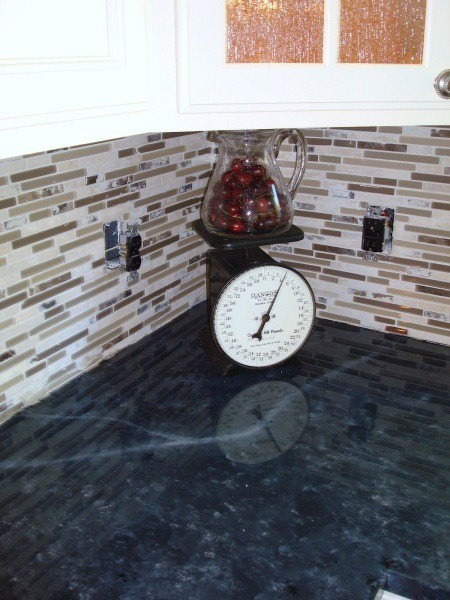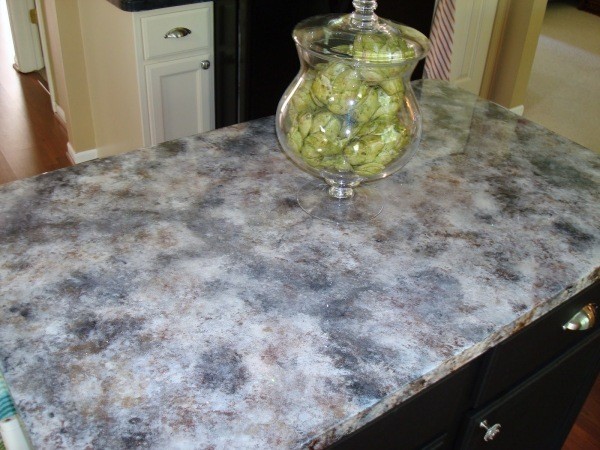 By Suz from Belleville, MI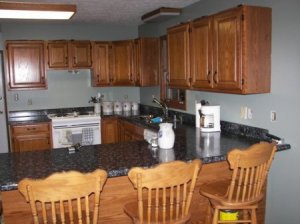 I just finished painting my kitchen counter top with acrylic latex paint and polyurethene. It was a lot of fun and saved lots of money. I spent a total of $150.00!
Anyone can do it. Here's a picture before I finished the last section. So you can see the color I previously had. I might mention, my counterops were in good shape when I started this project. The hardest part is applying the poly coats afterwards.
I got the granite look I was wanting. Now I can save up for the real thing down the road.
I might mention, that you treat painted counter tops as you would any laminate top. Nothing hot, and you don't cut on it.
It will chip easier if you have kids around. All you'd have to do is sand it, paint it again and then the poly.
Directions:
Clean with TSP.
Prime.
Apply accent colors one at a time and let dry.
I used water based poly /glossy. We lightly sanded in between, cleaned with damp rag. Dry and put on a layer of (non yellowing) poly until we got the look we wanted. Just make sure your counter is free of defects first.
My cabinets are Aristokraft Spice cabinets/ Oak with Spring Green Paint Color for those of you not able to find a paint color. This green is a blue hue, no yellow what so ever. I love it.
I might mention, I googled "refinishing laminate counter tops" to get the idea.
By Jean from Robards, KY
Well, I did it! I started with an upstairs bath that no one would have to see if it turned out really ugly, but I am just tickled. I couldn't have done it without you guys.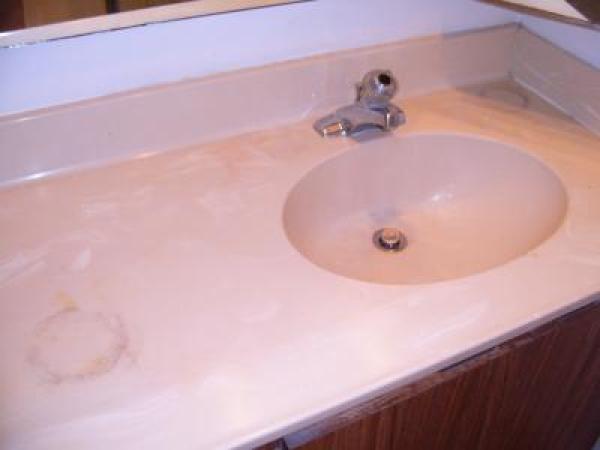 I just finished creating faux granite countertops and I'm so thrilled! It was easy and the total cost for each countertop was about $70.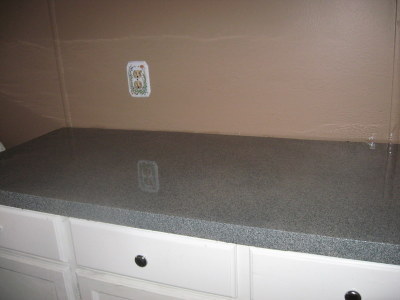 I need to repaint my counter top in the bathroom. It was painted with melamine paint. Do I have to use melamine again or is there some other kind of paint I can use instead of melamine? Also, my bathroom cabinets were painted with melamine, but I don't want to use melamine this time. Any suggestions appreciated.
By Karen
July 27, 2011
0

found this helpful
I am trying to paint the bathroom countertop, I love the way morgalm did this! What type and color of paint did you use?
Read More Answers...
I'm a newbie here, but not a newbie to DIY. Somebody's gotta do it. I've spent 2 days reading and looking at all of your beautiful countertops and making notes. Now I'm down to trying to figure out what sealant to use, so would like to take a vote. It's the democratic way, right? I read a lot of you use the enviro-lite, but to some seems intimidating. Since this is my first time, not sure I want to be that intimidated.
Others I've read have used water-based poly, oil-based poly, Parks Super Glaze, and Varathane Diamond, so I guess what I'm trying to determine is which one.
There are so many of you that have done beautiful jobs, but used different sealers. Can we have a vote here please? I'm not "sponging". I'm using Rustoleum's stone spray stuff, if that helps. I'm using a tan undercoat layer first. One more question, does that need to be latex?

Thank you. And glad I found you guys.
By LinDuh_in_VA from Richmond, VA
July 11, 2010
0

found this helpful
I kind of have the same type question. I have a beautiful medium sized vanity with nice trim detail that has a laminate top, rest is wood. It was an ugly yellow with gold trim so I wanted to re-paint for my 10 year old to put in her room. So, after researching for almost a week, this is what I did. Please bare with me in my lengthy explanation. Starting out with a smooth laminate vanity top already, I knew I had to do nothing to it except make sure it was clean so I put Glidden gripper on it which was white (gray was the only other available color). Went on nice and even, used a "Purdy" brush. I let it dry 24 hours and I first tested the front removable piece of wood that I could screw off and I painted it with "Ace" Premium Enamel spray paint (deep purple).
It was so nice looking the next day, so I sprayed the vanity but I ran out and they did not have that color at the store anymore. So I continued with some left over paint of the same color but in a gallon can, but it was Behr Premium Satin Latex Interior, Exterior paint. Good for wood, etc. I let dry for 24 hours. Again turned out pretty nice but needed a 2nd coat and a nice glossy finish to add a nice final touch. After letting that dry, I used an "Ace" Clear Enamel, but noticed the next day, some parts were shining like glass and others dull and grainy almost as if I painted a wood top with a natural grain. It was really noticeable from a distance, especially in the light. Plus, even though the gripper was evenly applied with a brush and I spray painted it evenly with the enamel, I really wanted the glassy look like some of the spots were but I ran out. So I went back to Ace, told them what I did and asked for a good shiny, clear glossy, easy care finish that I could brush on. He handed me a pint of "Minwax" lacquer. I thought, "Great"! I just saw that online and researched it a bit so I thought I was good to go.
Not! I went home and OMG. I used sparingly but evenly, whew the fumes were unbearable, even though I opened the garage and wore a small mask. I did not want to use another spray can, that was horrible doing that so I used a brush and it showed the strokes so bad and dried to a milky dull finish. Not only that, but as I was painting, it stripped off some the paint to show the gripper so I had to re-paint those spots. It was difficult because I could not bare down like I wanted to because it removed some of the paint but I had to paint quickly because it dries so, so fast. I am also concerened...even after the proper waiting period that it might be hazardous to my daughter having it in her room. I really was just looking to restore an old piece of furniture and work on a little project. But after further research, I see I would need to lacquer and sand, lacquer and sand and repeat too many times. Then seal then sand then buff, etc, etc. Whew! Ok, after that whole speech, I would like to know if I can just get some "Sierra Acrylic Enamel" and top it with that and be done with it to avoid more lacquer or starting over. I am only asking because I have the matching 6 drawer dresser to do also but do not want to go through what I went through. I really want these to turn out nice, but not costly or hazardous. Thank you. Signed, Not an expert. LOL.
3 days later, "The Expert" cost me $9.00 to answer incorrectly, after ruining it, he is now telling me to use MinWax Poly-Crylic. I have already bought the Enamel spray. What to do. What to do! And why did the lacquer bond to the wood part of the vanity after the steps of gripper, then latex but looked different on the laminate after gripper, latex? I mean, see how shiny the legs are. Now what to do with the rest. Sorry so lengthy. I am wore out, as I am sure you are from reading this.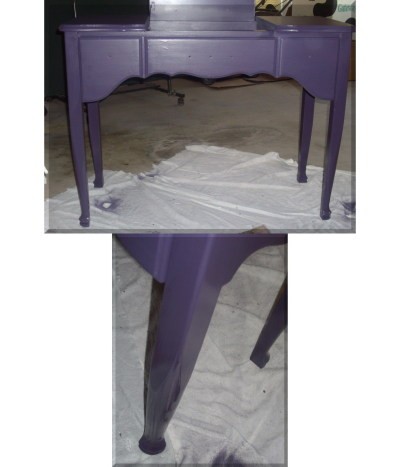 Read More Answers...
I just bought a house and will need to paint and replace all the floor coverings. My problem is that the kitchen has pink countertops which are in good condition. The cabinets are white. What do I do to make the pink work in the kitchen and how do I make it flow with the rest of the house. I am not sure what color of floor coverings to put in the house.
June 3, 2009
0

found this helpful
I just finished painting my kitchen/dining room. I also have a pink counter top. I have a snack bar too. I have lots of oak,cabinets and floors. I put up a chair rail, painted it white. The top of the chair rail in dining room is yellow ( Ace Hardware Chilled Lemonade.)This color goes in kitchen over the cabinets. The bottom of the chair rail is blue ( soft denim) It is a jewel toned blue. My door is Gray. Windows are timed in white too. I must say it is beautiful!I wouldn't have put these colors together til I picked the blue for a bedroom. I'm very pleased.
Read More Answers...
My bathroom vanity needs refinishing and I do not wish to replace it. It has been in place for 20 years and has gotten rather discolored.
By Sue M.
June 11, 2012
0

found this helpful
Because there are now paints on the market for painting formica countertops, I think you should be able to buy one to do your formica vanity. I plan to paint my melamine cupboards. Formica is a brand of melamine or the other way around.
Good luck
Read More Answers...
I am truly working on budget here. I have read the many posts as to how to paint counter tops and am excited. But, I also have an issue with the counter top in that it was not cut straight where the two pieces join at the corner. There is a gap along the length from the back to the front where the two pieces are supposed to join. Anyone have any suggestions on how to fill this gap?
By gailbie
January 18, 2014
0

found this helpful
Best product I have used to fill cracks is Bondo. Dries very hard and can be sanded with electric sander. Might need an extra coat of primer on it before the regular priming is done.
Oil based paint and primers are the way to go. Sand between coats and do not apply in humid conditions. Allow plenty of curing time between coats. If your fingernail will scratch it, it's not ready to re-coat. No topcoat should be used. Most varnish type formulas are not water safe. Many will fish-eye when applied over oil based paints.
One note: Make sure your paint is not too thick. It should flow lightly over the countertop.
35 years experience in commercial painting.
Read More Answers...
Can you use the counter tops that are painted the same way as the original Formica top? Or are there restrictions?
By Maria from Miramar, FL
August 6, 2010
0

found this helpful
The easy answer is that paint simply is not as durable as laminate. That is why people have laminate counters. Some of the suggestions from others may be a better alternative to just painting the laminate. Regular paint will scratch very easily.
Read More Answers...
I need some help. I painted my countertops with granite spray and used a water based poly on top (4 coats). That was 3 days ago. They feel dry to the touch, but are soft enough to leave marks.
What can I do to fix this problem? There is also a few milky streaks when you look just right in the light. Anyone know why? I waited the 2 hours in between that it suggested. Any advice would be greatly appreciated.
By Janmarie from IA
June 2, 2010
0

found this helpful
I painted my laminate countertops. I did my 14 foot long countertops and they came out good. I started doing my 4 foot counter and disaster hit. I believe i did the same technique as the other countertops. I sand then apply the minwax polycrylic and it keeps crackling. I let it dry for 24 hours then sand down again and the same thing happens when I apply another coat. I have repeated these steps 4 times already.
I believe the coats of clear coat were not fully dry because there was very hot and humid weather even though to the touch it was dry. My question is should I leave the countertop alone for about a week then sand it down then apply the polycrylic or should I sand it down now then wait a week to apply the polycrylic? I'm figuring maybe I could give it some time for the under coats to get hard.
Please help!
Read More Answers...
I see lots of posts here and elsewhere on the web about painting laminate, but none of the photos I've seen show laminate counters with the metal edges, and metal joints between the counter tops and backsplashes.
Has anyone done this? If so, what kind of preparation did you do on the metal? We're thinking of using Giani granite but haven't made up our minds yet. The counter is probably 50 years old, and a sad faded turquoise, so almost anything would be an improvement.
Thanks in advance!
By soup-lady
July 26, 2011
0

found this helpful
I think I would tape off the metal strips because they may not take the paint as well. Sand with a fine grit sandpaper before painting.
Read More Answers...