I would like to know how to paint kitchen counter tops.

By stacy Kaiser from Waldwick, NJ

Answers:
Painting Laminate Countertops
I painted my lemon yellow laminate with the Gianni Granite counter top paint kit and it came out great. As soon as you apply the base coat, the original color is invisible. The counters look wonderful and they are shiny and hard. The instructions for the kit were clear and everything worked just as they said it would. I am so pleased! (05/19/2010)
Update: It has been 2 months and the counter tops are still holding up great! I am still very happy with them! (07/22/2010)

By Kathy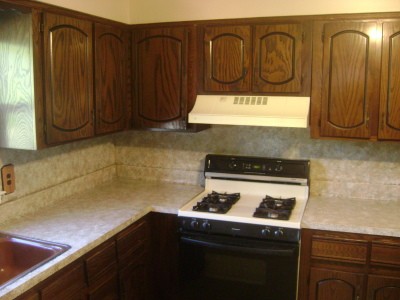 Painting Laminate Countertops
We used a combination of Nebster's bowl treatment (read all Nebster's posts below, this person really knows what they are doing!) and Giani granite countertop paint, it turned out awesome! (07/29/2010)

By LDCreed5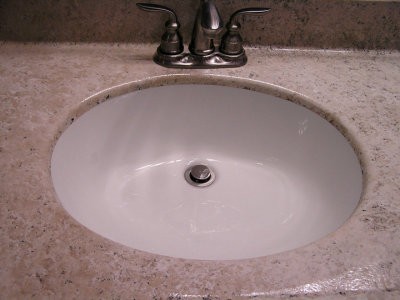 Painting Laminate Countertops
Here is the whole countertop, you can't tell the colors great in this photo, but it looks great! (07/29/2010)

By LDCreed5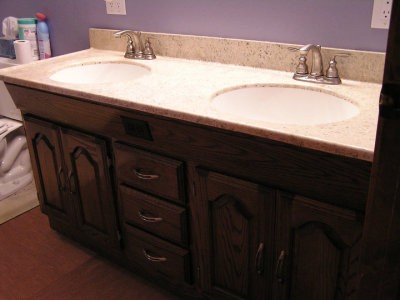 Painting Laminate Countertops
And here is what our countertop look liked before... (07/29/2010)

By LDCreed5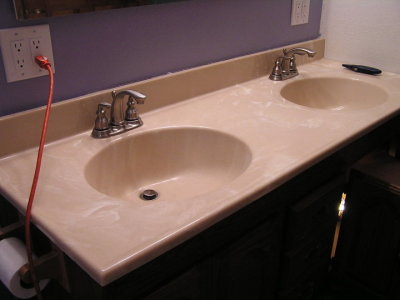 Painting Laminate Countertops
Ok, well I am finally done with my countertops. I am pretty pleased with them. I used paint chips (the kind you can use on the garage/basement floor paint). I used the Rustoleum Countertop paint in the wheat color. I liked the color on the box, but was not very happy with it when I put it on. It was a lot darker than I had expected. But it is not returnable, and I would be out $20.00 if I went with a different color. I should have went with the cobblestone color.
But oh well. I live in a rental house and will just live with it. It's not a bad color, but just darker than I wanted it to be to go with my floors. Now on to the paint chips, I like the look of the paint chips, better than just the paint itself, it gives it dimension. However, I was not able to get it to stick to the backsplash or the front edge of the countertops. Any ideas on that? (Now that I am done, lol.)
So now that the paint was on and the paint chips were on, I waited for it to dry well, then I went over it with a soft brush attachment for my sweeper to get all the loose chips. Doing this allowed me to see if there were any bald spots that did not stick to the wet paint. In those places I would just repaint the paint and sprinkle the chips over that area. Now that it was all done, I had to seal it with something because of the paint chips being rough. I decided to go with the Minwax poly acrylic water base semi gloss varnish.
I was a little worried when I opened the can and saw the frosty look of it. I poured it in a paint pan and used a 4" foam roller. It does go on bubbly at first, but if you keep rolling a small 2x2 ft area at a time just keep going over that area until it looks smooth, the bubbles will come out. (I did the same with the base paint, too.) I really like this form of sealer better, in a matter of 10-15 minutes I could re-coat with another coat. I did about 6 coats of this to seal it really well. I wanted it a little shinier so I used my Minwax oil base gloss on top. I honestly am not nearly as happy because of the drying time. But I did get the shiny finish I was wanting.

Now my advice to you is:

1. Make sure you know what color you really want, especially if it is a non-returnable paint mix. Just ask the person mixing, before you get it mixed.
2. I bought 5 small paint pans. I already had the 4" roller with handle, I did buy a bulk pack of 8- 4" foam rollers for $6.00 at Menard's. You will need them because after they sit in the Rustoleum Countertops paint it seemed to "eat away" from the plastic piece that holds the roller on the holder. And a paintbrush with angled bristles ($1.00 at Family Dollar), I only used it around the top part of the backsplash where it meets the wall and behind the sink area at the curve that was hard to get with the roller.

3. Work in small sections at a time (especially if you use the paint chips, because the base paint seems to dry fast).

4. I was scared to try the Enviro stuff but found something similar made by "Parks." It was a 2 part thick glazing system at Home Depot. I was afraid of it getting too expensive if I needed more than the one box set. Also, I was not sure how you would be able to apply it to the the back splashes, without it running down and leaving drip marks in the finish.
So that is why I chose the Poly acrylic. The only thing bad with the poly acrylic is that it goes on in thin coats so if you are acquiring a thick sealant this is not for you. You may be better off using the Enviro or the "Parks" stuff I mentioned. My countertops have a texture to them, it is not smooth because of the paint chips, you cannot slide a glass across the counters. I personally want it smoother, and may attempt the Enviro later to get that smoother finish, but my budget doesn't allow it right now.

For a little under $50.00 I think it looks a lot better than what I started with and like I said, with it being a rental house, I can live with it! I also have a portable dishwasher that had the imitation "butcher block" wood top, I went ahead and redid it to match the counter tops too so it blends better.
I will post several pictures. Overall, I am happy with it. I do love the look of everyone's "granite" counters, they look awesome!

This picture is after the paint chips are down, but before it was sealed. (08/16/2010)

By Amy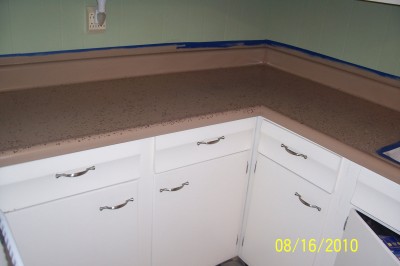 Painting Laminate Countertops
A bigger view of the countertops with the paint chips. (08/16/2010)

By Amy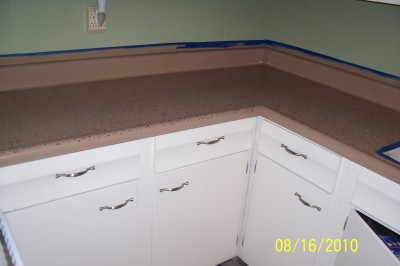 Painting Laminate Countertops
The dishwasher. (08/16/2010)

By Amy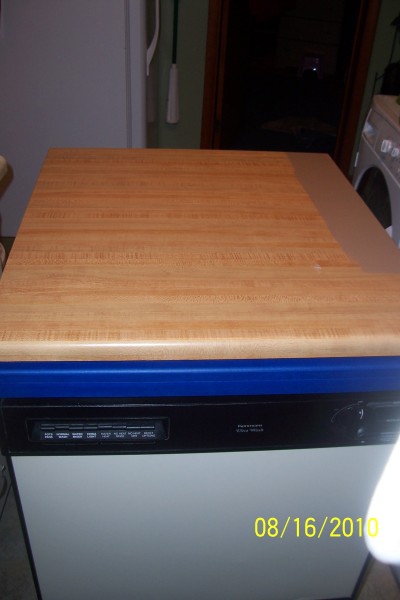 Painting Laminate Countertops
This is the finished dishwasher top with the final clear coat and shine that I wanted. I am also going to take out the front panel on the dishwasher which is almond on one side and black on the other, and spray paint it white to match the cabinets and appliances better. (08/16/2010)

By Amy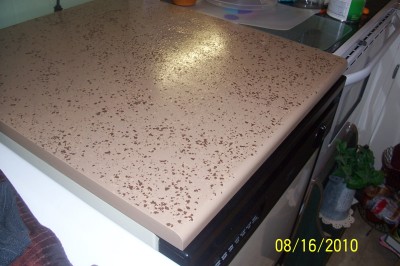 Painting Laminate Countertops
The final result of the kitchen countertops. I will post an overall view of the kitchen when I get it all cleaned up and back together. Now off to do my bathroom countertop now! (08/16/2010)

By Amy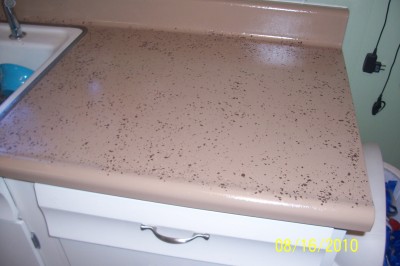 Painting Laminate Countertops
This is what my kitchen looked like before ANY redos were done. Big difference from then till now with the white cabinets, new hardware, floor tiles, new wall paint, and now new countertops. Just look at what some paint can do to a place!

The date on the picture is wrong, this was taken in February 2009 (08/16/2010)

By Amy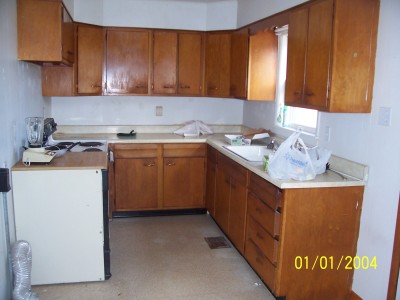 Painting Laminate Countertops
My finished kitchen. Finally! Very pleased with how it turned out! (08/18/2010)

By Amy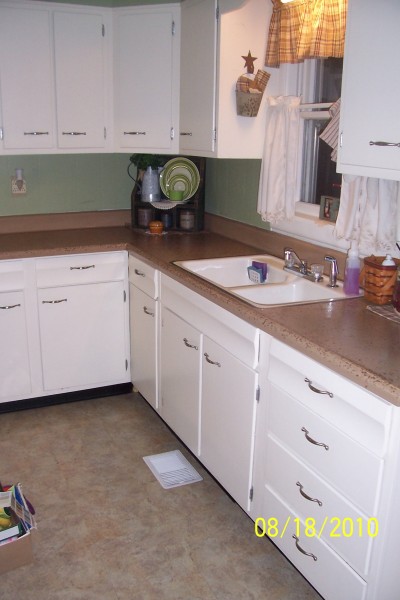 Gianigranite.com saved my kitchen for $60.00
Gianigranite.com saved my kitchen for $60.00! (08/24/2010)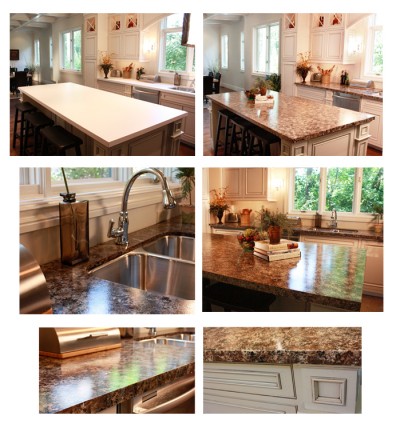 Painting Laminate Countertops
That looks wonderful! I think Giani Granite kits are the way to go! They are easy, beautiful, and cheap. I wish I would have used it instead of the layers and layers of paint and envirotex. (08/26/2010)

By shannon