Painting a Laminate Counter Top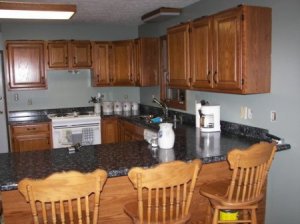 Painting
your old laminate countertops gives your kitchen a brand new look without the expense of buying new countertops! On this page you will find
step by step instructions
and
photos
. This is a guide about
painting a laminate counter top
.
Tips
Share a TipCheck out these tips or, if you have something to add to this guide, click to share your own tip!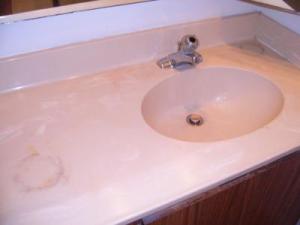 Well, I did it! I started with an upstairs bath that no one would have to see if it turned out really ugly, but I am just tickled. I couldn't have done it without you guys. Thanks for all the advice. For those still contemplating it, get the torch! I let someone talk me out of it, big mistake. I nearly hyperventilated trying to get the bubbles out, finally resorted to my hairdryer, then decided to give up, let it dry and sand them out before the next coat.
I used an epoxy paint from Home Depot on the sink. It's hard to work with, but worth the end result. A couple tips:
Envirotex will spread quite easily with a square sponge paint edger tool and is perfect for those pesky backsplashes. Just check periodically to correct any sagging until it begins to set.
I used a dense sponge roller with a tinted primer for the base which worked beautifully, and smaller disposable sponge paint sticks for tight spaces. I would recommend getting the round sponge wheel for corners.
The fellow who posted advice about using stains instead of paint was right. I used gel stain for my darkest color, thinking depth again, and wished I had used ALL stain instead of paint. Some is opaque, some is more transparent depending on the application, just like granite. You can be much more creative and end up with more natural results. You don't even need the glitter when using this.

Before and after photo:
I want to say that this site is awesome! I don't know how to get more than one pic on at a time so I will do this in parts so you can see it all. I did 2 bathroom vanities and my kitchen.
I started by cleaning with vinegar and then lightly sanding all my work.
I raised up my sinks because I didn't want a "lip" around them that you get even using tape. This was done by unscrewing from underneath then using two 2 x 4s cut a little higher that the distance from the floor to the bottom of the sink and wedging them in. It didn't interfere with the plumbing at all and I could put the paint and sealer right under the sink.
I used an oil based primer (Kiltz) after cleaning and lightly sanding.
When it dried I put a water based coat of paint on the whole thing then took 3 colors plus metallic gold craft paints with a sea sponge cut into different sizes and started patting away.
When I got what I wanted I used water based varethane for floors to seal it. I did 5 coats lightly sanding in between each application. It can be re-coated after 2 hours of drying time.
I waited a week before I sat anything on them but I don't think I would have had to. It says on the can that "normal walking" can be done after 3 days. Remember, you can put water based stuff over oil but you cannot put oil based over water. You will get bad results if you do.
The pics I have don't really show how pretty they actually are. They shine beautifully and I am using them like I would normal counters. My friends love them and want me to do theirs!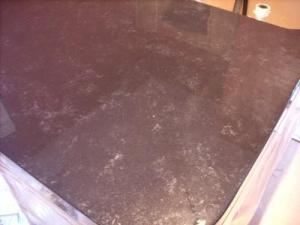 Let me begin by saying that all these posts were the most helpful information I found or my project. I've lived in my house for 13 years with country blue countertops that I've hated since day one. Not having the funds to renovate and not wanting to paint the kitchen a color that went with country blue, I left the kitchen the color it was when we bought the house.
Recently a decorator/friend suggested we paint the countertops black with the Fusion spray paint and top with polycrylic. She did this for us and the change was inspiring. No more blue! However, this treatment was very fragile. The polycrylic clouded when damp and the paint scratched easily. After reading all of this discussion I decided to use the Envirotex Lite product. I rolled on satin Krylon black latex, waited one day, mixed acrylic art paint, metallic pewter and metallic black, dibbled on with a large art brush, and immediately sponged over heavily with the metallic black again. I topped it all off with black "fairy dust" glitter.
I had about 35 sq ft of counter, used a 1/2 quart of Krylon latex, 1 (2 oz) bottle of pewter and 2 (2 oz) bottles of black acrylic and less than 2 tubes of fairy dust. We used a total of 4 (32 oz) Envirotex kits. I gathered 40% coupons from Michaels and Hobby Lobby and kept the cost of all materials under $100.
I waited one more day and prepared to apply the Envirotex. I was a bit intimidated. I re-read all the posting, re-read the directions and made my husband read them too. It wasn't nearly as bad as I had anticipated! Working with another person and having a plan made it pretty easy. A few pointers that I believe were helpful:
Make sure you use plenty of Envirotex, don't skimp, flood the area you are covering well (we had to re-coat 1 area because the glitter wasn't covered all the way).
Use a wide sponge applicator to distribute it.
A heat gun works perfectly to remove air bubbles.
Use plastic and newspaper to protect cabinets (this is a messy process, be prepared!).
After I finished I turned to oven on to promote faster/better curing.
I removed the sink and recommend doing so.
The end results are stunning! I am beginning to use the countertops and find them very durable. I am being very cautious, but believe the end result will be durable in the long run. No scratches yet and this is much better than the polycrylic finish. I'm not sure why I waited 13 years to take care of a color I hated. I encourage anyone reading this to GO FOR IT! Thanks for all the great advice!
Well I finally got done with my project thanks to all your post on this page. I was so leery of doing this but it came out awesome. I did need help at the end with the second coat of Enviro though.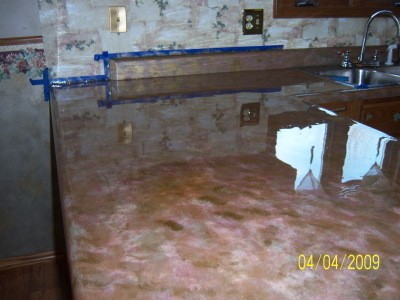 Read More...
Questions
Ask a QuestionHere are the questions asked by community members. Read on to see the answers provided by the ThriftyFun community or ask a new question.
Can you use the counter tops that are painted the same way as the original Formica top? Or are there restrictions?
By Maria Strickland from Miramar, FL
Answers
August 2, 2010
0

found this helpful
Best Answer
It all depends. I have sold paint for 10 years and have yet to find a "paint" that is great for counter top durability. Scratches tend to show very easily on a smooth painted surface, so your counters will need to be painted quite often to maintain their appearance.
One product I have found that works great, is a granite counter top paint. The variation in color hides scratches and blemishes in the counter.
I got mine at http://www.granitepaint.com
Let me know if you have any other questions, I would be glad to help.
If you do end up just painting the counters, make sure you use an enamel finish, either satin or gloss in sheen.
August 6, 2010
0

found this helpful
Best Answer
The easy answer is that paint simply is not as durable as laminate. That is why people have laminate counters. Some of the suggestions from others may be a better alternative to just painting the laminate. Regular paint will scratch very easily.
Answer

this Question

...
Can anyone tell me how to not get brush strokes in my poly coat when painting laminate counter tops?

Sharen
Answers
By jojo (Guest Post)
March 12, 2008
0

found this helpful
Best Answer
When I painted my laminate cupboard doors I was advised to buy a small sized roller specifically designed for enamel/gloss paints, it did a great job and brush strokes were not a concern. An added bonus was that the job was done much more quickly.
March 14, 2008
0

found this helpful
Best Answer
I've found using a foam painting brush eliminates streaking. Give it try. Jan, UK
Answer

this Question

...
I painted my laminate countertops. I sanded and primed. I painted with acrylic paint sponged to look like marble. It looked great. I painted with Minwax spar urethane clear gloss. There is one problem - the marblizing colors are coming off. What am I doing wrong? I am letting it dry completely between coats. Please help.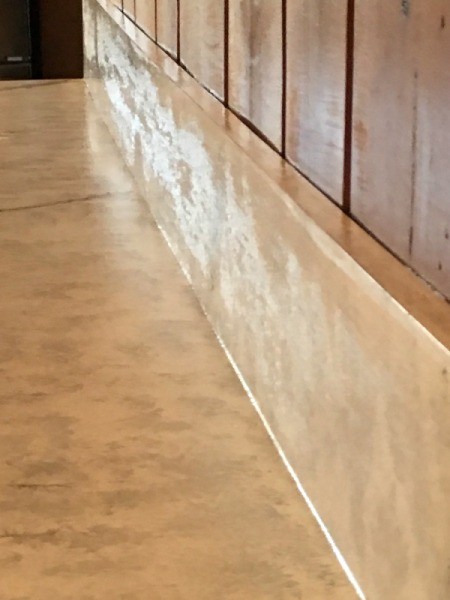 Thanks
Answers
January 30, 2017
0

found this helpful
Best Answer
You might have used the wrong sealer. Some recommendations are EnviroTex Lite or Super Glaze.
Answer

this Question

...
Archives
ThriftyFun is one of the longest running frugal living communities on the Internet. These are archives of older discussions.
December 30, 2010
0

found this helpful
I am looking for DIY kit for painting my laminated countertop to look like a marble countertop. Please help.

By Regina James from Lawrenceville, GA

Answers:
Painting Laminate Countertops
I just finished a Giani countertop in my bathroom and there was virtually no smell. Even the poly coat at the end was very low fume. My bathroom didn't have a window, so I just ran the vent fan and it was fine. Get the kit, you'll love it. (10/14/2010)

By Susan
Painting Laminate Countertops
This was my first attempt at Giani Granite in our small guest bath. The Giani was simple and easy. The bowl treatment is giving me some issues. I still think it looks great and am working on getting the Envirotex part just right. I wanted to start with a small project before I did our kitchen and I am ordering two more kits for that project. The Giani was super easy and fun and I am completely "not" craft/artsy at all! You can do it! (10/14/2010)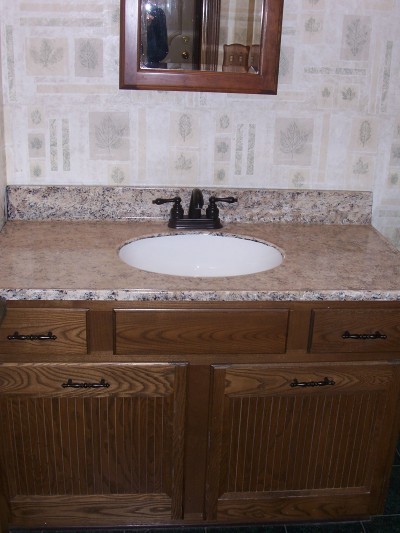 By Susan
Painting Laminate Countertops
My "before" picture. Our kids called this "the scary bathroom"! (10/14/2010)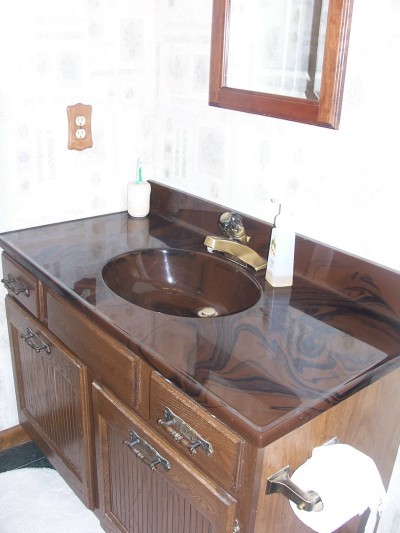 By Susan
November 29, 2010
0

found this helpful
I was wondering if the Gianni Kit for countertops has a strong odor. Do any of the applications have a strong odor?

By Reggie from Baltimore, MD

Answers:
Painting Laminate Countertops
Yes, they all (meaning any countertop paints) have a strong odor. It's important to do them with adequate ventilation. I recently have redone my countertops with the Rustoleum countertop paint and it was very strong. My other suggestion, from experience it when you paint the counter tops, be very careful with canned goods. If they fall out of the cabinet, it will chip your finish and you will have to do touch up in those spots! Here are before pictures and then the next post of an after. (10/29/2010)

By Amy
Painting Laminate Countertops
How safe is it to apply?
GIANI granite countertop surfaces are safe, water-based polymers and minerals that require the same basic precautions as most water-based coatings.

1) How much does it smell?
GIANI water-based minerals emit less odor than ordinary latex house paint.

2) Does it contain any lead?
No, GIANI does not contain any lead.

As a public service, all paint manufacturers have placed notices on their cans to warn consumers if they are removing old house paint to make sure the old house paint does not contain lead.

3) Is it safe for food?
Yes, once GIANI fully cures, in approximately two weeks, it's safe for incidental food contact.

Note, as with all countertop surfaces, all cutting and chopping food preparation should be done on a cutting board. And if food or liquids are spilled on GIANI, its polymers lock them out for easy removal.
(11/03/2010)


October 13, 2010
0

found this helpful
How do I paint laminate countertops?
Read More...
September 13, 2010
0

found this helpful
I would like to know how to paint kitchen counter tops.
Read More...
Related Content