I'm a newbie here, but not a newbie to DIY. Somebody's gotta do it. I've spent 2 days reading and looking at all of your beautiful countertops and making notes. Now I'm down to trying to figure out what sealant to use, so would like to take a vote. It's the democratic way, right? I read a lot of you use the enviro-lite, but to some seems intimidating. Since this is my first time, not sure I want to be that intimidated.
Others I've read have used water-based poly, oil-based poly, Parks Super Glaze, and Varathane Diamond, so I guess what I'm trying to determine is which one.
There are so many of you that have done beautiful jobs, but used different sealers. Can we have a vote here please? I'm not "sponging". I'm using Rustoleum's stone spray stuff, if that helps. I'm using a tan undercoat layer first. One more question, does that need to be latex?

Thank you. And glad I found you guys.
By LinDuh_in_VA from Richmond, VA
Answers
March 12, 2010
0

found this helpful
Best Answer
I am guessing that you have already done your countertop, but I used a khaki green undercoat, then sprayed two coats of Rustoleum stone spray, and covered with Envirotex. I was dissapointed that I virtually lost the look of the stone spray after I covered with Envirotex, and I ended up with khaki countertops with subtle stone specks. It is almost too glossy and my husband says we are not doing that to any more of my countertops!
I think it would have been better to have used several coats of water based polycrylic rather than Envirotex. When I tried it on a piece of cardboard, it was just the way I wanted it, but bumpy from the stone spray, which I thought I could remedy with MANY coats of poly.
The Envirotex was not that hard to use, but it did seep through my tape and got into the sink. We used a razor blade to remove the tape and it's not as even around the sink as we would like, but it would not be nearly as noticable had we used a lighter undercoat.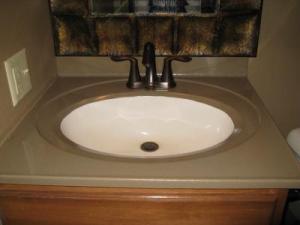 November 9, 2009
0

found this helpful
First of all, Parks Super Glaze is like Envirotex. Second, I also am a newbie and just did my kitchen island. I sponged and used Famowood Glaze Coat from Lowes, also, like envirotex. I ran into problems with bubbles. Even though I torched the bubbles out, as it was curing, I ended up with bubbles all over the surface! So now have to sand and do another coat, or give it a satin finish.
The epoxies give a very nice shine, and are food safe. If I was going to choose a poly, I would choose Varathane water-based Diamond Gloss. I've heard the oil based yellows. Maybe you could find some pieces of wood to do test runs on, and finish one with epoxy, and one with poly. That way you can see first hand which one you like better. I wish I would have done that. I practiced on four t.v. trays and finished all with glaze coat.
Also, I've already noticed that finger prints show up very easily on the glaze coat because of the glaring shine. One consideration, I think an epoxy would cover the texture of the spray stone better than a poly.
November 10, 2009
0

found this helpful
Skanepa, when you put on the glaze, did you smooth it out very lightly with a foam brush? I had my hardwood floors done a few years ago and when they put the varnish on, they used a tool that was like a paint pad, it was wider however.
I would think that would take out the bubbles although I have never done it. You are right the oil based varnish yellows something terrible. I would never recommend anyone do that.
November 10, 2009
0

found this helpful
Laniegirl, I used a wide plastic spreader to spread out the glaze. You are also supposed to use a handheld torch to get rid of the bubbles, which I did. It was smooth as glass, then when curing, the bubbles began to pop up all over, (not suddenly) and when I tried popping them with the torch, or by blowing on them, they left dimples, so I decided not to pop them anymore. I guess I should have torched over, and over, and over. I will watch it like a hawk the second time around.
Read More Answers