March 12, 2010
0

found this helpful
Best Answer
I am guessing that you have already done your countertop, but I used a khaki green undercoat, then sprayed two coats of Rustoleum stone spray, and covered with Envirotex. I was dissapointed that I virtually lost the look of the stone spray after I covered with Envirotex, and I ended up with khaki countertops with subtle stone specks. It is almost too glossy and my husband says we are not doing that to any more of my countertops!
I think it would have been better to have used several coats of water based polycrylic rather than Envirotex. When I tried it on a piece of cardboard, it was just the way I wanted it, but bumpy from the stone spray, which I thought I could remedy with MANY coats of poly.
The Envirotex was not that hard to use, but it did seep through my tape and got into the sink. We used a razor blade to remove the tape and it's not as even around the sink as we would like, but it would not be nearly as noticable had we used a lighter undercoat.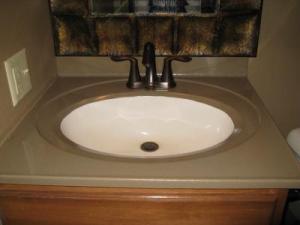 November 9, 2009
0

found this helpful
First of all, Parks Super Glaze is like Envirotex. Second, I also am a newbie and just did my kitchen island. I sponged and used Famowood Glaze Coat from Lowes, also, like envirotex. I ran into problems with bubbles. Even though I torched the bubbles out, as it was curing, I ended up with bubbles all over the surface! So now have to sand and do another coat, or give it a satin finish.
The epoxies give a very nice shine, and are food safe. If I was going to choose a poly, I would choose Varathane water-based Diamond Gloss. I've heard the oil based yellows. Maybe you could find some pieces of wood to do test runs on, and finish one with epoxy, and one with poly. That way you can see first hand which one you like better. I wish I would have done that. I practiced on four t.v. trays and finished all with glaze coat.
Also, I've already noticed that finger prints show up very easily on the glaze coat because of the glaring shine. One consideration, I think an epoxy would cover the texture of the spray stone better than a poly.
November 10, 2009
0

found this helpful
Skanepa, when you put on the glaze, did you smooth it out very lightly with a foam brush? I had my hardwood floors done a few years ago and when they put the varnish on, they used a tool that was like a paint pad, it was wider however.
I would think that would take out the bubbles although I have never done it. You are right the oil based varnish yellows something terrible. I would never recommend anyone do that.
November 10, 2009
0

found this helpful
Laniegirl, I used a wide plastic spreader to spread out the glaze. You are also supposed to use a handheld torch to get rid of the bubbles, which I did. It was smooth as glass, then when curing, the bubbles began to pop up all over, (not suddenly) and when I tried popping them with the torch, or by blowing on them, they left dimples, so I decided not to pop them anymore. I guess I should have torched over, and over, and over. I will watch it like a hawk the second time around.
November 11, 2009
0

found this helpful
Hi, I am interested in painting my countertops and would like to know how to start. If you could let me know where to start that would be great travis.
November 11, 2009
0

found this helpful
Travis, go to the top of the page and click on the tab "find". Then type in "Painting Laminate Countertops".
You will then have to scroll down until you see the title, "Painting Laminate Countertops". That is the thread that has the most info. on doing your countertops.
July 11, 2010
0

found this helpful
I kind of have the same type question. I have a beautiful medium sized vanity with nice trim detail that has a laminate top, rest is wood. It was an ugly yellow with gold trim so I wanted to re-paint for my 10 year old to put in her room.
So, after researching for almost a week, this is what I did. Please bare with me in my lengthy explanation.
Starting out with a smooth laminate vanity top already, I knew I had to do nothing to it except make sure it was clean so I put Glidden gripper on it which was white (gray was the only other available color). It went on nice and even, used a "Purdy" brush.
I let it dry 24 hours and I first tested the front removable piece of wood that I could screw off and I painted it with "Ace" Premium Enamel spray paint (deep purple).
It was so nice looking the next day, so I sprayed the vanity but I ran out and they did not have that color at the store anymore. So I continued with some left over paint of the same color but in a gallon can, but it was Behr Premium Satin Latex Interior, Exterior paint. Good for wood, etc. I let dry for 24 hours. Again turned out pretty nice but needed a 2nd coat and a nice glossy finish to add a nice final touch.
After letting that dry, I used an "Ace" Clear Enamel, but noticed the next day, some parts were shining like glass and others dull and grainy almost as if I painted a wood top with a natural grain. It was really noticeable from a distance, especially in the light. Plus, even though the gripper was evenly applied with a brush and I spray painted it evenly with the enamel, I really wanted the glassy look like some of the spots were but I ran out.
So I went back to Ace, told them what I did and asked for a good shiny, clear glossy, easy care finish that I could brush on. He handed me a pint of "Minwax" lacquer. I thought, "Great"! I just saw that online and researched it a bit so I thought I was good to go.
Not! I went home and OMG. I used sparingly but evenly, whew the fumes were unbearable, even though I opened the garage and wore a small mask. I did not want to use another spray can, that was horrible doing that so I used a brush and it showed the strokes so bad and dried to a milky dull finish. Not only that, but as I was painting, it stripped off some the paint to show the gripper so I had to re-paint those spots. It was difficult because I could not bare down like I wanted to because it removed some of the paint but I had to paint quickly because it dries so, so fast. I am also concerened...even after the proper waiting period that it might be hazardous to my daughter having it in her room.
I really was just looking to restore an old piece of furniture and work on a little project. But after further research, I see I would need to lacquer and sand, lacquer and sand and repeat too many times. Then seal then sand then buff, etc, etc. Whew! Ok, after that whole speech, I would like to know if I can just get some "Sierra Acrylic Enamel" and top it with that and be done with it to avoid more lacquer or starting over. I am only asking because I have the matching 6 drawer dresser to do also but do not want to go through what I went through. I really want these to turn out nice, but not costly or hazardous. Thank you. Signed, Not an expert. LOL.
3 days later, "The Expert" cost me $9.00 to answer incorrectly, after ruining it, he is now telling me to use MinWax Poly-Crylic. I have already bought the Enamel spray. What to do. What to do! And why did the lacquer bond to the wood part of the vanity after the steps of gripper, then latex but looked different on the laminate after gripper, latex? I mean, see how shiny the legs are. Now what to do with the rest. Sorry so lengthy. I am wore out, as I am sure you are from reading this.

May 15, 2017
0

found this helpful
What an ordeal
July 7, 2017
0

found this helpful
When I bought my home the kitchen cabinets were freshly painted but I noticed some areas had a different sheen. After a few months the corners below the handles began to feel tacky and eventually peeled off. I was concerned the surfaces were not properly cleaned prior to painting. To remedy the problem I primed and repainted. Unfortunately, my new paint job became tacky and began peeling again! After much research and test cabinet fronts I realized a alkyd paint was used on the original finish. Alkyd paint is susceptible to moisture plus the primer I used was Latex which won't block alkyd. Eventually, I ended up covering the cabinet fronts with bead board and trim. My point is mixing paint finishes can be devastating to your project. It looks like that could be the issue here and if it is you will have to remove all paint and finishes give it a good sanding and start over. Keep in mind varnishes, poly and enamels can also be oil or water based. The differences in sheen in your project makes me think you have the same problem that I have. Hope this helps you find a solution.
June 23, 2019
0

found this helpful
I wanted to use the spray on granite to now I'm a little afraid to do it and I'm afraid the sealant I'll use will yellow what's the best on you picked out of them all