I would like to change my laminate countertop. I have read the steps everyone has suggested, but wanted to know are these steps the same for original laminates that are non-white? My current countertop is a greenish, black, and white and I would like to make it a copper, red, and beige color (similar to someone's post on this page). If so, please tell me the steps. I have absolutely no experience and will be a newbie.
By Penelope from Morristown, NJ
Answers:
Painting Laminate Countertops
I painted my lemon yellow laminate with the Gianni Granite countertop paint kit and it came out great. As soon as you apply the base coat, the original color is invisible. The counters look wonderful and they are shiny and hard. The instructions for the kit were clear and everything worked just as they said it would. I am so pleased! (05/19/2010)

By kperroni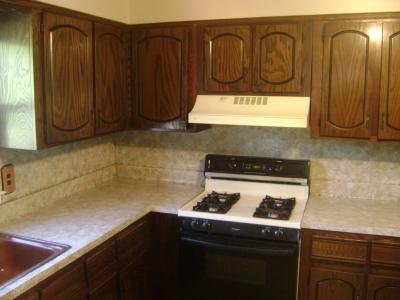 Painting Laminate Countertops
Penelope, we just covered, literally covered, our kitchen countertop with a cement/acrylic product called Milestone. Stunning results. Good photos in their showroom. artisanfinishes.com (05/19/2010)

By dewatobay
Painting Laminate Countertops
There is a product called Giani and it comes in red green, black, sand and brown. I did mine and they look beautiful!
Jules from Phoenix, Az (05/31/2010)

By jules8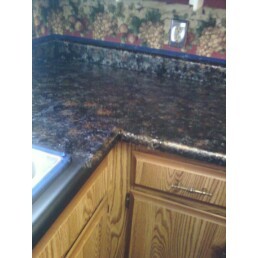 Painting Laminate Countertops
I used a manual from thisfauxhouse.com. It costs only $2 and has step by step instructions including pictures progressing through the transformation and also links to where to buy the exact products for color match to look like the example. For all of you thinking of doing this, trust me spend the $2 for a little piece of mind. It was worth it. It looks great. (07/14/2010)

By niels74