I am wanting to paint my old white Formica Countertops. What do I need to do to prepare it for painting and what steps can I take to have a smooth and shiny finished product? Thank you.
Jennifer from Pensacola, Florida
Answers:
Painting Countertops
We painted our bathroom countertop that was ceramic tile several years ago in our first home. It looked great compared to the outdated color that was there, however, after a year or two standing water made it start to peel and it was very prone to scratching. We did use a special product made especially for painting over this type of material yet it didn't hold up in the long run like we had hoped. It is worth a try, be sure to not leave standing water on it if it is near a sink and you could always try to touch it up in the mean time until you are ready to replace it. Best Wishes! (10/17/2005)

By Sharon from Merton, WI
Painting Countertops
Here's a previous article that may help:
http://www.thriftyfun.com/tf370385.tip.html (05/16/2006)
By ThriftyFun
Painting Countertops
Use a really good primer and then a coat of melamine paint. (05/17/2006)

By PICO
Painting Countertops
I painted our countertops and they look great. First, use a good ammonia based cleaner on the counters. Then roughly sand the countertops and wash them again. Let dry.
I then applied one coat of KILZ. After that dried, I painted them with black satin paint. When that finally dried, I used craft paints to marbleize the counters with greens, aquas, white and a touch of pink. Minwax acrylic topcoat was applied after paint was dry and I applied at least three coats.
Countertops are shiny, as I used gloss clear acrylic. Have had them for over two years now. No chips, no cracks or blemishes and we throw all sorts of stuff on the counters and kitchen desk counter :-) Hope this helps.
(10/07/2007)
By lj
Painting Countertops
Has anyone tried painting their countertops with crackle paint? (11/29/2007)

By Cindy
Painting Countertops
I have used the rustoleum paints for my bathroom countertops and kitchen. I used the hammered paints which turned our great, it gives them a metal look, then seal them with one to two coats of poly. If only doing a small area I would use the spray paint, it is more efficient but a little messy so don't forget about over spray. (12/13/2007)

By Ashley T
Painting Countertops
Has anyone used the spray paint that looks likes stone? I am in the process of painting my counter tops in the bath and have 2 coats of the bonding primer on so far. If anyone has used the spray paint method how did you do it? (02/28/2008)

By stacey
Painting Countertops
I painted my kitchen laminated counter top and I did the back splash also. For more info contact lordlady210 AT yahoo.Com (09/03/2008)
By AIDA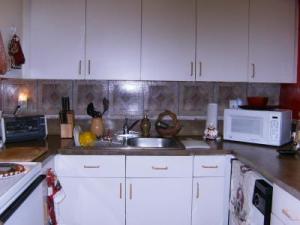 Painting Countertops
I painted my kitchen countertops four years ago, and just finished giving it a fresh coat of spar urethane. We added spray glitter to our countertops, and has a soft sparkle just like granite stone. We absolutely love it, and it is very durable! I would recommend it to anyone, but also recommend you getting specific instructions before attempting such a project. (02/12/2009)
By Laura
Painting Countertops
I painted my countertops a few months ago and sealed with several coats of a water based poly. The counters look great, however, I get white spots whenever something wet sits on it. As soon as it is dry, the spots go away. Any suggestions? (02/19/2009)

By tbonette