Want an inexpensive way to transform your old, ugly Formica countertops? Make them look like granite. Easy to do. Just paint a bonding primer and allow to dry. Next sponge on a combination of
black and white acrylic paint. Follow up with 4-5 coats of oil based polyurethane. Mine have lasted over 3 years (even with a 5 yr. old son).
Our original countertops were just an old ugly scratched white Formica and we couldn't afford new ones.
I am very proud and happy with the way they look and even my neighbors thought I got new countertops.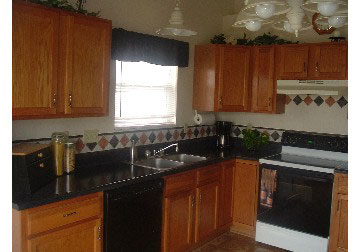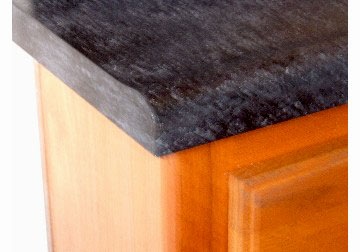 By Marianne A.
Answers:
Transforming Old Formica Countertops
Sorry I am late in answering questions, but just got back to the website after taking care of an ill family member.
On preparing the Formica surface, use a bonding primer by Zins. I had it tinted dark gray and it adhered beautifully. Let it dry at least 24 hours before painting and be sure to use an oil-based polyurethane. Sand with 000 ought steel wool between each coat for a glassy smooth finish.
Thanks to everyone for your nice comments.
My neighbors call me the "paint queen" as I paint everything to give it a new appearance. I paint because it is inexpensive and as a stay at home mom our financial resources are very limited.
(08/24/2005)

By Marianne A.
Transforming Old Formica Countertops
Here are the step by step directions:
Clean old Formica countertops very well. I used Comet cleanser and rinsed very very well.
Apply gray tinted bonding primer (purchased at Home Depot).Rolled it on and allowed to dry overnight.
Buy a textured sponge roller (it's a very small roller I purchased at Walmart in the paint department).
Dip roller in black acrylic paint (purchased in the craft department at Walmart). Roll off excess paint on paper towels.
Now dip the roller into the white acrylic paint (also purchased at Walmart craft dept). Do "not" dip into too much of the white, just a spot here and there on the roller.
Dab roller lightly on paper towels to "blend" black and white colors.
Roll onto countertops until desired look is achieved. I played with this several times before I got the "look" of granite that I wanted. It's easy to wipe off acrylic paint with a wet cloth if it's
not the look you want. Play with it and have fun.
When you get the look you want go ahead and paint the entire countertop.
Let dry overnight.
Buy the best brush possible and apply oil based polyurethane. (I tried the water based at first and was not at all happy with the results).
Allow polyurethane to dry overnight.
Use 000 steel wool (purchase in paint department at Home depot). Use a medium pressure in short back and forth motion to "sand" countertops. It will look very "dull" (scary at this point). But when you wipe with a cloth the surface should feel very very slick and smooth.
Continue with steps 11 and 12 until you have 4-5 coats of polyurthane. The last coat will not be "sanded" with the steel wool. Just make sure when you stir (don't shake) the polyurethane you do it
gently so as not to create bubbles).
Allow final coat to dry 2 days before using.
I am still enjoying my beautiful countertops and have had no problems.

Transforming Old Formica Countertops
I too have painted many countertops and this is what I do too. I would like to make one suggestion.
If you want the look of tile, no problem. Just use the 1/4" tape that quilters use (you can get from a fabric store or even Walmart). Start with a lighter base color, let dry 24 hours. Then mark off say 4" squares, then paint with contrasting color. Use thin coats of paint. Let dry again 24 hours.
Remove tape and poly. Looks great on an old countertop. (09/22/2006)

By Fauxcarolyn
Transforming Old Formica Countertops
I used a product from Daich Coatings daichcoatings.com called SpreadStone for my countertops. I have a ragged beat up second basement kitchen. After I sanded the area to create a roughness I rolled on their primer that is nice and rough also. I then applied the Spreadstone with a trowel and putty knife. I had the product tinted to 2 colors. I applied a base color and mixed the second color in sparingly, then I stippled the product and knockdown the finish with a smoother
plastic tool that came with the product. I then finished with 2 coats of their urethane sealer. I was amazed at the new finish. I now have a stone look countertop. The product is made from stone so its very authentic. (04/05/2007)

By Jamie M.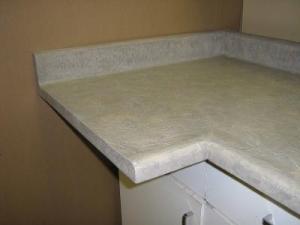 Transforming Old Formica Countertops
I have spent a lot of time researching on line and this is the best site I found. I cleaned my countertops with Comet, sanded them and rinsed with vinegar. I used BIN primer in white. I let it dry
for about 2 hours and then used acrylic craft paints to sponge 5 colors on with metallic gold being predominant over beige, charcoal, vanilla, and silver. I let that dry about 4 hours then put my first
coat of oil based Minwax polyurethane. After 4 hours I lightly sanded and reapplied. I have 4 coats on now and absolutely love the way it looks. I'll post pictures when I find my digital camera cord.
Thanks for all the tips. (09/09/2008)

By Randi
Transforming Old Formica Countertops
rustoleum.com Looks like RustOleum has a new product just for painting countertops. 16 colors, but I didn't see any granite look colors. (09/14/2008)

By Beth
Transforming Old Formica Countertops
I hate to bring this up, but as a professional decorative painter the key issue I have to deal with when resurfacing any area, particularly where food products are handled, is safety. One person posted below on the safety issues involved with using certain paints. This is an issue that shouldn't be taken lightly. Do I use standard paint products myself? Yes I do, but never on countertops.

Yes, the methods mentioned here and the recommended paint products will transform your existing counter top and the look is lovely, but using products that contain solvents and high VOC is simply
not safe. Standard polyurethanes and varnishes will gas-off for years and contain toxins such as formaldehyde, benzene, toluene, xylene, and methylene chloride. Not an ideal environment to prepare food on. The only exception to that is Envirotex which has no VOC and is environmentally friendly. I would "definitely not" recommend using standard polyurethanes or varathanes to coat your counter top and really why would you need to when there are so many new products on the market today that are safe and specially formulated to used on areas like countertops, etc.

So you don't panic there are also safe clearcoats that can be applied over your existing finish to stop "offgasing" and thus provide a safer environment for your family. There are many companies that offer safe paints for countertops:
Sorry for the ranting, but I just wanted you to be aware of the risks for the benefit of your own health and that of your family. Take it from a professional.
(10/04/2008)

By Rosebud
Transforming Old Formica Countertops
Watch out when using lacquer on horizontal surfaces in the bathroom. It gives a pretty finish, but alcohol (rubbing alcohol, colognes, etc.) may dissolve it. (10/22/2008)

By Red Neck