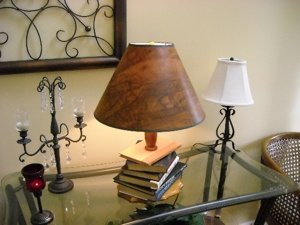 I am doing lamps made from old books that have neat covers, plus I turn wood on a turning lathe for the risers. It's goes well in book stores like ours in Gray, Kema's Used Books.
By Funwithwood from Gray, GA
Ad
---
By Rose Smith 46 87 07/31/2009 Flag
That is really neat. How do you drill the holes in the books. Can we have instructions on how you assembled the lamp.
By glimmer62 4 70 04/05/2012 Flag
So cool! I think this look is becoming trendy...saw a wedding show where the gal used stacks of books as the main part of her centerpiece and it was very attractive. Hey, the classics never go out of style do they?
'How' do you make these? Instructions would be a big help. This post was under crafts/projects.