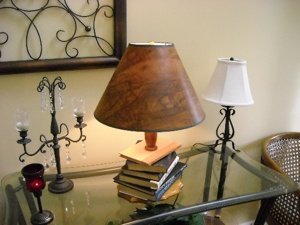 I am doing lamps made from old books that have neat covers, plus I turn wood on a turning lathe for the risers. It's goes well in book stores like ours in Gray, Kema's Used Books.
By Byron Thompson from Gray, GA
Lamp, with the lampstand being a stack of books.
Approximate Time: 30 minutes
Supplies:
books
lamp kit
shade
cord
electric drill
Instructions:
At a recycled fair, I spotted an interesting lamp. I wish I had a photo, sadly I didn't get one.
The creator had taken books and drilled a hole through the center of each book, then stacked them in an interesting pattern. She then inserted a lamp kit into the hole at the top of the stack of books, with the cord running down through the hole.
The books were glued into place, then the cord pulled through the rest of the way. The shade was placed on the top. So, basically envision a lamp with the lampstand being a stack of books. Perfect for a reading nook, next to the bed or in the library.
By mom-from-missouri from NW, MO