How do I get a Indian War Bonnet quilt pattern or where can I find one?
By Pat
Ad
---
Recent Answers
Here are the recent answer to this question.

By rebecca09/16/2013
This pattern is in a book I have called To honor and Comfort. It's a hard book to find. I can try to scan a pic and email if you like.
Jackson.Rebecca.j AT gmail.com

By Chris [2]08/29/2012
Pat from Hondo, Alberta... What issue was this? Chris W.
Questions
Here are questions related to "Indian War Bonnet" Quilt Pattern.
I would like to know if anyone has the Indian War Bonnet Quilt pattern that I could have or purchase, or if you know where I can find this pattern. My husband's birthday is in two weeks and I know he would love to have this. Please help. Thanks.
By Pat H.
---
Most Recent Answer

By rebecca09/16/2013
All these patterns are available in a book called, To honor and comfort. Its a hard book to find. I have a copy. I could try to scan the page you want and email it.
Jackson.rebecca.j@gmail.com
I am looking for a quilting pattern called "Indian War Bonnet". I was hoping to get a message to a person in Canada, Pat, that found one on eBay so that I might get a copy of it or find the pattern for myself. Thank you.
By Loretta B.
Archives
Thrifty Fun has been around so long that many of our pages have been reset several times. Archives are older versions of the page and the feedback that was provided then.
***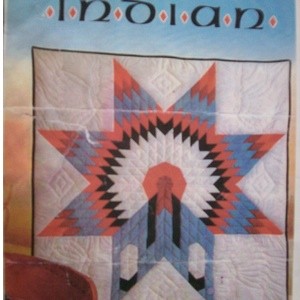 Indian War Bonnet Quilt
*** I am still looking for a quilt pattern called "War Bonnet" quilt pattern. It was published in a magazine called Country Handcrafts quite a few summers ago. Could someone please help, the magazine is no longer in business.
Pat from Hondo, Alberta, Canada
---
RE: "Indian War Bonnet" Quilt Pattern
You use the quilt pattern for the lone star except the two bottom points. (04/07/2008)
By quilter from ga
RE: "Indian War Bonnet" Quilt Pattern
This site mentions it, perhaps you can contact them:
This site mentions the "War Bonnet Sioux Star Quilt Top Pattern"
Did you try contacting the quilt clubs I provided?
quiltersindex.com
quilterscornerclub.com
Good luck! (04/07/2008)
RE: "Indian War Bonnet" Quilt Pattern
Thank you everyone for trying to get me the war bonnet quilt pattern. I found the pattern through eBay and it cost $2.68 with postage. The lady only had 2 and I bought them both, one for my daughter and the other for myself. Thanks once again. Pat from Hondo, Alberta (04/29/2008)
By Laurel_admin
Answer This Question
Add your voice to the conversation. Click here to answer this question.