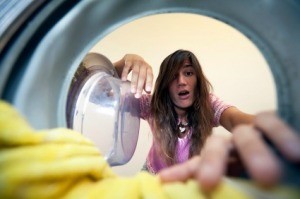 It is very frustrating to take a load of clean wash out of the washer only to discover new rust stains from the machine itself on your laundry. This is a guide about rust stains from my washing machine.
Ad
---
Questions
Here are questions related to Rust Stains From My Washing Machine.
I have a washing machine that is probably 6 or 7 years old. Every once in awhile I find a rusty residue on the laundry when I do a load. I have checked the inside of the drum and haven't found any rust. I contacted the manufacturer, and was told there is nothing one can do to resolve this problem, short of buying a new machine. I am currently getting by, by running a cup of lime-away through it once a month, but the problem reoccurs. Does anyone have a solution to getting rid of rust stains on clothing or better yet stopping my washer from leaving the rust stains in the first place?

Donna from San Diego
AnswerWas this interesting? Yes No
Ad
---
---
Most Recent Answer
By MaryLynn 07/26/20090 people found this helpful
Thanks for the idea of checking the bleach dispenser! I removed mine & sure enough the paint had chipped off & I saw a rust spot about the size of a dime. I scrubbed the spot with bleach & an old towel, then sanded it lightly. To test it, I washed my dog's bedding & bath towels & they seem fine. Just to be on the safe side, I am applying dishwasher repair rack paint to seal it. Wish I would have known this before I washed my Oscar de la Renta & Christian Dior Robes! :((
---
My washing machine is ruining my clothes. It leaves dark orange stains on everything. What can I do to solve this problem? I have hard water, but my machine is leaving these rusty looking stains on just about everything but black clothes. Help!

Trisha from Goodsoil, Saskatchewan
AnswerWas this interesting? Yes No
Ad
---
---
Most Recent Answer
By Ashley Foster [2] 06/12/20080 people found this helpful
There is a product you can buy called "Iron-out". I've had to use it before in my washer because of the amount of iron coming through the water. I know you can buy it at Wal*Mart, in the Paper goods & chemicals section.
---
My husband has never liked water conditioners. We have lived in our house for almost 20 years and my washing machine is spewing rust onto some of my clothes. Is there something like running vinegar or bleach through a cycle that will stop this?
By Patti K.
AnswerWas this interesting? Yes No
---
Most Recent Answer
By Nancy [9] 09/16/20110 people found this helpful
My father was an appliance service man, before he passed. Sometimes the transmisson in the washer can throw out grease. It is brown and ends up on your clothes. It happened to mine one time and he said that it was time to get a new washer.
Solutions: Rust Stains From My Washing Machine
Do you have knowledge about this guide topic? Feel free to share a solution!