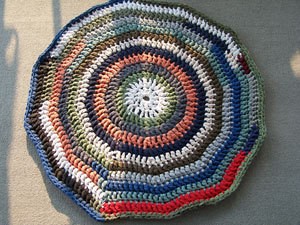 I like to crochet rag rugs out of fabric scraps. However, you always have to deal with the edges fraying. I got an idea. My husband had about 11 old colored cotton tee shirts. I cut them up in 1 1/2 inch strips going around and around (the fewer strips you've got, the less sewing them together you have to do). Then I crocheted them into a round rug. I think it turned out beautiful. I use it on the side of the bed. It matches everything.
By Donna from Millbury, OH
By Little Suzy
Ad
---
Feedback Forum
Feedback about this article is posted here. Want to contribute? Click above to post feedback.

By Donna [2]02/28/2015
This is for little Suzy. I tried to e-mail you to get the instructions and I got my letter back and said that was not a correct e-mail address. I would like the instructions at dbrt73 AT yahoo.com
Thank you and I will try to make one as pretty as yours.
jlockwood3 AT woh.rr.com. This is your e-mail right? They said it was not a legal one.
Donna

By Cisco's Mom [5]02/28/2015
I am really impressed! Your rug is just beautiful. Wouldn't it be great to make one for a wall hanging?

By phabrajojus (Guest Post)09/23/2007
to straightace;
I might suggest that you try cutting your sweaters into squares and crocheting them together to make one of a kind afghans.

By susan [5]09/09/2007
I've made these for years using T-shirts, old sweats, or other knit fabrics. The size hook can vary with the width of the strips. I like to make mine from a half double stitch. I've made circle rugs, oval rugs, and rectangular ones. I've found a jumbo crochet hook that makes the rugs really nice and thick, so they feel so soft underfoot. I think this in an absolutely wonderful way to recycle, and they last for years.

By Annie Rios Hill [12]09/08/2007
Gorgeous rug. Looks like it would be so soft to step onto
on a cold winter morning. Great Idea!

By Ginger [8]09/08/2007
Can anyone figure out knitting directions for preferably a round rug? I have directions to knit round washcloths so I guess it can be done. Has anyone tried?

By Little Suzy [93]09/08/2007
If anyone wants the directions for the rag rug made out of tee shirts e-mail me at jlockwood3@woh.rr.com. I can just send it to you. It does use a Q size hook. I've posted the directions for it on this website but honestly I'm not seeing it show up anywhere.

By Janice C. [18]09/07/2007
I love this idea. I have some faded t-shirts that are only technically still wearable. Now they have a new purpose in life. I'm guessing you use about a J-sized hook (about 1/4" in diameter)?

By Kim Churchman [3]09/06/2007
Bet that feels nice and cushy when you step out of bed in the morning! good thinkin'!

By Enter your nameArlene. (Guest Post)09/06/2007
I know a little bit about crocheting, but could you possibly give some directions as to how to start the rug and also how each row is crocheted? Thanks

By Jeanne,Schenectady, NY (Guest Post)09/06/2007
I love this idea! Can you send the crocheting directions?

By ML (Guest Post)09/06/2007
That is really attractive. How did you do that without it curling? Can you post the pattern or tell us where to find it?

By Liz [15]09/05/2007
I love the rug! Does anyone have suggestions for what to do with old sweaters? I especially like to crochet, but all ideas are welcome. Sweaters ravel a lot more than t-shirts do, so that may rule some ideas out! Thanks!!

By Alicia09/05/2007
Now this is really cool! I love this idea, I have 2 college boys and a husband that has TONS of old T-shirts! What a cool idea! Thanks for sharing!

By Francoise (Guest Post)09/05/2007
great idea.
You could also knit the rug (rectangle) if one does not know how to crochet.
Post Feedback
Add your voice to the conversation. Click here to share feedback.