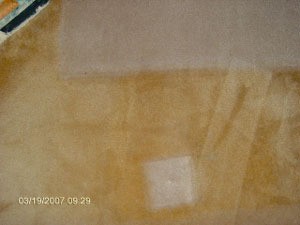 I have yellow dust throughout my whole house. It even turns my carpets yellow. If you spray the carpet with water it makes it white. But it is not just on the surface of the carpets. It took me 13 hours to scrub 2 rugs until the yellow was all gone. I scrubbed them with a brand new steam cleaner that heats the water and I put hot water in the machine. My hot water gets to over 130 degrees. I don't usually open my windows. I really do not think it is pollen.

I cleaned everything in November and have not opened my windows since then, and everything still is turning yellow again. No one wears shoes in my house, so it is not from outside. The dust is on everything. My heating vents have been cleaned twice in the past 5 years. It didn't help at all. I have also had my rugs professionally cleaned and that didn't help either. I want to know what it is and what causes it? It drives me crazy that I clean the whole house so well and no one wears shoes in my house, yet the white carpets I have look dirty because of this yellow stuff - whatever it is.

I have enclosed a picture of my white carpet when I moved my couch. You can see it is white where the legs of the couch sit, and where I went over it with a steam cleaner. Where most people walk, it's not so yellow because it comes off onto people's socks. I do not have any plants in my house. I am a very bad gardener and can not keep anything alive.
By SHERRYLYNN