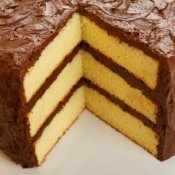 This recipe makes a very light and delicate-crumbed cake. Great for making plain cake with a favorite filling, then frosted to suit your family, or left as is. A very simple and easy recipe.
Ingredients:
3/4 cup butter, softened
1 2/3 cups sugar
2 eggs
2 tsp. vanilla
3 cups sifted cake flour
2 1/2 tsp. baking powder
1/2 tsp. salt
1 1/3 cups milk
Julie's Note: To make your own cake flour, measure 3 cups plain flour into a bowl, then remove 6 Tbsp. of it and put them back into the canister or flour bag. Now, add 6 Tbsp. corn starch to the remaining flour and sift it all together 5 times (at least 5 times, but if you like, you can sift it a couple more times to be sure it is very light). Now you have created your own cake flour and can proceed with your recipe.
I usually make about 12 cups of cake flour at the time, so I don't have to stop and make it every time I need cake flour. Just keep it in a big jar or even a Ziploc Freezer bag well marked so that you know what it is.
When making 12 cups at the time, I'll replace 24 Tbsp. of the flour with 24 Tbsp. of corn starch. Better to do it in 3 cup increments so that you get it all sifted together evenly. It takes a while to sift it as many times as you need to, but it's very necessary you don't skimp on this step.
Keep in mind that you are saving quite a bit of money when you make your own. I never minded doing these things as I'm very much at home in my kitchen and I enjoy all the puttering it takes.
Directions:
Preheat oven to 350 degrees F. Grease and flour 2 (9 inch) cake pans.
Cream butter, sugar, eggs, and vanilla until well combined.
Sift flour, baking powder, and salt. Add to butter mixture alternately with milk; beating until smooth after each addition.
Bake in prepared pans 30 minutes or until tests clean. Cool in pans on wire rack 10 minutes; remove from pans and let cool completely on rack.
Frost as desired.
Julie's Note: This cake is delicious as a base for strawberry short cake, or filled with all sorts of pureed dried fruit with confectioner's sugar and cream cheese filling, or just add a favorite jelly between the layers while the cake is still hot (crab apple, red currant or strawberry jellies are just perfect).
My children liked it best with red currant filling, and just a light dusting of 10X confectioner's sugar on top.
Prep Time:
20 or more if you are making your own cake flour. Minutes
Source: This was my Mother's recipe, and her Mother's before her. I can remember my Grandmother making her famous fresh coconut cake for the last time using this recipe in 1947.
By Julia from Boca Raton, FL