Make a quilt easily and cheaply. Use a flashy fabric for the top made from cheap clothing from the second hand shop. Use a mattress pad for the batting, and a nice fleecy or soft bedspread for the backing. Sew together and put a few ties into the center for stability, you'll be surprised at how warm and pretty these are.
I collect fabrics like velvets (friends give them to me for my quilts), or sweat shirts to make "theme" quilts. I've made lovely gifts like this for nearly no money.
By Katy B. from Dowagiac, MI
Comments
Add your voice! Click below to comment. ThriftyFun is powered by your wisdom!
I have been second-hand shopping for several years. I got a beautiful ski coat with real fox fur on the hood for $5. I have also bought shoes that were just like new. Since I quilt, I look at 100% cotton clothes, which look better and better with the price of fabric rising. The bargains are wonderful, and it is such fun! Now if I could only get rid of things I no longer use, I would be really doing something good!
By winterquiltersummergolfer from Craftsbury Common, VT
April 28, 2011
0

found this helpful
I hear so many people say they shop at Goodwill and stores like that and they find good deals and these are people who can afford to shop at other stores. I just can't do it, I was taught that the goodwill and stores like it was for people who were having a hard time or could not afford the other stores. When you buy something from these stores and you can afford to go to other stores then you are taking away from someone who really needs it. This is just the way I feel about it and I don't mean to be ugly about it.
April 28, 2011
0

found this helpful
Teresa Kay, I can understand your feeling but Goodwill, Salvation Army, and many other thrift stores also provide job training for unskilled or under-employed people. If only needy people shopped in thrift stores those organizations could not afford to provide as many job training opportunities.
May 1, 2011
0

found this helpful
The only people you might take away from that really need it are the other countries where these rip off goods come from. Does anyone really think that a skirt, with 2.00 of material and literally a waist casing, a back seam and a hem should cost someone 50.00?
I have been proudly shopping at thrift shops since I can remember. I buy everything there so I can afford the things I can't...like rent, utilties, food and insurance.
The money and jobs and food boxes stay in the local community, I bring home bargains you can't even imagine, and folks who can't get a job anywhere else get to live independently, have some self esteem and thier lives are better for it.
A rock dropped in a pond doesn't just ripple a little here or there, it goes everywhere evenly. The good these places do helps everyone. No one know from week to week where their jobs or lives or homes will be next month...still theirs or in foreclosure. The money saved with these wonderful places keeps people from over spending and then having nothing to fall back on when their world falls out from under them.
Sandi/Poor But Proud to shope at Goodwill, Salvation Army, St. Vincent dePaul, Value Village, Helping Paws, Union Gosple Mission all in Salem, OR.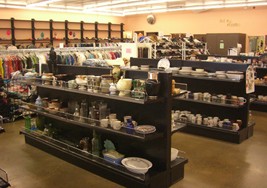 June 21, 2011
0

found this helpful
I do the same as far as buying clothing I can use to make quilt squares from. It is so much less expensive than the price at Jo-Ann Fabrics or other retail stores who buy the fabric from other countries. This way I can donate the quilts to local homeless shelters or nursing homes. "Hands of Hope" is a local store (similar to Goodwill) where I live which sells donated items to help people who live shelters. I also make lap quilts for wheelchair users as I live in a cold climate area.