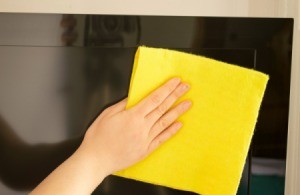 Residue from cigarette smoke can cling to many things in your home. This is a guide about removing cigarette smoke residue from flat screen TV.
Solutions
Share a solution for this guide today!
Questions
Here are questions related to Removing Cigarette Smoke Residue from Flat Screen TV.
We have a flat screen TV that has been stored at my mom's house. She smokes. She usually smokes outside but sometimes n the house. It's a nice TV, but I don't want our new house to smell of smoke. Is there something I could wipe it down with and not have it hurt my TV?
By Candy from Greeley, CO
My question is how to clean the screen of a flat screen TV in a home where there is a smoker (make that heavy smoker!) The instructions say use only the anti-static cloth lightly dampened. I just do not think that's gonna do the trick. Help please!

By aligirl from Hudson Valley, NY
---
Most Recent Answer

By Anonymous01/12/2011
I don't have a flat screen TV but I have a flat screen monitor. I unplug the monitor and clean with distilled vinegar with a soft cloth and have never had a problem. P.S. it's bad enough for someone to smoke and even worse to smoke inside. Nasties build up on everything including walls, windows and even clothes and linens in closed closets! And let's not forget to mention lungs :-(