How do I remove the vapor film collected on my TV (most importantly) and other surfaces caused from vaping (not smoking) inside. It is a small space and despite the remedies I've tried, nothing seems to work. It simply smears the stain and moves it around.
You can see the smear around the flash in the pic. I've since resorted to going outside. But that doesnt fix the problem that already exists. Any help is appreciated.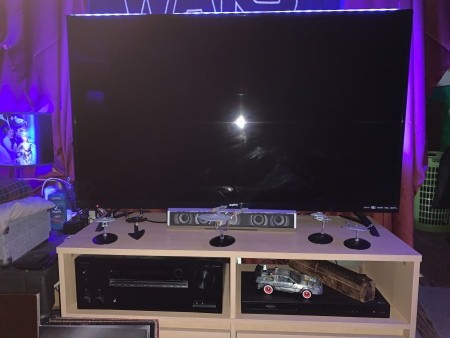 Iceskater
Silver Answer Medal for All Time! 320 Answers
April 23, 2021
0

found this helpful
Best Answer
Here is a page that seems to have sound advice for the TV www.twowaymirrors.com/.../
For other surfaces, a mixture of 2 parts white vinegar to 1 part water sprayed then wiped with a soft cloth (think microfiber, old towel, diaper) usually does the trick. NOTE: do not use vinegar solution on granite countertops; some people won't use it on wood furniture either but I've never had a problem with that.
Maybe try a weaker solution in an inconspicuous place first -- I guess that goes for all cleansers! Good luck on this project.

April 23, 2021
0

found this helpful
Best Answer
Caution:
Be very sure any product recommended is safe for your TV.
Always unplug TV about 15 minutes before cleaning and do not turn back on until at least 15 after cleaning is finished.
"Turn the TV off and let it cool down for a few minutes before unplugging it.
To clean the frame and screen, gently wipe it with a microfiber cleaning cloth. Make sure to wipe the TV frame and screen as gently as possible. TV screens are fragile and can be damaged when pressed too hard.
If you don't see results, spray distilled water on to your microfiber cleaning cloth and gently wipe the frame and screen.
Let the TV dry completely before you plug the TV back in."
TV companies recommend spraying distilled water on a microfiber cloth to clean newer TV's and laptop screens. If heavy film on screens you may have to do this more than once.
Your cloth needs to be damp but not running wet.
Keep turning it over as you wipe and when dirty use another clean microfiber cloth.
To clean other items you can use a 1/1 mixture of vinegar & water or if necessary, use 2/1 vinegar & water. You can use any type of clean cotton cloths. Just mix in a pail or large bowl and keep wiping until surface feels clean.

DianaHM
Silver Answer Medal for All Time! 440 Answers
April 30, 2021
0

found this helpful
Best Answer
The vapor emitted from an e-cig contain nicotine, glycerin/glycols, artificial flavorings and preservatives, among other chemicals, but mostly glycerin (not water as most people assume). This why it is clear but slightly oily.
To clean vaping residue on smooth, non-porous surfaces wipe down it with a cloth dampened in vinegar-water mixture. Some build-up on glass may clean best with straight rubbing alcohol in a spray bottle.
Step up your cleaning frequency.
Use ceiling fans.
To clean fabrics and carpets is not so simple. Vaping residue cant be washed out with water. Only professional cleaning can help.
Fabric fresheners such as baking soda or other freshener products that bond with particles will help.
Don't forget to clean walls. If the surface is allowed to be washed with water then use water with a good scrub.
Air vents and ducts may require professional cleaning.