Garden: Bird Bath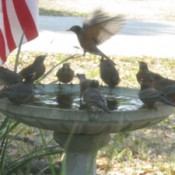 It's a thrill to have more than 2 birds at our birdbath at the same time. Today I saw 4 Robins and grabbed the camera. In a matter of minutes the birdbath was overcome with all these birds! I was clicking like mad and captured this great shot. (Notice the little guy to the left on the tree trunk peering in! ) Cool huh? 13 total!
By Lee from Indialantic, Florida
Feedback
Read feedback for this post below. Click here to post feedback.

By
02/25/2010
Thank You for sharing your picture! We've been dry here so I had to run and fill my bird baths when I saw our share of Robins circling around my backyard. The bath's had gone dry! The following morning when I was watering the lawn they were flocking to drink from the water in the gutter. They were even running down the street to hurry and get their share :)

By
02/25/2010
Love your photo! Great catch with the bird landing and the American flag in the breeze!

By
02/25/2010
Our wild birds need good fresh water more than they need food in most areas especially here in the south. There's nothing that gives as much pleasure as watching the birds play, drink and take their baths in a nice birdbath either. I'm happy that you are enjoying something that the little guys love so much. I never get tired of watching them at
our birdbath either.

I loved your picture and thank you for sharing it with us. Julia in Boca Raton, FL
Post Feedback
Add your voice to the conversation.