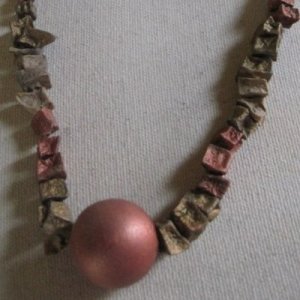 You can make some unique jewelry items for yourself, to give as gifts, or sell at craft fairs using potatoes. This is a guide about making potato jewelry.
Solutions
Share a solution for this guide today!
Questions
Here are questions related to Making Potato Jewelry.
How do you make a potato necklace?
By Nicky from Jackson, MO
---
Most Recent Answer

By Colleen Stuchal06/07/2010
Peel a potato, cut it into cubes, poke a toothpick through the cubes and let dry for about a week. Paint them and then seal with an acrylic spray.
then string them.
Can someone please tell me how to make them? I need a hobby.
By justme
---
Most Recent Answer

By Catherine03/19/2012
Here is the answer to your question :
http://uniqart.blogspot.fr/2010/01/tell-me-what-you-think-to-this.html
How do I make potato jewelry?
By Linda
---
Most Recent Answer

By Vicki03/09/2012
Peel the potatoes and cut them in the (relative) shapes you want, typically squares or rectangles. (They dry how ever "they" want, it is not completely controllable). Put toothpicks, wire or something inside them to keep a hole in them. Let them dry about a week.

You can speed up the process a bit by microwaving them a couple of minutes (don't microwave wired ones, of course). Then paint (or not, they tend to become very black), varnish in some manner, string. Mine developed some mold, so I am thinking next time of dipping them in apple cider vinegar (which kills germs and mold) first. Other posts I have read on the subject haven't mentioned mold, maybe it wasn't an issue for them.
I would like to know how to make jewelry out of potatoes?
By Richelle from Worcester, NY
---
Most Recent Answer

By Elaine08/24/2010
I have made potato necklaces. I am not so sure but what I didn't post it here but maybe not. I made mine of different metallic pieces with one big wooden bead in the center.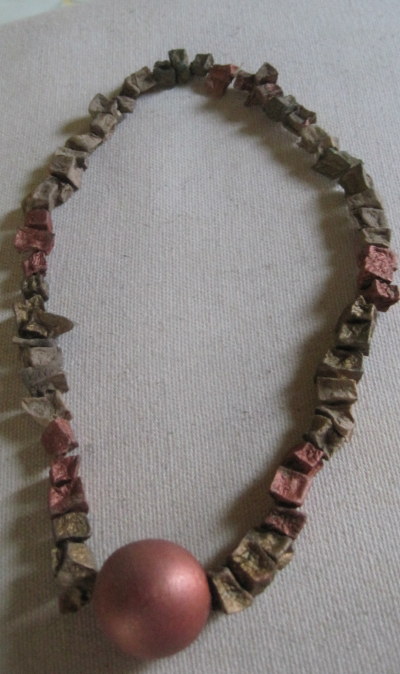 How long will this type of jewelry last, will our pets enjoy eating or pic away at them?
By Sandi
---
Most Recent Answer

By OrahLee06/11/2013
I have a necklace and earring set made with "turquoise" stones from potato, that I purchased in 2002 or 2003. They still look great, and I wear the earrings at least once every two weeks, they are my favorite length and style. Because the paint job was done nicely, they even are worn with my real turquoise sometimes. The paint seals the potato, so they've lasted. I love it!
Archives
Thrifty Fun has been around so long that many of our pages have been reset several times. Archives are older versions of the page and the feedback that was provided then.
Has anyone ever made beads out of cut potatoes? I seem to recall seeing someone cut potatoes, let them dry and then paint them and make jewelry. My 4 yr old is very into jewelry and I thought this would be a fun project, but wanted to be sure to do it right.
Rebecca
---
RE: Making Potato Beads
Yes, I've made potato beads. Basically you just cut the potato into 1/2 cubes, stick them on skewers, and then let them dry for about a week before painting them.
I teach a "BeadMaking Basics" course at Suite101.com with instructions for potato beads as well as other bead projects, if you're interested. (04/18/2005)
By Erin H
RE: Making Potato Beads
Mine shrank a good bit as they dried so you may want to cut them larger than the size you want to end up with. (04/19/2005)
By Ann4
RE: Making Potato Beads
We make potato beads at our senior housing community a couple times a year. The ladies love to wear them and get lots of compliments. Just peel and cut potatoes - put them on skewers to dry (about 1 week) paint them any color and make sure that you seal them with a sealer (gloss works best) then string them with lots of colored beads, spacers etc. and they turn out lovely. Cut the potatoes a little larger than you want the beads to be, as they shrink quite a bit while they are drying. They don't smell, but once they are dry, they look terrible until painted. (09/16/2005)
By sandy c
RE: Making Potato Beads
I was searching the internet and found this question. I made some of these after hearing about them and they came out really cool. I have to say I was really surprised, I never knew you could do this. :) Here's how mine came out http://www.familycorner.com/homegarden/crafts/making_turquoise_potato_beads.shtml
I hope it's ok to post that link?
Editor's Note: We encourage posting of links that answer the questions. (05/26/2006)
By Amanda
RE: Making Potato Beads
Yes, potatoes can be used for a lot of things like potato painting and bead making. Go to http://www.suite101.com/lesson.cfm/18889/2241/3 for great potato bead making instructions. I have included a pic from this site of the finished potato necklace. Hope you have fun! (07/01/2006)
By
RE: Making Potato Beads
I bought a necklace and earring set of potato beads and have worn the earrings with my real turquoise and get lots of compliments on my "really pretty" earrings! The shape and paint color do the trick. Take this project to craft fairs. Keep on crafting! (04/17/2008)
By OrahLee
How do I make potato jewelry?
By Jean from Mechanicsburg, PA
---
RE: Making Potato Beads
If you enter "potato bead necklace" in the search window here on Thriftyfun, you will find directions for making potato beads. I also Googled "how to make potato beads" and got a number of sites with directions. (03/23/2010)
By Omanana