I was just finishing my lunch when I saw this big grasshopper on a wooden chair next to my fridge. I guess he didn't like it outside, it was quiet hot for our country Slovenia, 37 degrees.
By Evelin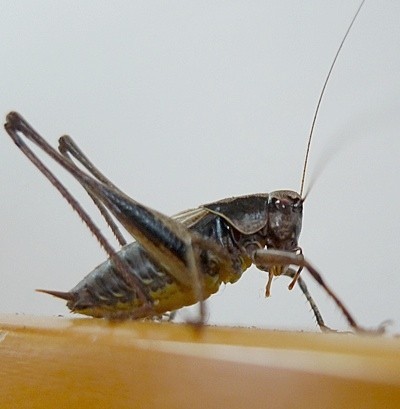 Add your voice! Click below to comment. ThriftyFun is powered by your wisdom!
I've always been curious about what grasshoppers eat. While walking the dogs with my husband, one day I found out.
We were down in the field below our home and there were grasshoppers leaping to and fro everywhere in the grass! I followed one around for a while, and it eventually began feeding on this dandelion. I was so excited that I nearly dropped my camera! I know that sounds silly, but I always get so excited when I feel I have the chance to photograph something extra neat.
Anyway, now I know a little more about what grasshoppers eat and want to thank God for the neat experience. I hope you all enjoy my sharing it with you. Keep on smiling!
By Chelle152 from Coquille, OR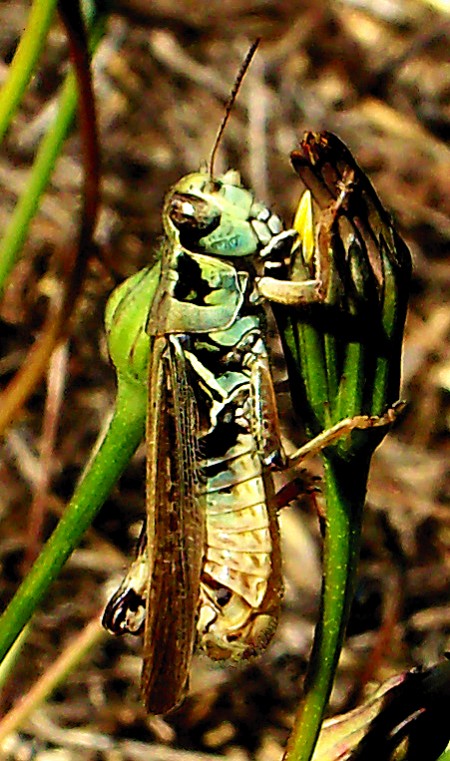 October 23, 2011
0

found this helpful
Beautiful shot and inspiring attitude. Thanks!
Read More Comments
I just loved this little guy. I was taking my dogs out to do their business, when I saw literally hundreds of little grasshoppers and crickets jumping in every which direction with every step I took. It was amazing! So, I whipped out my camera and started sneaking up on them.
This one found quite the good hiding spot - he blends in so well! Because he was so well camouflaged, he felt a little safer and braver. I thought he'd chosen quite the perfect and relaxing place to sit. An area that's not only safe, but he's surrounded by pretty white flowers to smell as he takes in the scenery and watches the sun set. Do you ever sometime wish you were a bug, just to experience such a unique perspective?
By Chelle152 from Coquille, OR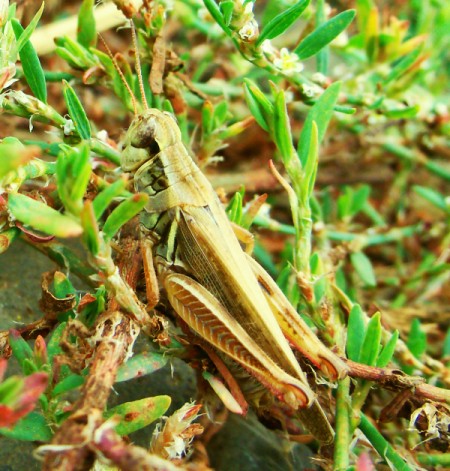 October 5, 2011
0

found this helpful
You demonstrate both kinds of perspective. The first kind is your close-up photo shot of the grasshopper. It looks professional, has rich color, good detail, fine lighting. The second kind of perspective is your use of imagination to see life through the eyes of another creature.
You have gone beyond ordinary insight for most adult human beings. You are very creative. Thank you for entering your photo and your commentary about your entry. My vote to win is for you!
Read More Comments