When I visited Texas last year I saw a antique chair and the seat had been redone by weaving vintage men's neckties for the seat. I would love the have the directions for doing this. Thank you in advance to anyone who can help me with this craft information.
By Betty Brady
Answers
Please be sure to rate the answer which works best for you. Do you have a better answer? Click above to answer this question.

By Della Mano Designs (Guest Post)06/17/2008
Hi,
I teach a course in weaving chair seats out of neckties. The next time you're in Maine, please stop in and I'll show you some. Or, better yet, sign up for my weekend class and enjoy a vacation in Maine! Check it out at http://www.artnightout.com/ . The next necktie class is in October! Thanks and good luck -
Diane Dellamano Brakeley
Della Mano Designs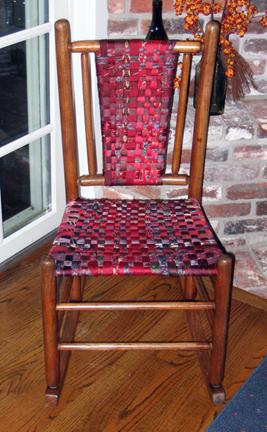 By cozy22003/22/2005
That is so so cute....can't wait to try !

03/21/2005
Good idea, Betty! Here is a website for a Necktie Chair seat that shows you how:
http://www.diynetwork.com/diy/fn_ch ... cle/0,2025,DIY_13823_2269615,00.html
Please let me know if the link doesn't work for you. I wish you great success!
Maryanne


http://romantichomesmagazine.co.nr

By suzi homemaker (Guest Post)03/21/2005
This is probably just conicidence, but I live in Copperas Cove, Texas and we have a little coffee shop in town and they have a chair with the seat weaved in neckties!! They have mismatched chairs and tables, and large grapevine hanging from the ceiling. It's a really cute place!
Answer This Question
Add your voice to the conversation. Click here to answer this question.