Dog Throwing Up After Eating
Your best advice will come from your veterinarian when there are concerns about your dog's health. This is a guide about
dog throwing up after eating
.
I have a 1 year old poodle who has just recently started throwing up her food quite often. I have tried different dog food, changing her water bowl and giving her small amounts at a time, several times a day. Nothing seems to help. Any suggestions? She seems fine otherwise, very active and playful. She does gobble her food like she was starving no matter how much she has. Help!
January 27, 2009
0

found this helpful
I have a Toy poodle who started doing that at about the same age as yours. I called his vet & he told me to take his food away from him for 24 hrs & give him childrens pepto bismal. At 1 yr old he should have already have been seen by a vet several times. If he has worms or parvo or anything like that, the vet would have caught it. The vet also told me that poodles have a sensitive stomach. I feed my dog Iam's small/toy dry dog food & for a special treat once a week I give him a small can of Mighty dog dog food. the can of food helps to move his bowels, dry food can cause constipation in young dogs. Why mighty dog? because it's the only one I've found that he likes, LOL. He still has a spell everyonce in a while of vomiting. I don't know what causes it. But since the vet told me poodles have sensitive tummies I try not to worry about it. I just give him 1 childrens pepto bismal tablet & keep an eye on him. He is 4 now and I no longer take his food away from him when he gets sick.
Poodles are also sensitive to skin issues. A lot of them have allergies just like humans do. My dog has terribly dry skin and I give him Pro-Pet brewers Yeast which I buy at Walmart. 1 tablet for every 10 pounds. My dog also has esophageal spasms. It almost seems like he is having an asthma attack! The dr said it is a common thing in poodles & small/toy dogs. I give him a capful of childrens Benedryl when that happens & it does help him.
My advice would be to call your vet & at least let them know what is going on. chances are he will just give you advice over the phone & not even have you bring him in...which can be quite expensive!
January 27, 2009
0

found this helpful
Hello,
Please take your fur baby to her Veterinarian. Any dog that throws up needs to be seen by a Doc. The problem can be a simple one or not. Please go ASAP...good luck.
January 27, 2009
0

found this helpful
Get her to the vet ASAP. Wouldn't you go to the doctor if you threw up your food after eating?
February 18, 2009
0

found this helpful
I have a toy poodle that throws her food up after she eats it. She is 6 weeks old and bottle fed still. Her mother stopped nursing her so I took her and bottled fed her and she still eats the formula but I tried her on some puppy food and she throws it up. What could I do?
August 9, 2011
0

found this helpful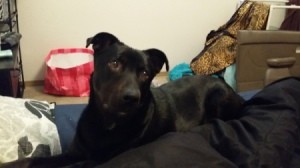 My dog is about 2.5 years old and he has been eating dry food since I got him. Recently he has stopped eating his dry food and won't eat until after he pukes up stomach acid. I started giving him 1/2 dry and 1/2 wet, but he would only eat the wet. So I just started giving him all wet food and the other night he puked up what looked like 2 days of wet food. I'm not sure what to do or what this means.
By Annie W.
March 5, 2014
0

found this helpful
Your dog needs to see a vet. He could have a blockage in his stomach or intestines causing him to vomit. Hope he feels better soon.
March 5, 2014
0

found this helpful
In the best interest of your Dog please phone your veterinarian immediately.
Related
You are viewing the desktop version of this page:
View Mobile Site
© 1997-2016 by Cumuli, Inc. All Rights Reserved. Published by
ThriftyFun
.
Page
generated on November 22, 2016 at 10:12:30 PM on 10.0.0.167 in 2 seconds. Use of this web site constitutes acceptance of ThriftyFun's
Disclaimer
and
Privacy Policy
. If you have any problems or suggestions feel free to
Contact Us
.