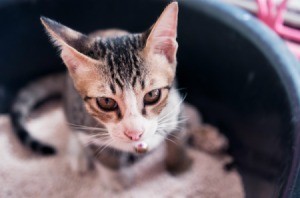 Having a well trained house cat makes for a pleasant home, as long as long as the cat box is odorless. This guide is about preventing litter box odors.
Ad
---
Solutions: Preventing Litter Box Odors
Read and rate the best solutions below by giving them a "thumbs up".
To keep cat litter fresh smelling, mix baby powder in with the litter.
Source: A friend
By atinap from Drummondville, QC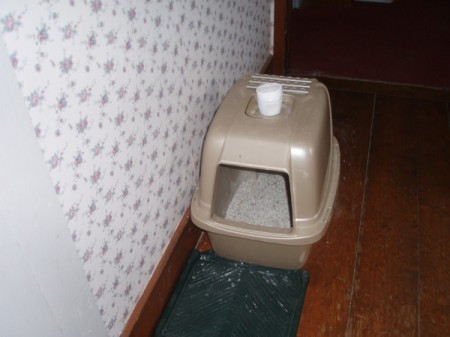 Instead of buying expensive cat litter I use the cheapest clay litter but keep a jar of baking soda on the top of the litter box.
I use an empty air freshener container since it has vents in it (which can be used to sprinkle it) and fill it with baking soda, which I sprinkle into the box after each cleaning.
The baking soda left on top and sprinkled in the box helps keep it smelling fresher between cleanings while i am away at work!

By Donna [287]
I was told by a pal, who works at a local discount store, that the product "Feline Pine Kitty Litter" is the best product to use if you have pets such as ferrets or cats. It cuts down on the odor more so than most like products.

By Terri H. from NV
Give a "thumbs up" to the solution that worked the best! Do you have a better solution? Click here to share it!
Questions
Here are questions related to Preventing Litter Box Odors.
How do I eliminate cat odors? I clean kitty litter 2-3x a day, vacuum at least every other day, clean surfaces daily, and wash curtains, etc. weekly. I do use lemon grass oil to keep spiders away which scents the air, but doesn't always clean the air. How are scented candles like Febreze for cats?
By Sharon from Newark, CA
AnswerWas this interesting? Yes No
Ad
---
---
Most Recent Answer
By Poca [1] 01/12/20110 people found this helpful
I would be careful about using perfumes, candles, or scented litters for a cat or cats. And be careful that the litter is not too powdery as the cat can breathe in the dust it causes when it uses the box & also some litter stick to the cats fur just from using box. I try not to use a litter that states too strongly language about controlling odors, etc because of this. Cats can have allergies too & I certainly wouldn't want to be breathing litter dust 2-3 times day. Anyway, that is my humble opinion.
---
What is the best way to get rid of the smell from the cat litter box? I clean out the box at least twice a day and put new litter in. I even added baking soda to the litter, but it doesn't help. Is there anything else I can try besides buying a scented litter, which is too expensive?
By Linda from Brighton, MI
AnswerWas this interesting? Yes No
Ad
---
---
Most Recent Answer
By ilovesophie 20 165 09/12/20110 people found this helpful
If the litter box is plastic, it might have absorbed some of the odor. I would replace it with a new one and see if that helps.
---
We just moved into a rental townhouse. I am pretty sure who ever lived there before us had a litter pan in the upstairs linen closet. It does NOT have a urine smell, but more like the actual kitty litter itself. I have tried several things to get this smell out -- washed the closet down, aired out the shelves in the sun, baking soda in the bottom -- I am at a loss now. Someone please help me, I have been in this place for 3 months and it makes my whole upstairs stink if I leave the door open, and my linens are still in a basket beside the closet. Ugh!

Monica from Ontario. Canada
AnswerWas this interesting? Yes No
---
Most Recent Answer
By Patricia Laufer S. 06/11/20150 people found this helpful
We have used a basin with towels soaked in rubbing alcohol under the beds in patients rooms to remove extremely strong odors. May be worth a shot.
---
We have a 3 year old indoor cat and were wondering what is the best dry cat food diet we could give her. When we first got her, we tried to give her the wet can of food we got with her, but she threw it up. So, she doesn't like any canned food. We have been giving her bulk dry cat food from the grocery store. She seems to be OK with it, except that her litter box odor has gotten kinda of bad.
I've just been reading about diets and litter box odor and that there might just be a connection. What is the best kind of dry cat food to feed her so her litter box won't smell so bad?
By Linda from Brighton, MI
AnswerWas this interesting? Yes No
---
Most Recent Answer
By Judy 07/27/20110 people found this helpful
Purina One can be gotten at most any store, Wal-Mart, Woodman's, etc. I found Woodman's to be cheaper as Purina One is more expensive. I had a cat that had a delicate stomach and I found that Purina One worked best. Right now I'm using the Smart Blend.
---
I have only 1 cat, but the odor from her litter box is very unpleasant. We scoop at least once a day or every other day, but the smell is still bad. I've tried several different kinds of litter and thought the last brand I bought (Arm and Hammer Double Duty) worked. It did for a little while, but it stills smells bad.
I would like to know how to get rid of the smell from our cat litter box? I've tried all kinds of powders and different litters that are suppose to control the odor, but none have worked. Is there a special kind of litter out there that is proven to control both the urine and the poop odors?
Shay lives in a small house with 5 cats. They, all 5, use one litterbox. As soon as Shay cleans the litterbox and puts fresh litter in, all 5 cats need to use it. Therefore, the smell never goes away. What can Shay do to eliminate or at least neutralize the odor?
HELP! My flat is very small and the whole place smells like a litter box! I bought some clumping litter, litter freshener and about a million air fresheners but nothing seems to work.

I love my cat sooo much but I don't think I can deal with this stink!

One thing about the clumping litter though, now I've been using it for 2 days - OMG my cat does the HUGEst wee's! Are they normally so big?

Kirstie from UK