Preventing Litter Box Odors
Having a well trained house cat makes for a pleasant home, as long as long as the cat box is odorless. This guide is about preventing litter box odors.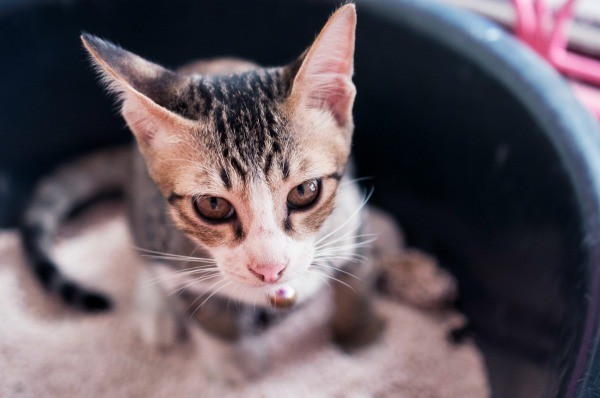 Filter

: All Articles
Sort

: Relevance
February 29, 2016
0

found this helpful
Boxiecat it is available online.
March 1, 2016
0

found this helpful
I've started using 'stall pellets'.....they are wood chips compressed into pellets and have many different brand names. I get them at a farm/feed store, they may be elsewhere as well. They start out as pellets but as the kitty uses the litter box, the pellets break down from the moisture into fine sawdust. The odor control is amazing and the price is very low. These are not for pellet stoves, but made specifically for animals.
How do I eliminate cat odors? I clean kitty litter 2-3x a day, vacuum at least every other day, clean surfaces daily, and wash curtains, etc. weekly. I do use lemon grass oil to keep spiders away which scents the air, but doesn't always clean the air. How are scented candles like Febreze for cats?
By Sharon from Newark, CA
January 1, 2011
0

found this helpful
Baking soda is great but also, I use Special Kitty that comes in the green box from Walmart. I've tried all the others and really nothing compares for the price. Also, try to keep enough kitty litter in the kitty box, at least 1/2 full.
I should mention I have two cats and never have an odor problem. :) Good luck!
January 2, 2011
0

found this helpful
Thanks to all of you for the suggestions. They are very helpful.
January 12, 2011
0

found this helpful
I would be careful about using perfumes, candles, or scented litters for a cat or cats. And be careful that the litter is not too powdery as the cat can breathe in the dust it causes when it uses the box & also some litter stick to the cats fur just from using box. I try not to use a litter that states too strongly language about controlling odors, etc because of this. Cats can have allergies too & I certainly wouldn't want to be breathing litter dust 2-3 times day. Anyway, that is my humble opinion.
Read More Answers...
To keep cat litter fresh smelling, mix baby powder in with the litter.
Source: A friend
By atinap from Drummondville, QC
What is the best way to get rid of the smell from the cat litter box? I clean out the box at least twice a day and put new litter in. I even added baking soda to the litter, but it doesn't help. Is there anything else I can try besides buying a scented litter, which is too expensive?
By Linda from Brighton, MI
January 13, 2011
0

found this helpful
I've tried many things over the years. I've tried the automatic boxes and I even tried one that was over $300.00. They didn't work because the feces when disturbed would cling to the rake the boxes use. What a mess! And of course the odors were terrible. I tried using a large storage bin with the sides cut high, but our large, older cat said it was too hard to get in and out. I tried the rug in front of the box trick but, I still had a mess to vacuum up. Finally I am in a happy place. I am lucky enough that I have a seldom used attached garage. I store things in it mostly. I installed a kitty door so the kitty's can come and go.
Now the litter box is no longer in my home. I set the box in a swimming pool and the litter that they kick out or sticks to their feet stays in the pool. I also use a hard clumping litter. It's best if it can't seep to the bottom of the box. I scoop 2x daily, more if I am able, and find a gift for me in their box.
I have discovered that if the feces or litter sit in the box, then the entire box is absorbing those odors, the odor is still there even when the clumps are removed. I take great care in scooping to not breakup the clumps. The little pieces that fall through the scooper screen add up and smell. I dump and deodorize, sanitize once a week. The stick on carbon filters work well.
I tried baking soda but never really saw an improvement things still would smell. I hope this helps, I understand not everyone has a room they can put the box in and install a kitty door, but it's and idea for those that can. The swim pool also helps a lot for those with the room.
June 30, 2011
0

found this helpful
You can also add diatomaceous earth, to help with clumping. It's already in most litters.
September 12, 2011
0

found this helpful
If the litter box is plastic, it might have absorbed some of the odor. I would replace it with a new one and see if that helps.
Read More Answers...
Instead of buying expensive cat litter I use the cheapest clay litter but keep a jar of baking soda on the top of the litter box.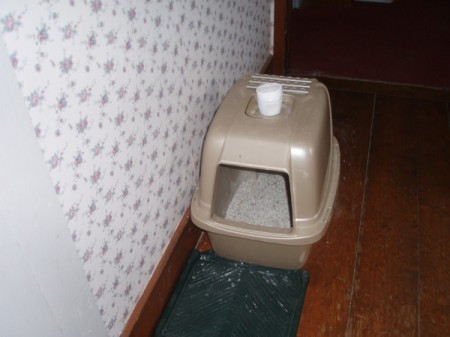 I use an empty air freshener container since it has vents in it (which can be used to sprinkle it) and fill it with baking soda, which I sprinkle into the box after each cleaning.
The baking soda left on top and sprinkled in the box helps keep it smelling fresher between cleanings while i am away at work!

I was told by a pal, who works at a local discount store, that the product "Feline Pine Kitty Litter" is the best product to use if you have pets such as ferrets or cats. It cuts down on the odor more so than most like products.

By Terri H. from NV
We have a 3 year old indoor cat and were wondering what is the best dry cat food diet we could give her. When we first got her, we tried to give her the wet can of food we got with her, but she threw it up. So, she doesn't like any canned food. We have been giving her bulk dry cat food from the grocery store. She seems to be OK with it, except that her litter box odor has gotten kinda of bad.
I've just been reading about diets and litter box odor and that there might just be a connection. What is the best kind of dry cat food to feed her so her litter box won't smell so bad?
By Linda from Brighton, MI
June 28, 2011
0

found this helpful
I prefer Costco (Kirkland) brand. It has chicken at the 1st ingredient and none of the thing you want to avoid. It is also inexpensive and the cats like it.
June 28, 2011
0

found this helpful
This is for robynfederspiel:
What is the one formula and where can you get it around Brighton, MI?
Linda
July 27, 2011
0

found this helpful
Purina One can be gotten at most any store, Wal-Mart, Woodman's, etc. I found Woodman's to be cheaper as Purina One is more expensive. I had a cat that had a delicate stomach and I found that Purina One worked best. Right now I'm using the Smart Blend.
Read More Answers...
I have only 1 cat, but the odor from her litter box is very unpleasant. We scoop at least once a day or every other day, but the smell is still bad. I've tried several different kinds of litter and thought the last brand I bought (Arm and Hammer Double Duty) worked. It did for a little while, but it stills smells bad. I was told to try Tidy Cat for multiple cats even though I only have 1 cat. I haven't tried it yet and was wondering if anyone who has just 1 cat has tried it and did it work, or what is the best litter you have tried to control both the pee and poop odors?
There is also a deodorizer called Fridge-it (it looks like a purple cube) that you can clip to the box to control odors. I would like to try that, since litter can be quite expensive. Has anyone tried this product and does it really work? If so, where did you buy it? Any information you can give me would be very helpful as the odor is getting quite bad. Thank you.
By Linda D.
September 12, 2011
0

found this helpful
I am not sure if you're talking about regular kitty litter or the clumping scoopable type. If you're using the scoopable and having this odor then it is probably the brand of cat food your fur baby eats or the litter needs to be scooped every day for sure and maybe even twice a day.
I used to use the regular Tidy Cats for multiple cats but switched to their scoopable brand a couple of years ago and no more odor problem. I switched not only because of the odor but also because it's much more cost effective overall because you're only scooping out the pee pee clumps and poopy and don't have to throw away an entire litter box full of pee pee soaked litter. You also don't have to wash out the litter box itself as often either because the pee pee hasn't had a chance to soak into the plastic ;-)
September 12, 2011
0

found this helpful
Switch to non grocery store food. Pet supply, farm supply has better foods. Nothing with corn wheat or soy. Grocery store Purina foods now even contain euthanized animals from the pounds and shelters. That poison does not cook off. Nor does the metals from their tags. Evo is good food for cats (dogs too). Cat litter? I am fond of the big green jug of litter purrfect from Costco.
September 17, 2011
0

found this helpful
I agree with Deeli - the scoopable or clumping litter is definitely the answer to smelly litterbox problems. It works out to be cheaper than the regular kind because you don't have to empty it out completely - just scoop out the clumps of soiled litter. Walmart sells their own brand called "Special Kitty" but any kind of scoopable or clumping litter will work. Good luck.
Read More Answers...
I would like to know how to get rid of the smell from our cat litter box? I've tried all kinds of powders and different litters that are suppose to control the odor, but none have worked. Is there a special kind of litter out there that is proven to control both the urine and the poop odors?
By Linda from Brighton, MI
June 28, 2011
0

found this helpful
I can't stand the smell of a dirty litter box and actually have it in my office so I have a daily reminder to clean it, every morning. I've tried practically every litter out there and we use Freshstep for multiple cats, even though we're down to one cat now.
If I even get a slight whiff that Squirt did his business, I have to rush to the litter box to scoop it up before my dogs get to it.
My sister has one of those electric litter boxes, that cleans itself and she empties it daily and you would never know she had two, older cats.
Back when we had two cats, I would always sprinkle Baking Soda after cleaning and it helped.
I'm home full time now due to a very long, on-going recovery and I can honestly say I very rarely smell my litterbox at all and it's about 6 feet behind where I sit at my desk in a small bedroom that I use as an office.
Another thing I learned from experience, is the litterbox smelled a lot worse when my cats ate canned food, compared to just dry food when they were younger.
I also leave the top off, so it's a constant reminder to me, everytime I walk into my office, to check.
June 28, 2011
0

found this helpful
Dr. Elsey's is the best cat litter for odor control. You can get it at Petsmart. I'm not sure if Petco sells it.
June 28, 2011
0

found this helpful
Okoplus is excellent but keep it 3" deep it is also biodegradable & flushes away no problem.
Olivia.
Read More Answers...
We just moved into a rental townhouse. I am pretty sure who ever lived there before us had a litter pan in the upstairs linen closet. It does NOT have a urine smell, but more like the actual kitty litter itself. I have tried several things to get this smell out -- washed the closet down, aired out the shelves in the sun, baking soda in the bottom -- I am at a loss now. Someone please help me, I have been in this place for 3 months and it makes my whole upstairs stink if I leave the door open, and my linens are still in a basket beside the closet. Ugh!

Monica from Ontario. Canada
June 30, 2006
0

found this helpful
I am amazed at how great charcoal briquettes work for situations like this. Just make sure they are the plain ones without the firestarter added to it. Overnight the odor should be gone. Just put a small container or bowl inside your closet with some of the charcoal briguettes in it. Good luck!
By guest (Guest Post)
Flag
October 22, 2007
0

found this helpful
The best way to rid of this smell is to use orange cleaner like tko works great
June 11, 2015
0

found this helpful
We have used a basin with towels soaked in rubbing alcohol under the beds in patients rooms to remove extremely strong odors. May be worth a shot.
Read More Answers...
© 1997-2016 by Cumuli, Inc. All Rights Reserved. Published by
ThriftyFun
.
Page
generated on July 20, 2016 at 9:22:58 PM on 10.0.2.169 in 2 seconds. Use of this web site constitutes acceptance of ThriftyFun's
Disclaimer
and
Privacy Policy
. If you have any problems or suggestions feel free to
Contact Us
.