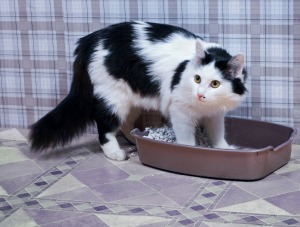 I have a spayed and healthy 12 year old female cat who was going inside the litter box but accidentally urinating outside the entrance. I remedied this problem by placing two strips of duct tape across the inside and outside base of the dome cover opening, elevating the access approximately 2 inches.
She conveniently enters and exits the litter box with ease. This method is safe, inexpensive, and a complete success!
By Alan from Fayetteville, NC
Read More

Comments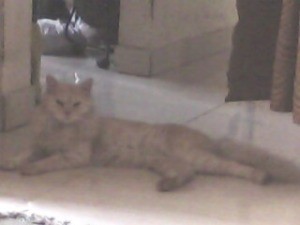 I have a male Persian cat and he is peeing almost everywhere and not using the litterbox at all. But in the case of poop, he uses the litter box or the bathroom very properly. Please help me find solution; it's urgent.
By Afrin from Navi Mumbai, India
Answers
June 19, 2011
0

found this helpful
I'm not a cat person but if he were mine he would pee in the box or pee outside. Cat pee stinks up a house with odor that refuses to go away.
June 19, 2011
0

found this helpful
I would keep him in a room with a litter box with grass or hay on top of it. Could he have a bladder infection? A UTI or be diabetic, which makes a cat pee all the time and can cause a UTI. A vet check up would be in order. Is the litter box clean? Cats sometimes don't like the feel of a particular litter. Try a different litter, and as a last result, buy some catnip spray and spray some of it on the litterbox. He will have a good experience then of the litterbox.
Here are some further ideas, and I hope the cat gets to feeling better.
answers.yahoo.com/.../index?qid=20091010125448AAsog9f
Blessings,
Robyn
June 19, 2011
0

found this helpful
If he is not neutered, he may be "spraying". They do this to mark territory, especially if there is another male cat.
June 19, 2011
0

found this helpful
Good advice so far. They will mark territory when confused. I.E. flood earthquake scared in general. mine did ht after air conditioner backed up and hall and closet were soaked.
June 20, 2011
0

found this helpful
I agree with Robyn Fed's advice. I have a cat rescue and the first thing we do when receiving a rescue is a trip to the vet for a complete physical and shots and neutering/spaying.
They also make some cat foods that are especially for cats who have a problem with pH balance issues which results in painful urination and UTI's. They will do as your cat is doing oftentimes when this is the problem.
And also, some male cats are "sprayers" and will never stop this. In that case they will have to become an outside cat, which will of course lower their chances of a long life by many years.
Read More

Answers
My cat won't use litter box.
By maria from Houston, TX

Answers
November 12, 2009
0

found this helpful
Some questions come to mind:
Is this the only cat? Some won't share boxes.
Is it kept clean? Cats don't like dirty boxes.
Was this an outside cat that you're trying to convert? Some adult cats won't change.
Does the cat have a regular place it DOES use? You might need to cover that place, because cats like to go back to the same spot.
Just some stuff to think about.
November 12, 2009
0

found this helpful
Where is he going? I had a Maine Coon for 18 years that would never use a litter box. I always said he thought he was too good for one. =) He insisted on going outside to potty. We would leave him in the house for a whole weekend, every weekend, to go camping, and he would actually hold it the entire time. As soon as we came home, he almost knocked us down to get out.
I've had a lot of cats in my lifetime (have 4 now), but he was the only cat I have ever owned that simply refused to use a litter box, but yet never went in the house. As he and my dog became elderly, I would lay a "pee pee pad" down for my dog at night in case, like a lot of elderly, she might need to go during the night. She would use it often, and lo' and behold, my Maine Coon started doing the same thing! He would never use a litter pan, but as he got older, he would use the dog's "pee pee pad". Good luck to you!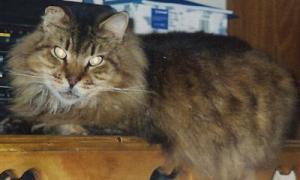 November 12, 2009
0

found this helpful
I see a lot of posts in the archives about their cats doing #1 or #2 in the litterpan, but not the other. Try getting two litter pans. Seriously! I have 4 cats, and they are all indoor cats. I have 2 litter pans and they do #1 in one of 'em, and #2 in the other. Go figure.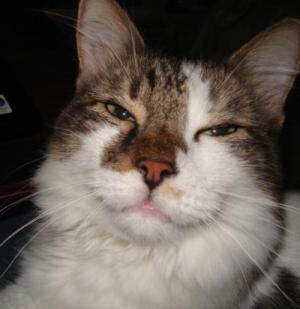 November 15, 2009
0

found this helpful
Take him/her to the vet to see if they have a urinary tract infection, so that it can be treated. UTIs can be fatal in male cats.
November 16, 2009
0

found this helpful
This sounds like an easy fix, but we had a similar problem with our cat, which was an indoor cat. We were able to get to the spots easily, where she decided to poop, usually beside or near the litterbox! I scooped up some, put it in the litter box & she went right to the box, smelled her own scent and never had a problem again. I had cleaned the litterbox, washed and disinfected it and she needed to know it was actually hers I guess. Good Luck hope you get the problem solved.
November 16, 2009
0

found this helpful
Vet first, to rule out medical problems. Try extra litter boxes. Mine also use one for #1 and one for #2 and 1 cat will only go on a smooth flat surface, with no litter. So I put down a large lid from a rubbermaid storage container, and she uses that...strange, but loveable creatures! They keep you guessing! Good luck.
Read More

Answers
My cat will not use her litterbox or go outside to do her thing. She will only do it inside on paper or in corners. What's up?
By satansbreed6663 from KY

Answers
December 1, 2010
0

found this helpful
Hello,
Please take your baby to the Veterinarian. There could be a urinary track infection going on.
December 1, 2010
0

found this helpful
We had a male cat who wouldn't use the litterbox. After some research what worked for us was, putting the paper litter that is used in hamster cages in his litterbox and putting him and the litter box in a good sized dog crate for about 5 days or so (whatever it takes). The theory is to re-train him to go in the litterbox and since he didn't like traditional litter the paper was soft and similar to the areas he was peeing on. ( It can't be the cedar shavings that are also used to hamsters etc.) I found the paper litter at Walmart and petsmart. When we let him out of the cage we set up two litter boxes one with paper and one with regular litter. After a while he started using the regular litter again. I found this info on an internet search. And it worked for us . Good luck. Oh yes and don't forget to get rid on all old urine and fecal odors. I saw a recipe on ThriftyFun the other day for a solution that works for this.
December 1, 2010
0

found this helpful
I have a 3 month old kitten that does the same thing. Sometimes she uses the box, but often she goes in the bathtub or on the floor in the corner of the litter box room. I can't figure out why it's inconsistent.
Answer

this Question
My cat is going to the bathroom on my desk instead of her litterbox. This has never happened before, and it just started yesterday. Yesterday I had thought maybe it was the box, so I cleaned it, but today even with the clean litterbox, she still uses the bathroom on my desk. She is using the same place, too. I'm getting worried because it might be a habit and I don't want my cat peeing and pooping everywhere around my stuff. I am also concerned that she might start going on the floor, corners, etc. What could be the problem?
By Lindsay L.