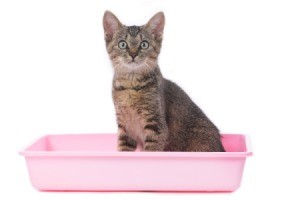 I was wondering when my kitten, Samantha, feels better, would she use the litter box constantly again? I plan on steam cleaning the carpets next week. I would appreciate any advice you have.
By Kathleen from Tyler, TX
Answers
December 9, 2010
0

found this helpful
Best Answer
Urinary Tract infections are a common cause of a cat peeing all over the house. Often a cat will inappropriately urinate because of a medical condition. If you have problems with a cat not using his litter box please get him or her checked by a vet.
Your cat may not like the brand of litter you have chosen Often cats don't like the same nice smelling kitty litter that we might like. Avoid scented kitty litter. The location of the litter box is not to your cats liking. Your Cat may be stressed I use vinegar to rid the pee smell. Cats hate the smell.
December 13, 2010
1

found this helpful
Best Answer
Thank you for the feedback. I took her to the vet and she had a Upper Respitory Infection. She has had medicine and is using the litter box on a constant basis now.
Answer

this Question

...
I have two Persians, one is almost 3 years old and one of them uses the rubber mat in front of their litter box instead of inside the box. She has being doing that for about two weeks now. How can I break her from that? I keep the litter boxes clean daily.
By Judy from Saltville, VA
Answers
February 10, 2015
0

found this helpful
Best Answer
If you cat has been using the litter box regularly before, perhaps a medical problem causes her to be unable to get into the litter box. Our cat had a bite infection on her back hip that we did not see because of her long soft fur. She was then unable to climb into the box and unrinated next to it. Her vet immediately realized something was wrong and found the infection. Please have your vet check on a possible problem. Your vet can check your kitty and also recommend a solution to the litter box.
February 11, 2015
0

found this helpful
Best Answer
How many litterboxes do you have? If you have two cats you should have at least two litterboxes.
If the vet can't find anything, make sure you have two litterboxes in relatively private locations and clean them before bed, in the morning, and at least once during the day. Change the litter every two weeks.
Since they're angoras, make sure they don't get fur mats. A bad mat near the leg can cause the leg to "hitch" when the cat goes to jump in the box.
February 11, 2015
0

found this helpful
Best Answer
Cats with urinary tract infections can begin to avoid the litterbox because they associate it with pain. Have your cat Vet checked right away.
Answer

this Question

...
My 4 year old neutered male cat, Romeo, who always used the litter box started urinating on the guest bed in the same room as the litter boxes. He started doing it when my husband and I went on vacation October 2013.
There have been no new changes in our household and I recently took him to the vet to find out if something was wrong with him. There is nothing wrong with him besides maybe some behavior issues, due to some not so great feelings towards our 1 and half year old Pug, Otis. I have 1 other cat and two huge covered litter boxes. And Romeo and the other cat are pals.
I bought a Comfort Zone plug in diffuser 2 weeks ago and it is still not helping! The most confusing part is he still uses the litter box too. I have a plastic cover on the bed and have thrown out the pillows he urinated on. I need to be able to use that bed for family and guests. Please help!
By Valerie M.
Answers
January 5, 2014
0

found this helpful
Best Answer
Hi Valerie, it sounds like your kitty was not too happy that you left and he is showing you how stressed out he was. You need to do something with him that reassures him he won't be left again or have someone stay at the home when you go on vacation as well as something with your scent or someone else's scent whom he is closest to.
If there were no other changes besides the vacation then it could be it. Have you always had the covers on the litter boxes or is that new? I know one of my cats doesn't like the cover and will not use it when it is on so I removed it, you can also try removing the cover and see if there is a change. Every pee scent is also now on your bed, which he is also smelling, Clean it very well or get rid of it.
Answer

this Question

...
I have two male cats who are litter mates. They are now about a year old and since we got them when they were around 4 months, they have used the little box without any problems. Recently they have stopped using the litter box altogether and prefer open drawers, laundry baskets, and under the bed.

We had another cat, an older male who passed away last week. While he was sick I put a second litter box on the main floor of the house because he was too weak to go up and down the stairs. When he passed I went back to just having the one box in the basement.

I don't know if they're missing the other cat? Or mad that I took away the convenience of a litter box on the main floor? I'm thinking it's not health related because they're both doing it. I love them dearly, but it's making me crazy. Help!

By Stacey from Long Island, NY

Answers:
Cat Stopped Using Litter Box
If you haven't already, get these boys neutered immediately! The rest of this post assumes that they are already neutered.

The main reason a cat stops using his litterbox is stress. It was doubtless stressful to lose the companion. It is also stressful to lose a litterbox. Bring back the litterbox! (If you've changed the type of litter, or are using scented litter, go back to the old kind.) It sounds like it could be an easy solution.

Use enzymatic cleaner to remove the urine scent of anywhere else they've peed, so they don't think about repeating the act. You should have a litterbox for each cat, plus one, in your home.
The litterbox needs to be scooped daily; a dirty litterbox repels a pristine cat. Maybe something has scared them in the basement, too, that makes them fear the litterbox. Could it be next to a scary furnace, washing machine, or dryer that may have come on while using the box?

Don't scold them for messing inappropriately. That can bring on a new load of issues. You should still take them into the vet to ensure that this isn't a medical issue, while you institute the changes above.

Good luck.

Janet (06/26/2010)

Cat Stopped Using Litter Box
I worked at a vet clinic for two years, and a common reason is that the cat has a urinary tract infection. The pain associated with the litter-box leads them to pee everywhere else. It may be a pain for you to clean, but imagine how painful they may find it if this is the cause. You should have them checked.

Otherwise, I am assuming they are neutered, but that would also solve a problem if they are not. They may also be trying to cover the smell of something else, reclaim their territory. Check the UTI first. Neuter, if you have not already. Then clean all areas thoroughly. (06/29/2010)

By hollyelese
Cat Stopped Using Litter Box
We adopted an older cat (neutered) who stopped using the litter box especially for bowel movements. I was told he needed to be "retrained". We put him in a confined area with his litter box until he used it regularly. It was not long (less than a week). (06/29/2010)

I have an adult 10 year old cat. We got 2 kittens in September. They are getting alone pretty well. The older cat has always been a loner. She bats and hisses at the kittens when they bother her, but they seem to understand each other.
We think the older cat has been peeing and pooping outside her box. What should I do? I am thinking of trying an attracting litter. Any ideas?

By Michele from Coatesville, PA

Answers:
Cat Stopped Using Litter Box
Get another litter box, wash and bleach rinse the one she's been using, and see which one she wants. Try to seclude it away from kittens like on a back porch or someplace she can go, but they can't. It's too many cats for her, and the smells are overwhelming her. I have the same problem here. I have two females, spayed, but I change the box more often because one of them wierds out. I don't really have room for a second, but that would be my first preference. (12/17/2009)

By PENNY K
Cat Stopped Using Litter Box
I had the same issue. My oldest female cat, Salem, has been living with us for eight years. She too has always liked her privacy. Then when we found an abandoned pregnant cat a year ago, we brought her home. Needless to say, Salem was pretty mad that we not only got another cat, but one that brought five more with her. After, she refused to use her litter box and began peeing all over the place, including on the kitchen table! It was pain. Finally we got another litter box and put it on the opposite end of the house where mama cat spent her time. Salem started using her litter again. They still don't like each other, but now they can go on without having to share the same bathroom. (12/18/2009)

By Stina
Cat Stopped Using Litter Box
I have been told that multiple cats need multiple litter boxes. (12/18/2009)

By Marcie