February 3, 2005
0

found this helpful
Tips for helping a car or truck that has become stuck in the snow. Post your ideas.
February 3, 2005
1

found this helpful
Best Answer
If your car gets stuck in snow or ice, remove the floormats from the car and place them under the tires. This will usually give you just enough traction to get free. (Don't forget to pick the floormats back up!)
By Becki in Indiana
By guest (Guest Post)
March 2, 2007
0

found this helpful
clorox bleach on the tires....warms em up and melts da snow
By guest (Guest Post)
December 13, 2007
0

found this helpful
If I wanna help someone who is stuck, and I bring out my tow strap that has a hook on the end, where are good spots to hook it onto the car of the stuck person? And what are good techniques for pulling them out in terms of driving my 4wd Jeep?
By guest (Guest Post)
December 17, 2007
0

found this helpful
After having lived in the south I recently moved back north and forgot how easy it is to get stuck in the snow .I tired the floor mat thing and dug myself out to no avail, even got some old carpet out, still nothing. I would seriously hesitate to use kitty litter, but the guy next door brought over some sand and that combined with chopping the ice up under the tires worked great
By guest (Guest Post)
January 20, 2008
0

found this helpful
I have used weeds twice to get myself unstuck from a muddy area and to pave a path in snow so I could reach the road. I would also suggest that people look into buying traction ramps. There is one called Save a Tow, that's just a lightweight plastic ramp. There are also much more expensive ones called waffle boards and sand ladders. But if kitty litter works, why not use it?
By guest (Guest Post)
July 23, 2008
0

found this helpful
The key to getting free from snow is a feather light foot on the gas. Wiggle your front wheels, gently accelerate just until the wheels slip (in 2nd gear in a manual transmission), then back up again just until the wheels slip. Keep doing this and you'll eventually have enough room to get out.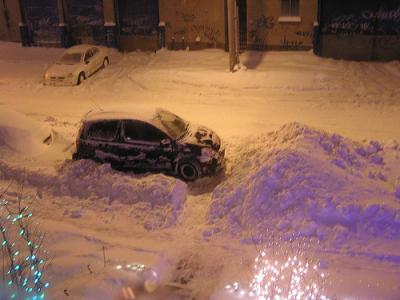 By guest (Guest Post)
December 18, 2008
0

found this helpful
This will only work if your stuck and have people with you, or kind passerby's that stopped. We tried rocking the car by just switching from drive to reverse and etc. but that didn't work. Started rocking it even though it would only move about a foot both ways, we'd go forward, then when we reversed, two people would push the car, which effectively rocked it more, and eventually we got out.
November 7, 2010
0

found this helpful
There is a new product called Lions Grip Traction Pads that work super in snow and in most other stuck-vehicle situations. Very simple to use, light weight, inexpensive, and very safe. I've gotten out of snow, mud, sand, and wet grass using them.
February 7, 2012
0

found this helpful
Tips to Get Your Car Out of the Snow
1. Check the tailpipe before you start the engine.
2. Shift into the lowest gear available.
3. If you live in an area where it snows a lot, consider investing in winter tires.
When your vehicle gets stuck in the snow or ice, don't panic. Instead, try one of the techniques used by drivers that live and work in the snowiest regions.
November 18, 2014
0

found this helpful
Trac-Grabbers! Trac-Grabbers will get your vehicle unstuck. Do yourself a favor and get a set for every driver in your family! They will get you home! See video and testimonials at tracgrabber.com. Don't wait till you wish you had them.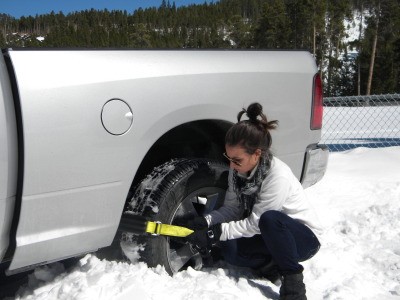 Read More Answers