Keeping Your Windshield Free of Snow and Ice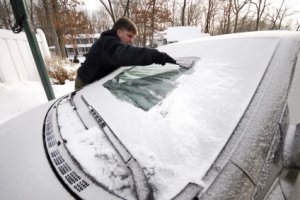 During the winter it can be a real chore to get all the snow and ice off your windshield before heading out in the morning. Keeping the snow and ice off your windshield in the first place makes getting on the road that much easier. This is a guide about
keeping your windshield free of snow and ice
.
Solutions
Share on ThriftyFunThis guide contains the following solutions. Have something to add? Please share your solution!
Winter in Alaska where we live can be so harsh! No matter where you live, though, scraping ice off of your car in the early morning is just no one's idea of fun. This is the BEST WAY to keep your windshield frost free.
Wipe the windows and windshield of your vehicle down with white vinegar, undiluted, after you park your car for the night. This will prevent frost from building on your car, and who doesn't LOVE that?
By AlaskanAurora from Dutch Harbor, Alaska
October 2, 2006
10

found this helpful
Use an old set of car floor mats to cover your car's windshield in the evening and you won't have any ice to scrape in the morning. Carpet remnants also work.
November 14, 2004
1

found this helpful
Here is a tip for anyone that lives in a snowy area. Sometimes we get so much snow that besides having to dig out the car to get it on the street, our cars look like they are wearing big white hats. Which is dangerous because when that snow blows off as you are driving it can blind the person behind you. Here is an easy tip to make you a safer driver.
Take a small dustpan and attach it to a small piece of dowel. Slide a piece of old hose over the end where you would put your hands. 2 small wood screws to hold on the dustpan. You now have a light weight shovel to get the snow off your car. This with a little longer handle would make a great play snow shovel for that little helper that always wants to do what you are doing.
By Debra in Colorado
Comments
January 27, 2010
0

found this helpful
Top Comment
Two comments:
One be sure it's a plastic or rubber (preferred) dustpan to avoid scratching the car's finish.
Another idea would be to use a small pushbroom with a toilet plunger handle (or cut down regular broom handle).
When the temperature is going to go down below freezing, spray a 3 to 1 solution of water and vinegar on your vehicle's windows. It keeps them ice proof.
By Cinnamon from Williams Lake, BC
Take a pair of old socks and keep over your wipers. Then if it snows or rains the ice won't get stuck on them.
By coville123 from Brockville, Ontario
Questions
Ask a QuestionHere are the questions asked by community members. Read on to see the answers provided by the ThriftyFun community or ask a new question.
How does it work when spraying vinegar and water on car windows to prevent icing?
By Marion
Answers
December 13, 2011
0

found this helpful
All you have to do is wipe or lightly spray the windows with distilled vinegar before leaving the car for long periods of time. I am not sure why it works but most likely because of the acetic acid.
December 13, 2011
0

found this helpful
I have heard that often. I would try not to get it on the paint though. Vinegar seems to oxidize or ruin a paint job but it is an excellent window cleaner. I am a great big fan of vinegar!
The recipe is three parts of vinegar to one part of water. It is necessary to dilute the vinegar lest it harm your windshield wipers or the rubber around the windows. Spray the car whenever you park it outside.
http://www.ehow eld-vinegar.html

Blessings, Robyn
January 16, 2017
0

found this helpful
Even better is a solution of Alchool (50%) and water.
I had the vinegar solution in my car because the inside windows would freeze. unfortunately, my vinegar and water solution did too after a few days.
Answer

this Question

...
Were do you store the vinegar? Can you keep the vinegar spray bottle in the car? Does it freeze? I park on the street and have a 1 year old, and MPLS gets very cold. I am hoping you say it doesn't freeze so I can keep it in my car! :-)
By Jamie
Answers
October 22, 2011
0

found this helpful
Vinegar will freeze at 28 degrees.
February 7, 2016
0

found this helpful
I have heard to use isopropyl alcohol (rubbing alcohol) in 2/3 and water in 1/3 and mix it into a spray bottle. Not only is it supposed to remove the frost from the windshield, but it also can be stored in your truck or wherever as the rubbing alcohol can withstand freezing down to-25. Of course, none of this is personal experience, but something I am going to try for sure! I hope it works for you too!
Answer

this Question

...
How do I use vinegar to get ice off my windshield?
By S Saveing
Answers
November 15, 2011
0

found this helpful
Vinegar makes the glass sparkle. Windshield antifreeze sold by the gallon is still your best bet.
Answer

this Question

...
Regarding keeping the ice off of windshields and car windows, how often do you have to put vinegar on the windows and windshield? Thank you for your time.
By Kathy F from Hazelwood, MO
Answers
October 16, 2011
0

found this helpful
I use this vinegar idea with good success. In the winter, I keep a spray bottle filled with white vinegar and spray my windshield each evening. Hope this helps.
Answer

this Question

...
Archives
ThriftyFun is one of the longest running frugal living communities on the Internet. These are archives of older discussions.
October 2, 2006
1

found this helpful
I found a great use for those old flannel lined plastic tablecloths (although and unlined one or used shower curtain would probably work). I live in the Northeast and we have had a lot of snow recently. I have been following some snow-shields for the car's windshield on Ebay (because I could not find any in the stores at all) and they have been really expensive.

I had several old, faded, plastic tablecloths that I had not thrown out (because I figured there must be a use for them). You just put it across your windshield, covering wiper blades so they don't freeze. Open one front door and put it inside the car; and then stretch it and do the same on the other side.

This has saved soooo much time trying to get the snow and ice off the windshields you wouldn't believe and the best part is it is FREE. I just shake off snow, fold the tablecloth and leave it in the car - replacing it on the windshield when I get home.

By Betty
Comments
November 28, 2016
1

found this helpful
Top Comment
$ Store clear plastic shower curtains are great. Made snow removal in Virginia super easy. Just cover the windshield top and back end of your vehicle and snow removal will take just a few minutes
Living in a very cold climate I found this to be a very useful tool for winter days. Purchase a gallon jug of the re-fill windshield washer fluid and fill a small spray bottle with the liquid. When your windshield is iced over spray beginning at the top of the windshield and work down towards the midway point.
As I recall the jug directions say that this can be harmful to paint finishes, so be careful and use sparingly. This starts a melting process and the top area will loosen up by time you get to the other side of your car.
One year I gave little bottles of it to my staff and they were rather doubtful. When the staff actually used it, they reported back that it truly works a miracle!
By Trisha from Ventura CA
With winter bringing snow, sleet and freezing rain, if you have to park outside in the weather, here is a tip that will save lots of time and frustration. When you are ready to park your car for the night, take a few minutes to take a couple pieces of cardboard and slip them under your windshield wipers so that they are held securely and cover your windshield. You will be so happy in the morning to just slide them off the windshield and have clear vision with no scraping and defrosting. You may even have time for a second cup of coffee before you head out the door for work.

By Harlean from Hot Springs, Arkansas

Related Content