October 13, 2010
3

found this helpful
Top Comment
As a former resident of both Fairbanks, and Anchorage, I can attest that this works. Some other hints are: Never set the emergency brake when it is below freezing, never bend any metal that is already bent as it will snap off, and if you can plug in your car, do it.
Those in Alaska know a thing or two about cold weather! The shot is Laird Hot Springs in the Yukon Territory. The water is about 103 degrees in the summer and about 89-95 in the winter. This shot is from a day that was about -50.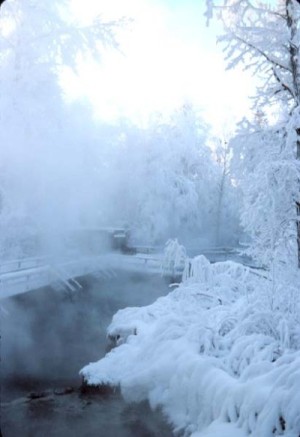 December 2, 2018
0

found this helpful
So Pretty!
October 13, 2010
0

found this helpful
Winter is coming to Ohio, too. Neither hubby nor I am up to standing in the cold trying to clear the windshield.
We must try this solution this year!
October 13, 2010
0

found this helpful
Wow, that is a great idea if it works. I plan to find out in this upcoming Iowa winter.
October 13, 2010
0

found this helpful
Great idea but won't it hurt the paint on the car. You remind me of my son in law, he puts a tarp over his car to keep the snow off.
Thanks for sharing.
Gem
October 17, 2011
0

found this helpful
I have a question. Can I keep the spray bottle in the car, or will it freeze? I kinda am thinking it will freeze, but then again...maybe not, if u spray it on the windshield?
I live in MPLS MN. Thanks!
November 4, 2016
1

found this helpful
Vinagar freezes at 28° Fahrenheit. So, depending where you live, you might be able to keep it in your car.
October 20, 2011
0

found this helpful
Thanks for this tip. So easy and"thrifty"too. I'll definitely pass this on to others. Winter can be bad enough without having to scrape off a heavily iced windows.
Keeper
December 8, 2016
0

found this helpful
What about the vinegar on the pant?
November 9, 2017
0

found this helpful
Old floor mats on the windshield or spraying undiluted vinegar on windshield of the car will keep off frost on cold winter mornings .
January 3, 2019
0

found this helpful
Did not work for me and I live in Northern California Where we have a period of 30 something temperatures at night. So in anticipation of 33 degree weather last night I wiped down all of my windows, windshields with full strength white vinegar and still had ice this this morning as if I did nothing.