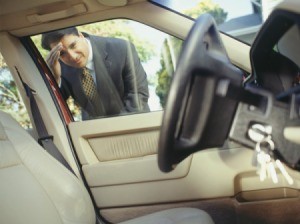 I'm told that calling AAA to open a locked car with electric windows can damage the wiring of the electric windows and cost a lot to repair for which AAA is not liable. Is this true?
Jax from Tigard, OR
Answers
By Memere (Guest Post)
August 8, 2006
0

found this helpful
Best Answer
AAA does not actually do the work, they contract with locksmiths, who come out and open your car. When this happened to me, the locksmith informed me that damage could occur. Luckily, I was OK. I think there is always some risk, that's why they tell you...to keep liability down.

February 4, 2009
0

found this helpful
Best Answer
I've had to call AAA twice to unlock my car, which does have power windows. Both times I was in different cities, so different contracted companies came out and neither mentioned to me about any possible damage. And no damage occured.

October 13, 2009
0

found this helpful
Best Answer
I am a AAA locksmith in Portland. Even the top guys can have things go wrong once in a while, but a good company like mine will fix any damage in the rare instance it happens. Most cars are very easy to open for locksmiths that do it all day, every day.
By Dean (Guest Post)
August 9, 2006
0

found this helpful
If you don't want to keep a spare key in your wallet or hidden on the outside of your car with a magnet then I suggest you see the car dealer and get the key code for the door and write it on paper and keep that in your wallet.When you lock yourself out call a locksmith who can make the key from the code and maybe deliver the key as well.I don't know the locksmith can make the igition key or not.The dealer can but either way the igition key cost big bucks because of the special identifying chip in the key.
AAA contracts out all its work including tows and starting cars.
By Diana (Guest Post)
August 12, 2006
0

found this helpful
You might have damage...but you probably won't

February 5, 2009
0

found this helpful
If your spare key is at home, phone home with your cell phone and when the person at home answers, tell them to bring your spare key to the phone. Put your cell phone close to the car and when they push the unlock button the door will unlock automatically as if you had your own keys in your hand. HONESTLY! You don't have to call any towtruck or AAA. However if no one is home you have to wait or call for help.

Jess
Silver Post Medal for All Time! 267 Posts
October 16, 2017
0

found this helpful
Unfortunately, this is not true. Here is a Snopes article that explains why it doesn't work.
Answer

this Question