August 2, 2006
0

found this helpful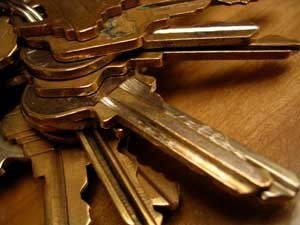 Information Tags
You can use a Dremel (or similar brand tool) to both cut the "teeth" section off the key and engrave information on the large section. Similar to a dog tag. You can then use these "tags" for identify pets and belongings (luggage perhaps?) Small key rings are available at most hobby and craft stores, as well as Walmart.
A Key for Santa
If you know of any small kids who live in a house or apartment that doesn't have a fireplace they may be concerned about how Santa Claus will get into their house. Go on the internet and do a search for "Santa's Magic Key". You can use any kind of key but the larger the better. You run Christmas ribbon through it and print out one of the poems that comes with the instructions. I print out the poem, laminate it, punch a hole and run it through the same ribbon. You may spend about a dollar per key, and you can sell them for up to $5.00. I've been doing this for a couple of years and I always sell a few and give away a few. Good luck!
By Margaret
Wind Chimes
Drift Wood and Fishing Line
I made a windchime from some "unknown" keys. I used old house keys, trunk keys, lock keys, etc. I put with the lighter, smaller ones at the bottom of each row and them tied at different levels with fishing line. I hung them from a small piece of driftwood. I used small eye hooks to hang 5 rows of 4 to 5 keys, and 2 larger eye hooks at each end on top of the driftwood. Love the other ideas here too!
By Reen1960
Pop Bottle Wind Chimes
Use the top of a 2 liter pop bottle and cut it where to top of the label is. Then poke some holes and hang the keys from the holes. It's a good craft for kids.
By LEONA LABINE
Key Box
I once saw a small box covered with glued on keys. It was really cute. Maybe paint the box black so the silver and gold keys really show up.
By Ginnee
Key Bracelet
Many years ago I saw in a movie magazine a lovely bracelet made by an actress. It was made of a variety of keys, it was very "antique looking" and was really attractive. The bracelet itself was a chain to which the keys were attached.
By Miranda.
Keeping Drapes Straight
If you want to keep the drapes and curtains straight - put keys in the hem.
By Susie
Old Key Necklace
I made a necklace out of part of my collection of old keys. There is 11 keys on the necklace with a one inch space between each key.
By Jennifer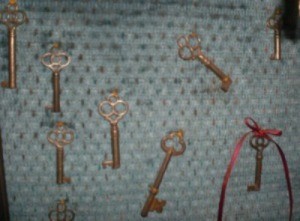 Create a simple decorator touch for your family room or front hallway using old keys.
Supplies:
Old picture frame (without glass)
Upholstery swatch or scrapbook paper, denim, memorable fabric from family member's clothing
A little thread
Directions:
Gather a few old keys from rummage sales or flea markets or ask your friends or family if you can get a few.
Cut fabric to fit securely behind the frame, securing it to the back or cut a piece of cardboard to fit if it doesn't have one.
Stitch your keys on, either through the eye or other place on the key.
You can also stitch the keys in place before the fabric is attached to the back.
Next, fit the back with the fabric and secure it with staples or small nails.
If you want to you can add picture hanging wire or even attach a pop tab to the back (or two) to hang it on the wall.
The frame I used wasn't deep enough to do this project using glass in the front.
By melody_yesterday from Otterville, MO
Editor's Note: Caution: These old keys are usually made from lead. Keep away from young children.
I love to find new uses for old things. I have tons of keys and was wondering if anyone had any idea what could be done with them?
Answers
October 8, 2008
1

found this helpful
A wind chime? Use fishing line to tie them to a stick
October 8, 2008
1

found this helpful
Make a Christmas wreath with them. Paint them green, red, or gold.
Sprinkle with glitter. Hot glue to a circle of wood, styrofoam, etc.... Add bows or whatever.
How about "Santa's Magic Key". Make the note below and attach it to the key with a ribbon.
"We don't have a chimney for you to climb through, but if you don't visit my our house I don't know what I'll do.
Some say you are magic and can use any old key. As long as we hang it out in a place you're sure to see.
So we're leaving this old key right outside our door
Saying our prayers, jumping in bed, and we won't worry anymore."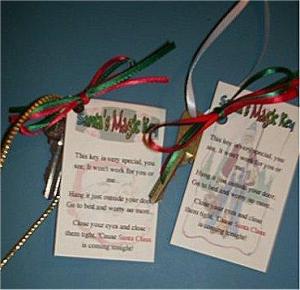 I've also seen them framed in groups or by themselves in shadow boxes. You could use old newspaper or scrapbook paper to get the look shown.

Okay, two more ideas and I'm done! :)
Making some jewelry (earrings, bracelets, pendants or even keychains) would be cool.
Another idea is to embellish addressbooks or scrapbook pages with them. Good luck!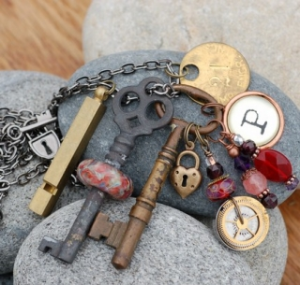 By okwes (Guest Post)
October 8, 2008
0

found this helpful
My sister is collecting them to make a squash blossom style necklace.
October 8, 2008
0

found this helpful
I've seen them used in bird cages for the birds to play with.
Or make a "keyring" for the little ones to keep in their purses. Or put a few on a split ring for the babies to play with. (sterilize first) Or, slip them in the hems of curtains to weigh the curtains down so they will hang straighter.
By GINGER (Guest Post)
October 9, 2008
0

found this helpful
If you have a framed mirror or can find one cheap. Glue the keys to the frame in whatever order or fashion you want. It is great for changing your boring old mirror into something that will make people stop and say wow!
You can also use the keys in card making or scrap booking, altered art. Their are many many uses for your keys. Just think outside the box!
By caroly51 (Guest Post)
October 9, 2008
0

found this helpful
Our daughter made a beautiful sounding wind chime from old keys. The top of the wind chime was the bottom of a two liter soda bottle. Holes were punched with an icepick and nylon string used to hang the keys. It has lasted 18 years; this year I restrung it. It has a beautiful tone.
By Cheryl P (Guest Post)
October 9, 2008
0

found this helpful
Please don't give old (or new) keys to infants or toddlers. They are a lead poisoning hazard.
By Beth (Guest Post)
October 11, 2008
0

found this helpful
If you have any left and want to be done with them, you might want to give them to a school - - to use as "counters" to help younger kids with math skills. I had a small box of them in my second grade classroom and the kids loved them!
October 12, 2008
0

found this helpful
I saw a TV show where they soldered/welded them together to make tables, plant stands, and other stuff. You need lots of keys, planning, and a great bit of imagination, but the items looked really neat.
April 18, 2016
0

found this helpful
make beautiful antique necklaces.....
Answer

this Question

...
Does anyone know of any organization collecting keys for children whose homes have no chimneys? I have a bunch to get rid of and would love to donate to this specific program.
By gem from Gordonsville, VA
Answers
December 12, 2011
1

found this helpful
I teach kindergarten and would love to make these for my students. My address is PO Box 58 Barrackville WV 26559 if anyone has any donations!
Thanks, Kindergarten Connie
Answer

this Question

...