With the right preparation you can easily and successfully paint over oil paint with latex. This is a guide about applying latex paint over oil paint.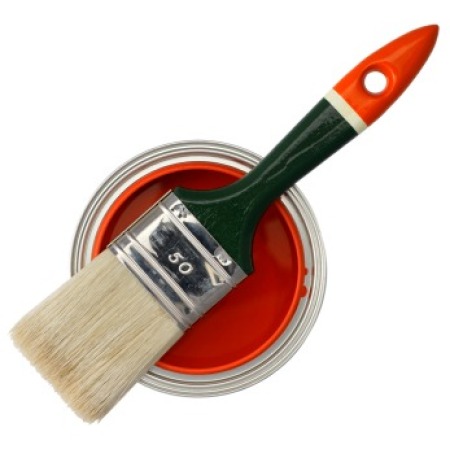 Does anyone know if you can paint latex paint over enamel? Or is it you can paint enamel over latex? I cannot remember. One way you aren't suppose because it doesn't stay on good, because there's no bonding.

Donna from Millbury
---
Most Recent Answer
April 19, 2010
I already first coated my storage cabinet that is built in, so part of it is concrete. My first coat is enamel for the wood part and latex on the concrete. Now can I paint over it with latex to match the whole thing? Help please.
---
I am getting ready to paint the foyer. The trim work has oil base paint on it. Can I use a latex primer or do I have to use an oil base primer and can latex paint be used on oil base primer?
By Frances
---
Most Recent Answer
By Dorothy 79 155 Flag
January 1, 2012
If there was oil paint sand it down, primer it and then use oil based paint or it will peel off or crack.
---
By carrie 1
Can you use latex paint over oil based primer? If so, is there anything special that needs to be done to apply the latex color paint? Please respond quickly as I'm starting to paint the latex soon.
By redecorating from Mendon, MI
---
Most Recent Answer
September 11, 2009
If its a good flat oil primer you will have no problem.
---
By Jacque D 1
I live in a house that was built in 1900. The previous owners painted over oil based paint with latex and the latex paint is peeling off in some places. Do we need to peel all the paint off, or just the places that are peeling before using Kiltz and then painting with latex paint?
---
Most Recent Answer
By Gloria Z 10 256 Flag
August 19, 2015
Never paint latex over oil! Go to the place where you bought the latex paint and tell them what happened. They will probably sell you some sparkling compound to repair the wall. Then buy another can of oil based paint (semi-gloss) and paint your wall.
A lot of people use oil based paint on doors because it's easier to wash off fingerprints. Painted walls fell out of vogue years ago.
Good Luck.
---
We used a very expensive latex paint that contained a primer over oil paint, to paint kitchen cabinets.
Now the paint is pealing. Is there a solution?
By Diane from Ipswich, MA
---
Most Recent Answer
By Louise B. 6 2,509 Flag
March 22, 2013
The previous poster is correct. Alternately, you could remove the latex completely, and then lightly sand, prime and paint with oil based paint again. But you can't put latex over oil without a lot of work, which you have just learned.
---
By Hannah 1
I've been applying primer to my bathroom's formerly yellow walls with relatively good results until I noticed the paint over the toilet section of the wall wasn't adhering as well as the rest. I vaguely recall pulling off a piece of something or other sticking out and then, to my shock and amazement, the primer just kept peeling and peeling, taking what appears to be the previous yellow coat of paint with it.
Underneath lies a lighter shade of yellow. Perhaps this is a tinted primer? Anyway, I've tried sanding a small section of the torn area, wiping away dust with a damp cloth, and reapplying the primer, but as soon as the primer makes contact with the edge of primer/underlying mystery surface, it becomes soft and pliable once more.
I'm not really sure what the problem is. I don't want to peel off the whole wall of primer/paint if that isn't the problem. I'm thinking the primer reacted as it did because I applied too thick a coat in that area. Please help.
By HJ from IN
---
Most Recent Answer
November 20, 2009
Also latex primer or paint won't stick to oil based primer or paint.
---
By judith 1
What can you do to fix latex semi gloss paint over oil based paint?
By Judith from Spartanburg, SC
---
Most Recent Answer
March 15, 2011
First you should wash the surface and let dry to remove any build up of grease and dirt. Then lightly sand the surface and tack off the dust or wipe down with a damp sponge rinsing the sponge often.The sanding is neccessary as it gives the smooth oil a rough surface for the latex to adhere to. Otherwise the latex will peel in short order. Most paint stores can also give you advise on painting over oil base paint. Many paint companies no longer sell oil based paint for in or outside use.
I currently have bedroom walls in oil paint. I would like to prime and repaint with latex paint. I have a can of Glidden interior latex primer sealer 14950 white. Can I use this primer over oil paint and then paint over the primer with latex paint? Will the paint peel off?
By Cecilia