Applying Latex Paint Over Oil Paint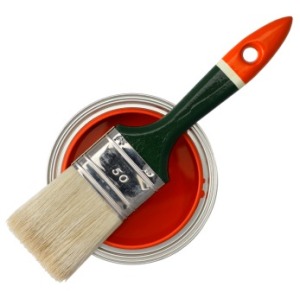 With the right preparation you can easily and successfully paint over oil paint with latex. This is a guide about
applying latex paint over oil paint.
I live in a house that was built in 1900. The previous owners painted over oil based paint with latex and the latex paint is peeling off in some places. Do we need to peel all the paint off, or just the places that are peeling before using Kiltz and then painting with latex paint?
August 18, 2015
0

found this helpful
I suspect that you have to remove all the paint. I would consult the troubleshooting line of the paint company that you are planning to use. They can be very helpful.
August 18, 2015
1

found this helpful
If you just peel off the part that is loose, the walls will no longer be smooth and it will be very obvious after you paint. Unless almost all of it is able to be removed by peeling and perhaps light stripping. There is one more important consideration here: since it is an older house, there may be layers of lead paint under all of what is now there. In the past, people used oil paint to cover up a multitude of 'sins' from lead to mold to smoke damage. And in some cases older people still swear by it for kitchens and porches, because of its durability. It's not really good for us or the environment though and is not made in a wide selection like latex (water based) paints are. For your safety you might want to have someone come test for lead, and if it is present have them remove the lead paint. If it is not present you can always sand after removal of as much as possible, but there's still no guarantee the walls will be smooth. Be safe! (I work in a paint department, and have learned from contractors over the past year)
August 19, 2015
0

found this helpful
Never paint latex over oil! Go to the place where you bought the latex paint and tell them what happened. They will probably sell you some sparkling compound to repair the wall. Then buy another can of oil based paint (semi-gloss) and paint your wall.
A lot of people use oil based paint on doors because it's easier to wash off fingerprints. Painted walls fell out of vogue years ago.
Good Luck.
September 2, 2016
0

found this helpful
"Painted walls fell out of vogue years ago".
What? is this really what you wanted to say? People paint walls all the time. I assumed that statement didn't come out the way you wanted or you're from a different planet. :)
I am getting ready to paint the foyer. The trim work has oil base paint on it. Can I use a latex primer or do I have to use an oil base primer and can latex paint be used on oil base primer?
By Frances
December 27, 2011
0

found this helpful
Try Kilz or a similar quality primer, read the label in the store to be sure you're getting a primer that will work for your purpose.
You should be able to rough the gloss of the oil based paint by first washing with vinegar or TSP, then applying Kilz before you paint with the latex.
I've done it several times, even over varnish on plywood panels. It looks fine and doesn't peel if you follow the directions on the primer label.
December 27, 2011
0

found this helpful
I used Kilz once with disastrous results. So I am not a fan of that paint. Had to junk the table I used the Kilz on. I would visit your local paint store such as Lowes, Sherwin Williams, Home Depot, people who know paint and how best to use the product. They may recommend Kilz or something better but I don't believe you need to use that type of primer. I would scuff up the surface with some scotchbrite pads to give the latex primer some tooth to adhere to then use the latex top coat. After using the scotch brite pads be sure to clean off the dust residue with a cloth. Tack cloths work best.
December 27, 2011
0

found this helpful
I agree with frugalsunnie that you should prime for sure. Where I differ is that the best primer to use is Zinser 123. Roughing it up first does help also.
January 1, 2012
0

found this helpful
If there was oil paint sand it down, primer it and then use oil based paint or it will peel off or crack.
Does anyone know if you can paint latex paint over enamel? Or is it you can paint enamel over latex? I cannot remember. One way you aren't suppose because it doesn't stay on good, because there's no bonding.

Donna from Millbury
June 14, 2008
0

found this helpful
Since enamel is a very smooth paint you have to rough it up first by sanding it.
June 14, 2008
0

found this helpful
I run the batchmaking department for a large paint manufacture. The rule of thumb is that, given proper surface preparation, for exterior use you can apply quality latex paints over oil-based, but not the reverse. However, if you have many layers of oil based paint, stick to using oil on oil. For interior use, generally you can use one over the other. Some manufacturers of latex products will recommend a primer when going over oil-based paint.
By guest (Guest Post)
Flag
June 15, 2008
0

found this helpful
I would call on the phone your local paint store such as Sherwin Williams or other paint store listed in the yellow pages. I have used oil based paints in and on the exterior but some paint companies are doing away with oil based paints and are selling water based only.
By guest (Guest Post)
Flag
June 15, 2008
0

found this helpful
From personal experience I know that latex does not bond well to enamel paint. You can sand the enamel-based surface lightly, or prime it with something like Benjamin Moore's "Fresh Start," and that will cedrtainly help, but the surface will still be prone to chipping, especially if it's in a high traffic area (like kitchen cupboard doors, for example). Painting with enamel can be a pain, for sure, because of the clean-up and odor (although there are new low-toxicity enamel paints available), but nothing beats it for durability. Good luck!
June 15, 2008
0

found this helpful
Give the surface a light sand, make sure to wear mask so not to inhale the dust. Clean the surface from dust and dirt, coat it with a good quality primer, then paint away.
April 19, 2010
0

found this helpful
We used a very expensive latex paint that contained a primer over oil paint, to paint kitchen cabinets.
Now the paint is pealing. Is there a solution?
By Diane from Ipswich, MA
March 22, 2013
0

found this helpful
The reason your latex paint is peeling is because your oil base enameled surface couldn't accept the latex even though the latex contained primer.
You're going to need to scrape off the peeling latex, then properly prepare the enameled surface, which is accomplished by removing the oil based enamel using a stripper, or scraping or sanding the enamel coating off-completely. Any little bit of the enamel will cause the new paint to blister and peel so be sure to get it ALL. There is no other way, and should have been done the first time.
After you've got the previous oil based enamel off, apply a separate, good quality primer-be sure to read the label carefully before buying. It should say that it is to be used on surfaces that have had oil based paints removed in preparation for application of a latex one.
It sounds fiddly but it is the only way to get a long-lasting, attractive finish.
March 22, 2013
0

found this helpful
The previous poster is correct. Alternately, you could remove the latex completely, and then lightly sand, prime and paint with oil based paint again. But you can't put latex over oil without a lot of work, which you have just learned.
Can you use latex paint over oil based primer? If so, is there anything special that needs to be done to apply the latex color paint? Please respond quickly as I'm starting to paint the latex soon.
By redecorating from Mendon, MI
September 6, 2009
0

found this helpful
I have done it but if you are still unsure why not call your local paint store and ask the experts.
September 6, 2009
0

found this helpful
There are some people who say that this can be done, don't listen to them. Sure you can paint the latex over the oil based paint and it will look okay for a week or so. Then the first thing that bumps the wall will peel it up like a sheet of saran wrap. Been there, done that, don't ever plan to do it again!
September 6, 2009
0

found this helpful
Sometimes can put Latex over primer, this depends on the exact type of oil primer you use. Some primers (like B-I-N and Kilz) have what is called a "critical recoat time" - this means that they must be topcoated -with either latex or oil - within a certain time frame (usually 24 hours) or they become too hard for either type of top coat to adhere, too!
Read the URL below:
http://www.bobvila.com/wwwboard/messages/101048.html
* I've read that you can put Latex over oil, but not Oil over Latex (which stretches), but after reading more on the internet I wouldn't risk it.
As Foxrun42 says call a paint store, NOT Home Depot, but a real paint store like Sherwin Williams or Benjamin Moore.
September 11, 2009
0

found this helpful
If its a good flat oil primer you will have no problem.
I've been applying primer to my bathroom's formerly yellow walls with relatively good results until I noticed the paint over the toilet section of the wall wasn't adhering as well as the rest. I vaguely recall pulling off a piece of something or other sticking out and then, to my shock and amazement, the primer just kept peeling and peeling, taking what appears to be the previous yellow coat of paint with it.
Underneath lies a lighter shade of yellow. Perhaps this is a tinted primer? Anyway, I've tried sanding a small section of the torn area, wiping away dust with a damp cloth, and reapplying the primer, but as soon as the primer makes contact with the edge of primer/underlying mystery surface, it becomes soft and pliable once more.
I'm not really sure what the problem is. I don't want to peel off the whole wall of primer/paint if that isn't the problem. I'm thinking the primer reacted as it did because I applied too thick a coat in that area. Please help.
By HJ from IN
November 20, 2009
0

found this helpful
According to my research - glossy paint must be deglossed either by sanding or chemical deglossing or the paint won't stick. Also, if there is too much moisture, the paint will peel. The moisture problem has to be taken care of first. Since this is behind the stool or commode section, sounds like it's a moisture problem.
November 20, 2009
0

found this helpful
Also latex primer or paint won't stick to oil based primer or paint.
What can you do to fix latex semi gloss paint over oil based paint?
By Judith from Spartanburg, SC
March 15, 2011
0

found this helpful
First you should wash the surface and let dry to remove any build up of grease and dirt. Then lightly sand the surface and tack off the dust or wipe down with a damp sponge rinsing the sponge often.The sanding is neccessary as it gives the smooth oil a rough surface for the latex to adhere to. Otherwise the latex will peel in short order. Most paint stores can also give you advise on painting over oil base paint. Many paint companies no longer sell oil based paint for in or outside use.
Related
You are viewing the desktop version of this page:
View Mobile Site
© 1997-2016 by Cumuli, Inc. All Rights Reserved. Published by
ThriftyFun
.
Page
generated on December 8, 2016 at 5:13:00 AM on 10.0.1.140 in 10 seconds. Use of this web site constitutes acceptance of ThriftyFun's
Disclaimer
and
Privacy Policy
. If you have any problems or suggestions feel free to
Contact Us
.