How often have you had ink get on clothing in one way or another? This is a guide about removing pen ink from clothing.
Ink stain on shirt? Use milk, pour the milk on the ink stain and wait for a minute or two then wash and hang up to dry. Don't dry in dryer as it will set the stain.
How do I remove ball point pen marks from my husband's shirt?
By Cyndy L.
Most Recent Answer
August 12, 2011
Rubbing alcohol or any of the antibacterial gels will get most of it out, not a fan of the hair spray method
I left an ink pen in my wash and dried it. It got all over everything. Is it possible to wash it out?

By Heidi C.
Most Recent Answer
By Flyingbug 3 22 Flag
April 22, 2013
Have you tried rubbing alcohol? Try a little in an area where no one will notice first, though.
How do I remove dried ink from my wife's work pants?
By Jon E. from Maubry, AL
Best Answer
By Kathie622 3 6 Flag
August 8, 2012Best Answer
Use rubbing alcohol to remove in stain from pants. Put a rag or piece of paper towel under the material. Then pour some rubbing alcohol over the stain. Blot with a cotton ball until stain is removed. Wash as usual.
I threw my white suit in the washing machine, without removing a biro pen and a ink pen. When the washing cycle finished, I noticed a few large ink stains on my white suit, the only one I own. Can you help please?
By Teremoana from Rarotonga, Cook Islands, South Pacific
Most Recent Answer
How do I get rid of blue marks on my white skirt?
By Shaisha from India
Most Recent Answer
I got a pen mark on my white jeans about fifteen minutes ago. I've been using my Tide to Go stick, but it isn't working. I'll be in school for almost eight more hours so I don't have use of many things. HELP!
By Maddie
Most Recent Answer
A pen was left in my husband's t-shirt and it broke and got ink on almost everything. I didn't see it until I took the clothes out of the dryer. Is there anything I can use to get the ink out of a lot of clothes?

By Tiffany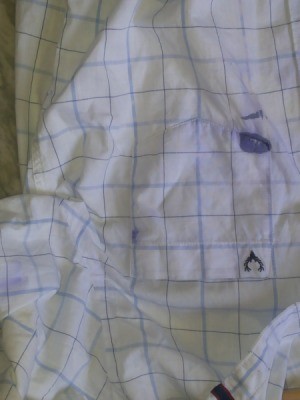 How do I remove a blue refill ink stain from my Allen Solly white shirt? Please help me.
By Praveen from Madurai, Tamilnadu, India
Someone wrote on my jersey shirt with a pen (ink). I took it to the dry cleaner and washed it; the stain is still there. How can I remove it?
By Ciara
By Shane F. 1
I got a little yellow ink on the side of my 100% polyester blue hoody with white stitching. What would be the best way to wash this out? It's fresh ink as well. Hurry please!
By Shane
How do I take out ball point pen ink from cotton clothes?
By Marion