I recently took on the 3 day task of photographing all the jewelry I have to sell.
It required keeping organized without too much stress and strain.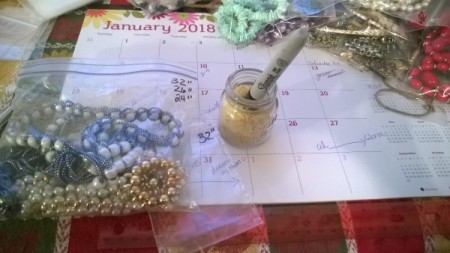 One of the things that was bothersome was recapping the felt pen between marking the length of the item inside the baggies.
After half a day it hit me. I got a tiny mason jar (baby food jar or other would work too) and filled it 3/4 of the way with rice.
Now I just invert the pen cap and after writing the size on the baggie, I can just set it in the cap. I don't have to snap it shut as I will be using it in another minute so, but this keeps it from drying out even a little bit.
It also keeps it from falling off the work table and getting buried under the bags. N-JOY!