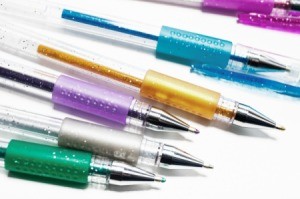 I just purchased a gel glitter pen and can't seem to get it to work. Running it over paper back and forth just doesn't help. Any idea's to get it to work.
I live 40 miles from where I purchased this pen so I really need some help.
Sandy
Answers

April 13, 2005
1

found this helpful
Best Answer
You could try running hot water over it to get it warmed up to flow, besides using the lighter on the end.
Jeannelee
By Heather (Guest Post)
April 17, 2005
0

found this helpful
Best Answer
I used to work for a company that makes these pens. I know it'll probably sound weird, but sometimes banging the tip of the pen down onto the paper will get the ink flowing. Holding the pen by the end and shaking vigoursly also does the trick sometimes. If neither one of these works, you might try calling the manufacturer - Quite often, they'll have ideas that you wouldn't have thought of or they may replace them free of charge.
By jontym (Guest Post)
December 10, 2006
0

found this helpful
Best Answer
Hold the tip over a thespout of a boiling kettle for a few seconds, it works fine for me.
By Betty (Guest Post)
February 6, 2009
1

found this helpful
Best Answer
I, too, have some problems with the gel pens and thanks for all your suggestions. I tried all of them and the one that seemed to work best was bouncing the pen point on the table. I have to confess, (as I'm laughing at myself), I heated the point up with a lighter and then shook it quickly and the point flew off the end, leaving some beautiful bronze dots on my kitchen floor!
After finding and replacing the point, I bounced it and it seems to be working. Not sure which step in the process did it though!

September 8, 2013
0

found this helpful
Best Answer
I am so late for answering this question but I have a great idea that works 98.6 degrees of time for me! I take the pen and I shake it down as if I'm shaking down a glass thermometer. Then I test it on paper to see if I've shaken it enough. Sometimes it'll take a few times but it works! I tend to purchase my gel pens from a bin of many pens. So this is a life-saver for me. They never have paper to test them on so you don't know if they'll be difficult until you've already got them at home!
Answer

this Question
Does anyone know how to resuscitate dry gel pens? They appear to have a lot of color left in them but won't write.

Peggy

Answers

February 9, 2005
0

found this helpful
Best Answer
I know you can get a regular ball point pen to write again by holding the tip (ball) of the pen to a lit lighbulb for a few seconds. It might be worth a try with the gel pens.
Answer

this Question