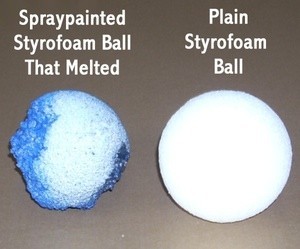 Styrofoam is a basic element to many craft projects. It can be used with different shapes, styles, and mediums. However, because of its bland appearance, Styrofoam also often needs to be painted. This tricky item can be much more difficult to paint than it might seem.
The first rule for painting Styrofoam is to use the correct paint. Only craft paints that specifically state they work with Styrofoam can be applied to the raw item.
Every other paint, especially spray paint, can contain chemicals that will react with the foam. Regular spray paint on Styrofoam causes the foam to actually "melt", making huge craters and holes in the item, not to mention a rather unhealthy mess.
So if you have a Styrofoam friendly paint, you need to follow a few steps. Since Styrofoam has holes in it, paint does not just slide on smoothly. You must "scrub" the paint into the foam, working the color over the rough surface. This will usually mean you need to do two coats, one to get into the holes and one to smooth over the surface.
If you need to use a paint that's not Styrofoam friendly, you must first cover/seal the Styrofoam. There are many products used for this task, plaster of Paris being the most popular. However you can also use products like Mod Pod or surface textures. The best product to use is "Foam Finish". It is easy to put on and can be thin or thick depending on the look desired.
When covering Styrofoam it can be difficult to keep a smooth shape. A perfect covering is done by applying the cover/seal in a thin layer and letting it dry. Then sand off any rough spots until the surface is perfect again. Then cover with another coat, let dry, and sand again. This should give you a perfectly shaped item with a strong cover.
After the covering is dry, you can apply any paint or other decoration desired without worrying about the Styrofoam reacting and melting away.
Read More

Comments
I am trying to cover Styrofoam balls to make them smooth to paint on. I tried paper mache but it won't stick. Do I have to prep the ball somehow or can you buy round balls for crafting in the various sizes available in Styrofoam?
Diane
Answers

Myrna
Bronze Feedback Medal for All Time! 168 Feedbacks
April 9, 2008
0

found this helpful
Craft stores like Hobby Lobby or Michaels should sell various sizes of styrofoam balls and maybe in the floral shop or the floral dept. at WalMart Stores.
Have you thought of gluing fabric over the styrofoam to make it easier to work with?

April 9, 2008
0

found this helpful
You can buy styrofoam balls; and you can also buy polystyrene balls. The polystyrene balls are not porous, so are easier to paint. I don't know that they are available in as many sizes and styrofoam. There is a product available at the craft store made specifically to smooth the styrofoam for painting. I have tried it, and while it is OK, it doesn't leave a totally smooth surface, either.
You might try gesso, (available among the paints) to prepare the ball. It might take several coats; but it is slightly thicker than the paint.
You should be able to work with the papier mache if your initial strips go completely around the ball.
Tear a strip between 1/4 and 1/2 inch wide (depending on the size of the ball) and run it from the "north pole" to the "south pole" and back, slightly overlapping itself; and then another around the equator. The mache will stick to itself, so the rest of the pieces you use should slightly overlap the equatorial strips.
(I expect you know, but always tear your paper strips for papier mache--they'll blend better,with less visible seams.)
By (Guest Post)
April 9, 2008
0

found this helpful
Hi the craft stores I've been to sell a styrofoam primer that you paint on first or you can use gesso that is sold with the painting supplies.
By Pat (Guest Post)
April 9, 2008
0

found this helpful
Check with one of your local florist to find out what type of spray paint they use. A florist I used to deliver for made a lot of arrangements using painted styrofoam.Might have been the same paint they used to spray carnations sometimes.

April 10, 2008
0

found this helpful
I Googled 'styrofoam smoother'. The first hit sent me to
http://www.craft.dow.com
which talks about a product called 'Smooth Finish Paint', to be found at most craft stores. Price wasn't listed. When I checked crafts on that site, directions for a pumpkin decoration suggested using white glue and tissue paper, 2 coats.
Maybe using the color tissue you need would work. Possibly using white tissue paper and painting the design after the glue dries would be successful for your needed effect.
By Elaine (Guest Post)
April 10, 2008
0

found this helpful
Not sure exactly how smooth you want your styrofoam ball but what I have done in the past is one of two things. I have either rolled the ball on a hard surface with light pressure and this will give it a smooth texture. I also have taken another piece of styrofoam and used it as sand paper and this will make it smooth however either idea will work but may make your ball somewhat smaller than you wish so with that in mind...buy larger styrofoam balls to get the size you need. Just be sure when using either one of these ideas use a paintbrush to remove the residue and then the Gesso to seal the ball before starting your project. Gesso is really great stuff. Let us know the solution you have found to work, it may help the rest of us.
Thank you.
By jim wilson. (Guest Post)
August 29, 2008
0

found this helpful
I need Help with this subject! I will Copy & Paste ALL suggestions. And try all! OK? OK!
Answer

this Question

What kind of paint can you use on Styrofoam balls?
By patricia shinault from Mount Airy, NC

Answers

February 3, 2011
0

found this helpful
I get my paint for Styrofoam from Hobby Lobby or my local floral shop. It does take a special paint some will melt the foam. The flower shop just calls it floral spray paint, wish I could tell you what the chemical is to avoid but I don't know. Just make sure it is specifically for Styrofoam. Acrylic paint will work also.

February 9, 2011
0

found this helpful
I agree with latrtatr you could use the paint especially for styrofoam. I have had very good success with craft paint especially on smooth styrofoam balls. I find it takes more than one coat though.

December 2, 2016
0

found this helpful
Floral spray paint for Styrofoam can be bought at Jo-Anne's, Michael's OR Hobby Lobby.
Prince is under $10.

September 18, 2022
0

found this helpful
I know Im years (almost a decade) late, but I used latex exterior house paint on styrofoam for Halloween decorations and its holding up really well!
Answer

this Question