Save your empty detergent bottles for use in a wide variety of crafts from seasonal decorations to toys. This is a guide about crafts using laundry detergent bottles.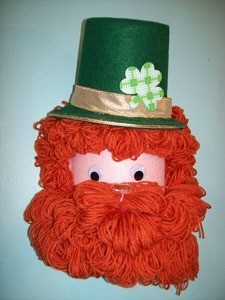 Filter

: All Articles
Sort

: Relevance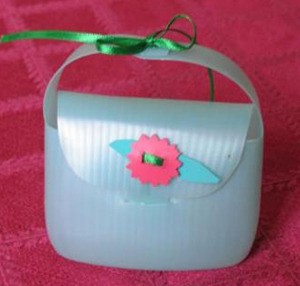 Plastic purse for a toddler, made from recycled detergent bottle.
Approximate Time: half an hour
Supplies:
empty colored detergent bottle
scraps of narrow ribbon
kitchen shears
X-acto type knife
Instructions:
Sketch outline of purse on bottle as shown in diagram 1. Make certain to extend handles so they are long enough to overlap later for tying.
Cut along sketch lines.
Fold over lid of purse as shown in diagram 2.
Cut 2 slits in front of purse to hold closing tab.
Overlap handles at the top and cut two narrow slits in each end.
Thread ribbon through slits and tie in bow at top.
Decorate the lid with scraps from other detergent bottles cut in the shape of a flower and tied on securely with scraps of ribbon threaded through slits and knotted on the inside.
By preserver from Manitoba
Editor's Note: Be sure that your bottle is entirely clean. Do not use any bottles that may contain a chemical residue, for safety.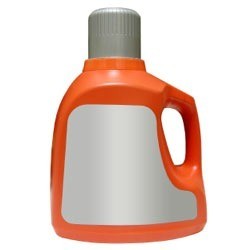 Craft ideas using laundry detergent bottles.
Detergent Bottle Boats
These "Detergent Bottle Boats" are adapted from
Crafts to Make in the Summer
by Kathy Ross. The Millbrook Press, 1999.
Cut the top half off a plastic clothes detergent or fabric softener bottle leaving as much of the handle as possible. The bottom half of the bottle will become the boat. The boat can be decorated with permanent markers. Put a stick down into the hollow handle and use a rubber band to attach a laundry detergent cap to the top to make a crow's nest. Provide lots of corks to be made into people to man the ship. Details can be added to the cork using a permanent marker. (Cork people are very good swimmers.)
Ball Catchers
You can make ball catches out of the bottles. Here's a link with instructions.
By FlaKathy
Clothespins
Clean them up really good. Let the kids drop clothespins into the opening. Good for fine motor actions.
By Mildred
Birdhouse
Try cutting small holes in the bottle and punching a hole in the cap. Thread a sturdy wire or string through the hole in the cap. Paint or decorate the bottle, fill with bird seed and hang outside for your feathered friends to enjoy while the kids play outside.
By Jennifer
Camping Clean Up
Wash your hands when camping. My mother used to do this whenever we would go camping. It worked well, we could clean up before getting into the camper before meals.
You will need a clean, empty detergent, bleach or a gallon milk bottle, an old piece of pantyhose about 2-3 ft. long, depending on the height of those washing their hands, a bar of soap, a string with a larger nail tied to it on one end.
Insert the bar of soap into the pantyhose,s hake it to the bottom and tie off to enclose soap, then tie the other end of the pantyhose and the string with nail to the detergent bottle handle. With your nail, poke a hole into the bottom-side of the bottle, opposite the detergent bottle handle, fill your bottle with water, put the cap on and tie it to a tree branch.
You will want to have a towel near by. When you want to wash up, just pull the nail, lather up your hands with soap, then rinse and dry. Don't forget to put the 'plug' (nail) back so there is enough water for others.
By Mara
Storage Containers
My aunt still uses hers on her clothesline to hold clothespins. You could make a row of them and decorate them for the laundry room. Cut tops off of them, leaving the handle (or not). Use one to hold fabric softener sheets, solo socks or mittens, etc. I have a jar on my laundry shelf that I store anything I find in the laundry. My kids have to sit and stare at it knowing they have to earn it back from me. I also have a jar for money, I call it "Paying the maid" or "Paying the laundry lady".
You could do the same thing with craft supplies. WRite or make a label for each bottle and leave it handle side out toward the shelf and store crayons, markers, etc.
These are good to hang from trees full of bird seed or to use as a water scoop. Our well water is too cold to water our garden in the summer (Alaska) so we keep a large trash can full of water to water the garden. It warms up in the sun between waterings. A "detergent bottle scoop" would work well for scooping the water out.
By Tawnda
More Uses
Use them to put salt in for winter time. Since they already have a handle and spout, it'd work great! Also, you can find a way online to make your own laundry soap, and fabric softener. If you clean it good enough, you could even use it to put pet food in for easy pouring. Also, for the smaller laundry bottles, you could wash well, and use as a watering pitcher for your indoor or large outdoor plants. When it rains heavy, you could put it outside to collect the rain to use to water the plants instead of using house-water.
More Reading:
You can find more ideas for laundry detergent bottles on here:
Do you have ideas for making crafts with plastic laundry detergent bottles? Post them below.
Looking for a pattern to crochet around a plastic detergent bottle.

Dorothy from Herman, NE
Looking for a pattern for a grandma doll made from an Ivory soap bottle.
By Barb Sc from Daytona Beach, FL
Debra Frick
1

found this helpful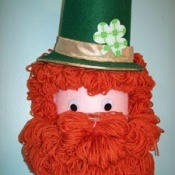 This is a fun and challenging project. But I think you will agree that the results are well worth it. Sean the Leprechaun is made to sit on a table or to hang on your door or wall. He is my adaptation of the Santa Heads that were so popular a couple of years back. I tried to use materials that were easy for anyone to get or that were recycled. That being said his parts can be any thing you have already around your house. The only things I bought at the Walmart were the felt and the goggle eyes. I had the ribbon left over from Christmas and also the chenille sticks.
Time to complete: 4 hours
Tools
Scissors
Spray glue
Hot glue gun
Assorted plates and saucers
Sharpie marker
1 CD case
1 DVD case
Materials
Yarn I bought 1 Super Saver Skein of yarn color was carrot
Green and pink felt
1 bleach or gallon size container shaped like a bleach bottle cut in half
1 Country Crock butter container
Cardboard
Scrap of red felt for mouth
1 set of goggle eyes
1 clear or pink flat gem for nose
1 package of chenille stems - Color does not really matter as the yarn covers in up.
1 foamy Shamrock
Some wide gold ribbon
Some thin gold ribbon
Instructions
Cut your bleach bottle or gallon container in half. When you cut the bottle in half, you want to cut it so that you have one side without a handle and a side with a handle. We will be using the side without a handle. Wash in hot water and soap especially if you are using a bottle that some other chemical came out of. The bottle I used was one for windshield wiper fluid so I made sure when it was cut in half I washed it really well.
In the area of the bottle where the label would be, cut a piece of felt and cover this area. Using the CD cover as if you were going to open it, Wrap the yarn around it 30 times. Slide off and wrap the center with a piece of a chenille stick. This is a yarn pouf. You will want to make 7 poufs of these to go across the front of the bottle. With scissors, poke holes in the bottle, push the two ends of the chenille stick in and open them up on the back. Use the CD case again but this time the long way, Wrap 6 poufs for each side of the face. Then using the DVD Case, wrap 8 poufs for the beard putting these on the bottom part of the bottle. Using the CD case again long ways, make 7 more poufs to go above the row of the beard. Make one more with the long way CD case for the mustache, centering this above the second row of the beard. Glue on Google eyes above the mustache and glue one flat gem on the mustache as a nose. Glue red scrap of felt under mustache for mouth.
For the brim of the hat: On corrugated cardboard, draw a half circle that is circumference of the bottle, Go out one inch from that line and make another half circle. This is the brim that you will cover with green felt. Go in one inch from the circumference line and draw another half circle. Cut around the line that is the brim line around the half circle. Now cut from the first line inward toward the circumference line so that you have tabs that can be bent up and glued to the bottle. Cover rim part of half circle with green felt. Cover bottom of the Country Crock margarine container with a circle of green felt. Cover sides of the margarine container, making sure to have a 2 inches longer that the container. Hot glue the margarine container to the bottle. Stretch the extra two inches down and glue to the brim of the hat. This will cover the tabs that you used to glue on the brim of the hat. Decorate hat rim with gold braid to cover the edge of the cardboard. With wide gold braid, make hat band and hot glue to hat. Decorate with foamy shamrock.
Save the bright orange liquid detergent bottles during the year. Remove the label by soaking in hot water.
Decorate the front of the bottle with either black felt, or black fun foam cut into triangle eyes, and nose, and zigzag mouth. Glue these on with a craft glue.
If the lid to your bottle is not green, spray paint it green. Make leaves from green felt or fun foam. Attach leaves to green pipe cleaners. Attach to green lid. Use extra pipe cleaners wind them around a pencil to make them curly like a tendril from the vine.
The Cub Scouts made these to brighten the dining room of a local nursing home. They had as much fun making them as the older folks enjoyed them. Of course, seeing the young boys was a treat too!
To have enough bottles, they asked friends, neighbors to save the bottles for them. Most of the dining rooms have quite a number of tables.
By Barb from east TN
I make toys out of laundry and detergent bottles. They are used by children over 3 years of age who typically do not put things in their mouth. But are they safe?
By Barbara from Boston, MA
Does anyone have a doll pattern made from a detergent bottle?

Tina from Weber City, VA
January 21, 2009
0

found this helpful
Make a Christmas tree made out of a laundry bottle. Cut out the shape of the tree using leather shears. Punch the holes using a heavy duty hole puncher. Next punch out holes from other bottles to get circles of different colors.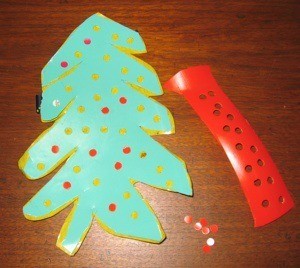 Can any one provide detailed instructions for making a bird house out of plastic laundry detergent bottles?

Elizabeth Jane, NC
September 5, 2004
0

found this helpful
Make a Bird House - Turn the bottle on its side. Cut little windows/doors high up on the sides. Paint or cover the bottle with fabric. Hang from tree branches for birds to nest in.I found this at Make-Stuff.com